Iowa Republican Governor the Latest to Mandate Masks as COVID Cases Skyrocket
Republican Governor Kim Reynolds of Iowa announced a statewide mask mandate Monday among a growing number of positive coronavirus cases in the state.
Hospital resources in Iowa have been stretched thin as more coronavirus patients are admitted. On Monday, state officials reported 187,020 positive cases of COVID-19 and 1,991 fatalities attributable to the virus since the outbreak began earlier this year. On Saturday, the Polk County Health Department announced a record number of coronavirus patients. Reynolds, who has spoken out against large-scale mask-wearing orders in the past, said her proclamation was not about mandates or government.
"If Iowans don't buy into this," Reynolds said during a Monday briefing, "we lose. Businesses will close again. More schools will be forced to go online and our health care system will fail. The cost in human life will be high."
Under Reynolds's new guidelines, any individual over the age of 2 must wear a mask when inside an "indoor space that is open to the public and within six feet of individuals who are not members of their household for 15 minutes or longer."
Indoor gatherings involving more than 15 people are prohibited as are outdoor gatherings with more than 30 attendees. Bars and restaurants must close at 10 p.m. although drive-through or delivery services can continue after that time.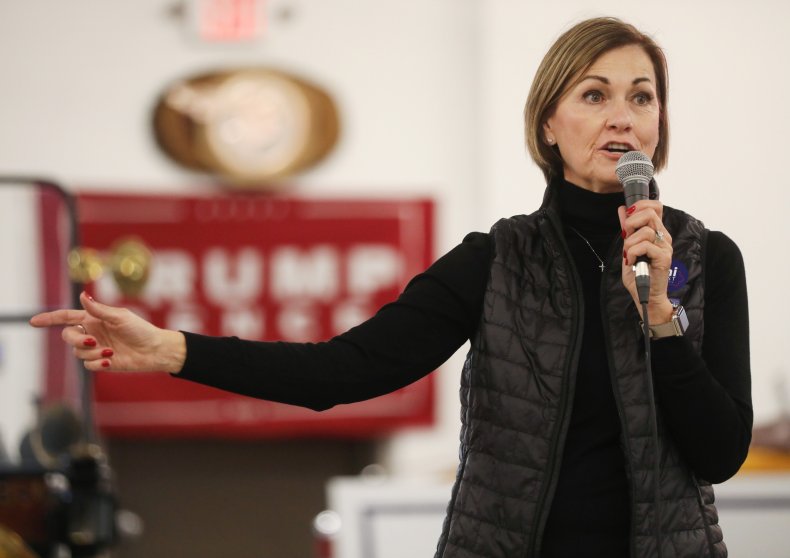 "No one wants to do this," Reynolds said. "I don't want to do this especially as we're coming into a holiday season that is normally filled with joy. I cherish Thanksgiving with my family and this year, we're postponing that."
Although Reynolds has encouraged Iowa residents to wear masks, she had resisted issuing a statewide mandate. Reynolds defended her decision in August telling reporters that coronavirus could be mitigated without a statewide mask mandate. According to Reynolds, mandates were "not enforceable" in cities where they had been enacted.
Iowa's number of positive cases increased during November. On Saturday, health officials in Polk County reported 204 COVID-19 hospitalizations.
"This is the highest number of hospitalizations Polk County has seen throughout the pandemic," read a Saturday press release from the Polk County Health Department. "We cannot stress enough how alarming and urgent the situation has become for hospitals and their health care workers."
In a statement sent to Newsweek on Monday, Iowa Public Health Association Executive Director Lina Reinders said Reynolds's proclamation "only emphasizes that we are at an extremely critical juncture in the life cycle of the pandemic."
"While the Governor's proclamation does not include a comprehensive mask mandate, it gets us one step closer to universal masking," Reinders wrote. "The limits placed on indoor and outdoor gatherings are short of the lock down we experienced last spring, which is what is truly needed to most dramatically slow the otherwise uncontrolled community spread of COVID-19 in Iowa."
Also on Monday, California announced a set of more stringent coronavirus measures on Friday as Governor Gavin Newsom temporarily paused the state's economic reopening. Citing a rapid increase in coronavirus cases, Newsom said the state was "sounding the alarm."
According to a statement from Newsom's office, 28 counties were being reclassified as Tier 1 counties where COVID-19 was widespread. California is also expected to require residents to wear a face mask at all times outside the home with certain exceptions.
Michigan Governor Gretchen Whitmer suspended indoor dining, in-person learning and high school sporting events on Sunday. "As the weather gets colder and people spend more time indoors," Whitmer said, "the virus will spread. More people will get sick and there will be more fatalities."
According to Monday information from the U.S. Centers for Disease Control and Prevention, 10,984,398 cases of the coronavirus have been reported since January 2020 with 245,470 deaths attributable to COVID-19.
Update 11/17/2020 5:51 p.m. EST: This story has been updated with a statement from the Iowa Public Health Association.