Iowa Republican Flees Reporter's Questions on Funding After Voting for GOP Health Bill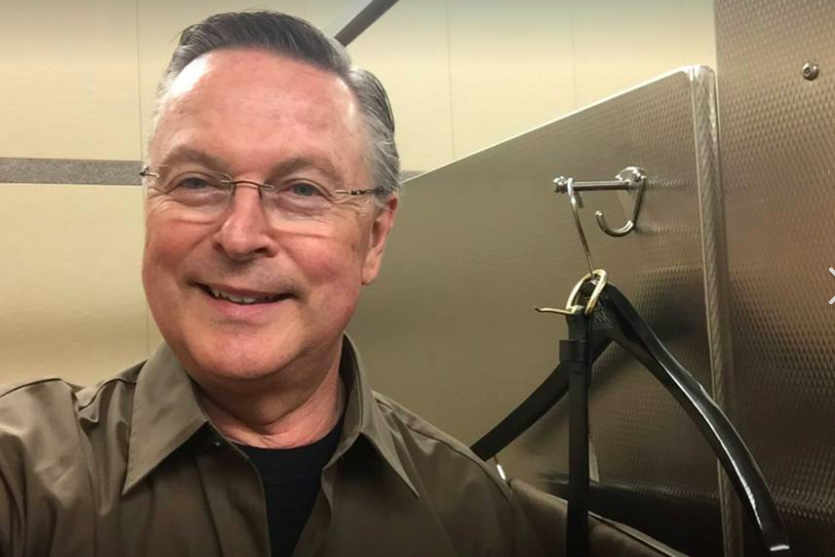 Representative Rod Blum of Iowa will fight ferociously for what he believes—unless a reporter asks him a question he doesn't like.
On Monday afternoon, the staunchly conservative Republican and member of the House Freedom Caucus fled an interview with Josh Scheinblum, a reporter with TV9 in Dubuque, after Scheinblum had the temerity to ask Blum a series of difficult questions.
The exchange took place at the Dubuque Dream Center, a community center. Scheinblum sat across from Blum, who was surrounded by African-American children. According to TV9, the setting was Blum's idea.
Scheinblum's began by asking Blum about the town hall meeting he was to hold shortly after the interview. Specifically, Scheinblum wanted to know why Blum wanted attendees to present identification upon entry. Indeed, such a policy seems unusual and perhaps even restrictive of civic participation in the democratic process.
"Because we want people from the First District to be at our town halls," a smiling Blum answered, in reference to the northeastern corner of Iowa he represents. "We don't want people from outside the First District. We don't need people Chicago there, or Des Moines there, or Minneapolis there."
Des Moines is not in Blum's district; it is in the third district of Iowa. Chicago is not in Iowa; it is in Illinois. Minneapolis is not in Iowa, either, but in Minnesota. The drive for Minneapolis to attend Blum's town hall would be close to five hours, though flights are also available.
Blum may also feel the common Republican fear that town halls are being disrupted by outside agitators. Most town halls are not being disrupted, as such. They are being vigorously attended, in large part by constituents who do not want the Affordable Care Act repealed and replaced by an inferior health law.
On Thursday, Blum voted for the American Health Care Act (ACHA), otherwise known as Trumpcare. A version of that bill was found to have the support of 17 percent of Americans in March. The hard-line House Freedom Caucus blocked the first attempt to pass ACHA in March, but agreed to pass a more conservative version Thursday. If it becomes law, about 24 million Americans would lose health coverage by 2026, according to an estimate by the nonpartisan Congressional Budget Office (CBO). Republicans did not wait for a CBO score before narrowly passing the latest version of their health care bill.
"Someone would make the case that you represent all Iowans," Scheinblum said to Blum. "The decisions you make impact all Iowans, so shouldn't all Iowans have a voice at the table?"
"I don't represent all Iowans," Blum countered, still smiling but with a newfound edge to his voice. "I represent the First District of Iowa. That'd be like saying, shouldn't I be able to, even if I live in Dubuque, go vote in Iowa City during the election because I'd like to vote in that district instead?"
A child behind Blum offered a charming grin, likely unrelated to the healthcare debate.
Scheinblum then posed the following question: "Would you still take donations from a Republican in Iowa City?"
At this point, Blum rose and began to pull off the microphone attached to his gray pullover sweater.
"This is ridiculous," a visibly agitated Blum declared as he prepared to leave. "He's just gonna sit here and just, just badger me."
"Come on, congressman," Scheinblum pleaded, to no effect.
The children followed Blum through the door.
Records available on Open Secrets, a government transparency site, show that in 2015-2016, the top donor to Blum's congressional campaign was the North Carolina Leadership Fund, which contributed $46,422 to his re-election bid for the House of Representatives. North Carolina is not in the First District of Iowa. It is, in fact, its own state, on the Atlantic seaboard of the United States. The Club for Growth gave Blum $42,464. It is a free-market lobbying group based in Washington, D.C.
Although there is a town named Washington in Iowa, this is not the same Washington where the Club for Growth is based. That Washington is the capital of the United States and is not in the First District of Iowa.
He is also one of many Iowa state and national politicians to take money from Koch Industries, operated by the billionaire brothers Charles and David Koch. The Koch brothers have supported right-wing politicians across the country, in particular those willing to follow a pro-free market, anti-regulation line. Koch Industries is based in Kansas, not Iowa.
Blum was one of the Tea Party members sent to Washington in the midterm elections of 2014. He represents a "light red" district of Iowa he managed to win by only three points that year. In 2016, he beat Democratic challenger Monica Vernon by seven points. Part of his promise to voters was that Social Security entitlements for the elderly would be preserved. He has not discussed why he thinks Medicaid benefits, which would be radically cut by ACHA, do not deserve similar protections. Representative Blum had not responded to Newsweek's request for comment.
In fact, Blum had said he'd vote against an earlier version of ACHA promulgated by House Speaker Paul Ryan because, according to him, it offered too many protections and was not sufficiently reliant on the free market. "I want such things like all the 'Essential Benefits' repealed," he said in late March, as that first version of the legislation was on the verge of being pulled because of weak support from the right wing of the Republican Party. "I don't want us as the government telling the insurance companies: 'Here is what has to be in a policy.' Let the consumer decide that."
After the aborted interview with Scheinblum, Blum headed for a town hall at Dubuque Senior High School. There, he faced tough questions about his support for Trumpcare, as well as about the interview with Scheinblum, news of which had gone viral on social media.
It is unknown if the people asking these questions were residents of the First District or outside agitators—from Chicago, Minneapolis, or elsewhere—who might somehow have managed to forge Iowa drivers' licenses in time to sneak into the event.