Iowa Newspaper Pressures State's GOP Senators Joni Ernst and Chuck Grassley to Support Calling Impeachment Trial Witnesses
Two Iowa senators are facing pressure from a home state newspaper to vote for witnesses in President Donald Trump's impeachment trial.
Republican Sens. Chuck Grassley and Joni Ernst were told to "step up" and back witness testimony in an op-ed by the Des Moines Register published on Tuesday, which also called on the pair to vote in favor of subpoenas.
The Iowa newspaper also suggested that Sen. Ernst's decisions during the impeachment trial could "influence" whether or not state voters support her having a second term in the upper chamber.
She was first elected to the Senate in the 2014 midterm elections and faces re-election this year in a state that voted 51 percent for President Trump in 2016.
Sen. Grassley was re-elected to the upper chamber for a seventh term in 2016 and will not face a vote in November this year.
In its op-ed urging it's state senators to vote for witness testimony, the Des Moines Register wrote: "Senators would benefit from hearing from witnesses to have as much information as possible before making that important decision, but many Republicans seem uninterested in uncovering new information.
"Ernst and Sen. Chuck Grassley of Iowa should step up and publicly support hearing from witnesses. They should vote 'yes' if the Senate takes up the question of whether to issue subpoenas — and insist that any issued subpoenas are enforced."
The Iowa newspaper later wrote that Ernst should consider whether her comments on impeachment would "influence" state voters when they "decide whether she deserves a second term" at the November elections.
"Iowans rightly expect our elected representatives to approach the impeachment trial with impartiality, seriousness and a desire to uncover the truth," the Des Moines Register added.
Newsweek has contacted the offices of Sens. Ernst and Grassley for comment and will update this article with any response.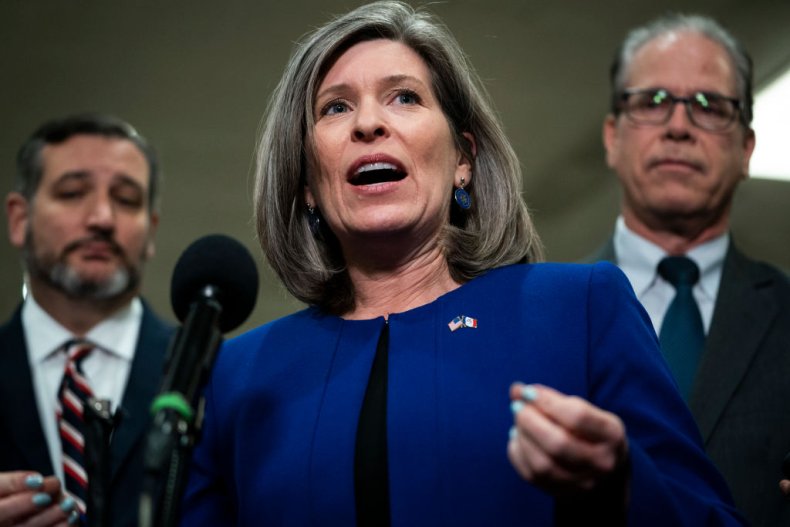 Sen. Ernst made headlines on Monday after she said she would be "really interested" to see how the discussion in the Senate "informs and influences the Iowa caucus vote," and whether Democratic voters would support former Vice President Joe Biden.
Responding to her comments to reporters, Biden tweeted that she had "just spilled the beans," arguing that she was "scared to death" that he would be the Democratic nominee in 2020.
The Des Moines Register reported yesterday that Sen. Grassley told local media to ask him whether he would like witnesses to be called in three days time, when the president's defense arguments and questioning from senators will have come to an end.
"I haven't said I'm open to witnesses because I'm not saying much about it — I'm a juror," he reportedly said.
The graphic below, provided by Statista, illustrates American public sentiment on hearing witnesses at the impeachment trial.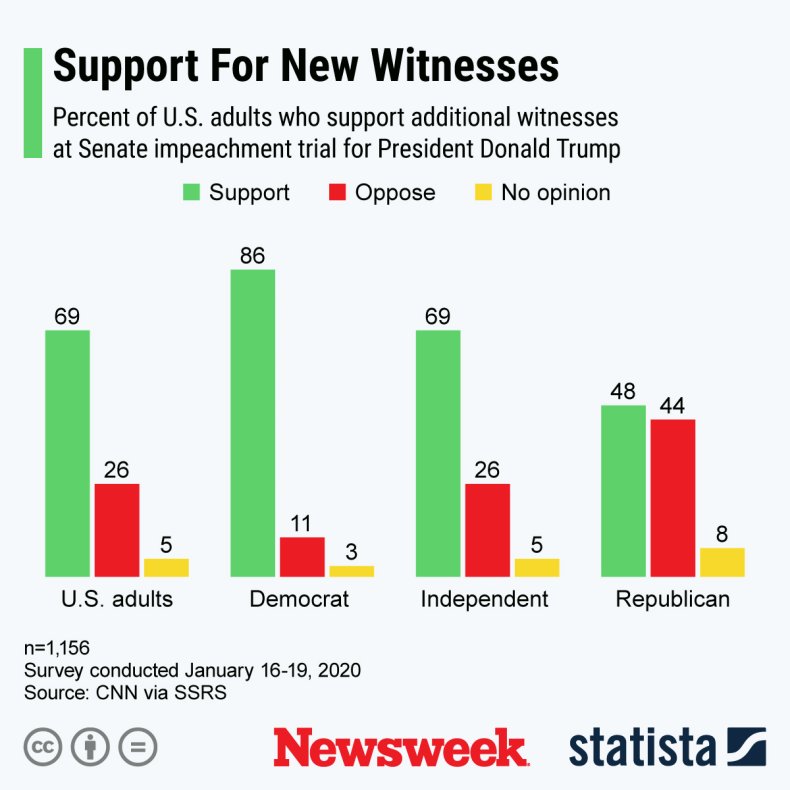 This article was updated to include an infographic.