Iowa State Fair Candidates Live Stream: Schedule, What to Know As Elizabeth Warren, Kamala Harris Take Soapbox
Day three off the Iowa State Fair political soapbox on Saturday promises a packed lineup of nine Democratic candidates including two in the top tier, Sens Elizabeth Warren and Kamala Harris.
Unlike the first two Democratic debates in June and July, the soapbox at The Des Moines Register's stage will feature one candidate at a time, allowing them 20 minutes each to speak to fair goers in the state whose caucuses represent the first presidential votes. The first candidate is scheduled at 9 a.m. and the last at 4:30 p.m., local time.
Here is a live stream courtesy CBS News:
Warren is visiting the state fair on the third of her four-day road trip through Iowa with a trailer stating, "Honk if you're ready for big, structural change!" On the first day of her trip on Wednesday, Warren unveiled her plan to invest in rural America, stating that it is time to put the communities' interests ahead of corporations.
"From expanding access to broadband to boosting investment in quality jobs, together we can make big, structural change to create new opportunities all across rural America," Warren's plan states. The senator stopped at a lemonade stand in Harlan, Iowa, on Thursday to push her plan. She will take the soapbox stage in the late afternoon.
Meanwhile Harris, who is on a five-day bus tour across Iowa, on Thursday released a 60-second ad introducing herself and her "3 AM Agenda" addressing issues keeping people up at night including a big middle-class tax cut, Medicare-for-All and equal pay for women. She will be the second candidate to take the soapbox stage on Saturday morning.
Senator Cory Booker of New Jersey got an early start in terms of organizing in Iowa but faces a different challenge — being vegan and unable to eat many of the meat-based food items that appeal to fairgoers and even meatless favorites like the deep-fried Snickers bar containing milk chocolate. He is the last candidate scheduled to speak on Saturday, after Warren.
Senator Amy Klobuchar of Minnesota stopped in Iowa City on Thursday to promote her plan focusing on farmers and rural communities across the United States. Klobuchar proposes student loan forgiveness for farmers and expanding rural health care, education and affordable housing. She is the first candidate scheduled to speak in the afternoon.
Senator Kirsten Gillibrand of New York heads to the soapbox fresh off launching television ads in Iowa in an effort to qualify for the third Democratic debates. Her 30-second ad asks viewers to "imagine a leader driven by compassion, brave enough to take on the impossible, who looks beyond herself to do what's best — for us." She is set to step on the soapbox mid-afternoon.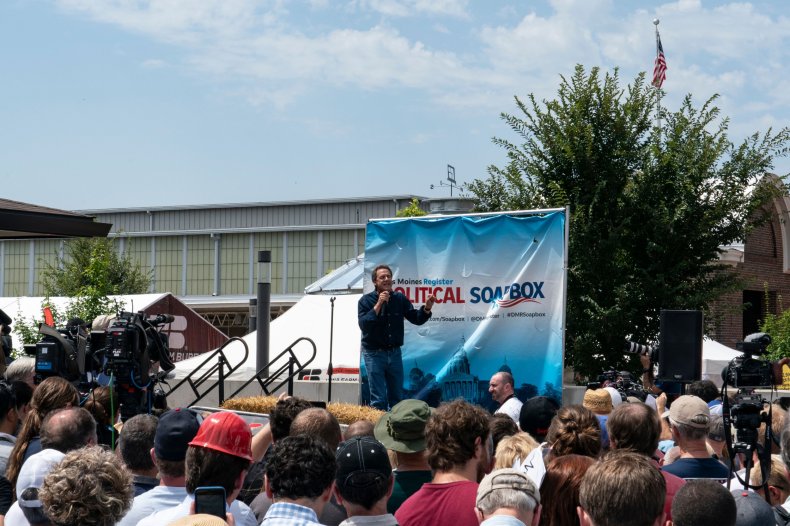 Here is the full schedule of candidates for Saturday, which could be subject to change:
9 a.m.: Jay Inslee, governor of Washington.
10:30 a.m.: Kamala Harris, senator from California.
11:15 a.m.: Tim Ryan, congressman from Ohio.
12:45 p.m.: Amy Klobuchar, senator from Minnesota.
1:30 p.m.: Joe Sestak, former congressman from Pennsylvania and retired Navy vice admiral.
2:15 p.m.: Kirsten Gillibrand, senator from New York.
3 p.m.: John Hickenlooper, former governor of Colorado.
3:45 p.m.: Elizabeth Warren, senator from Massachusetts.
4:30 p.m.: Cory Booker, senator from New Jersey.