Iowa State Fair Presidential Candidates Schedule and Everything You Need to Know
The Iowa State Fair this weekend will appeal to people who have an appetite beyond giant turkey legs and deep-fried everything. More than 20 candidates in the 2020 race will take the stage to pitch their platforms in the state with caucuses that are considered the first presidential votes.
On The Des Moines Register's Political Soapbox stage, candidates will have 20 minutes each to talk to fair goers ahead of the crucial February Iowa Democratic caucuses.
Presidential candidates have campaigned at the Iowa State Fair since 1954, when Dwight D. Eisenhower set the tradition. Mitt Romney, the Republican nominee for the 2012 presidential election, said "corporations are people" on the soapbox in 2011 and four years ago, then-presidential candidate Donald Trump did not attend but gave children helicopter rides close by.
All the candidates set to speak so far are Democrats except Bill Weld, who is challenging Trump in the GOP primary. Trump was invited to the soapbox but as of Friday morning had not arranged to participate.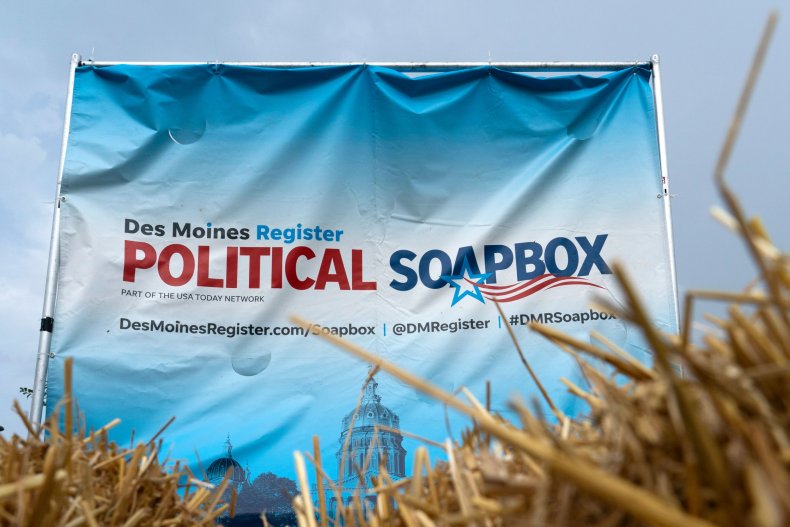 Here is the schedule in local time for the political soapbox, which is subject to change and additions:
Friday
9 a.m.: Julián Castro, former secretary of Housing and Urban Development and former San Antonio mayor.
10:30 a.m.: Andrew Yang, an entrepreneur running on a "universal basic income" platform.
12 p.m.: John Delaney, a former congressman from Maryland.
1:30 p.m.: Marianne Williamson, an author.
2:15 p.m.: Tulsi Gabbard, a congresswoman from Hawaii and military veteran.
Saturday
9 a.m.: Jay Inslee, the governor of Washington.
10:30 a.m.: Kamala Harris, a senator from California.
11:15 a.m.: Tim Ryan, a congressman from Ohio.
12:45 p.m.: Amy Klobuchar, a senator from Minnesota.
1:30 p.m.: Joe Sestak, a former congressman from Pennsylvania and retired Navy vice admiral.
2:15 p.m.: Kirsten Gillibrand, a senator from New York.
3 p.m.: John Hickenlooper, a former governor of Colorado.
3:45 p.m.: Elizabeth Warren, a senator from Massachusetts.
4:30 p.m.: Cory Booker, a senator from New Jersey.
Sunday
11:15 a.m.: Bill Weld, a former governor of Massachusetts and Republican challenging Trump.
1:30 p.m.: Tom Steyer, a billionaire Democratic donor and founder of the Need to Impeach campaign to remove Trump.
3 p.m.: Michael Bennet, a senator from Colorado.
3:45 p.m.: Bernie Sanders, an independent senator from Vermont seeking the Democratic nomination.
4:30 p.m.: Bill de Blasio, the mayor of New York City.
Tuesday
1:30 p.m.: Pete Buttigieg, the mayor of South Bend, Indiana.
August 17
12 p.m.: Seth Moulton, a congressman from Massachusetts.
Past:
August 8: Joe Biden, former vice president.
August 8: Steve Bullock, the governor of Montana.