Iowa Teacher's Union Calls Lack of Face Mask Mandate for Schools 'Obscene'
Representatives from Iowa's teacher's union are voicing steadfast opposition to state guidelines that do not implement broad face mask requirements for teachers and students in schools.
Speaking to the Des Moines Register on Friday, Jean Hessburg, a spokesperson from the Iowa State Education Association (ISEA), called the absence of a statewide mask mandate for schools "obscene" given threats of spreading the novel coronavirus.
"It is a gamble and obscene that the governor and the Department of Education are gambling on the health and safety of our students, our staff and school employees," Hessburg told the publication. "This virus has demonstrated that it knows no bounds and students can bring the virus home to families and ravage a family."
On Thursday, the Iowa Department of Education and Department of Public Health released recommendations for use of face masks in schools, which are permitted to resume activities beginning July 1. Although the guidance encouraged school administrators to implement procedures that "protect staff and students at higher risk of developing illness," it did not suggest that education institutions mandate widespread use of face masks. The state's guidance does not prevent individual school districts and private education institutions from instituting face mask requirements as they see fit.
"Requiring face coverings for all staff and students is not recommended," the guidance stated, adding that individuals who choose to wear face masks while in school should be allowed to do so.
"Teach and reinforce the prevention of stigma associated with the use or non-use of facial coverings to support a respectful, inclusive, and supportive school environment," it continued.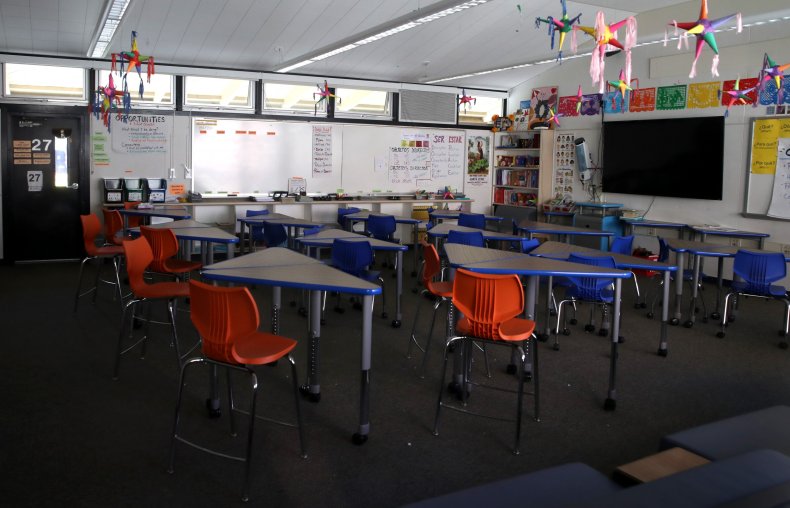 Additional ISEA representatives have criticized the state's position on face mask use in schools since Thursday's guidelines were released. Mike Beranek, the union's president, said the DOE's recommendations were "inconsistent" with those of the Centers for Disease Control and Prevention (CDC) in a statement issued Friday. The CDC's guidance for face mask use, first released in April, recommended wearing cloth face coverings in public spaces where adequate social distancing is not possible.
"The ISEA believes a school district reopening model must ensure the health and safety opt students and staff and prioritize long term strategies on student learning and educational equity," Beranek said. "The Iowa Department of Education's reopening guidance is inconsistent with CDC Guidance, common sense and good public policy and we cannot recommend support."
In a message shared to Twitter later on Friday, the ISEA urged Iowa schools to consider more extensive safety guidelines when reopening their institutions. The union's recommendations include using floor markings and rearranging classroom furniture to encourage social distancing, in addition to requiring everyone to wear face masks.
The Iowa DOE released a follow-up statement on Friday regarding its face mask recommendations. In it, the department said it acknowledges that guidelines released the previous day called for "further clarification" and said additional information would be released soon. The statement recognized the merits of face coverings as a tool to mitigate virus transmission, but reiterated its stance on a statewide requirement "because of the considerable implications for such a policy."
An Iowa DOE spokesperson said the reopening guidelines intentionally left face mask use to individual schools' discretion in comments to Newsweek on Saturday. They also emphasized that the department will continue to prioritize the "health and safety of students, families, administrators, teachers and school staff" in recommendations going forward.
"The reopening guidance, created in partnership with the Iowa Department of Public Health, provides school districts and nonpublic schools the flexibility to best meet the needs of their students, staff, families and communities," the spokesperson said. "A school district or nonpublic school may require more prescriptive measures based on myriad circumstances they could face, which should be done in consultation with their legal counsel and local public health officials."
Newsweek reached out to ISEA for additional comments, but did not receive replies in time for publication.