Iowa's Messy Results Offer Fascinating Clues About the Race Ahead | Opinion
As I write this, we still haven't seen quite all the results of the Iowa caucuses. I would also note that Iowa accounts for only about 1 percent of all the Democratic delegates who will participate in the Democratic National Convention in July, and the state isn't very representative of Democratic voters across the country. Still, there are useful lessons that can be drawn from the results so far.
What made this year's results so distinct (and, ultimately, so delayed) was the Iowa Democratic Party's decision to release three sets of numbers: (1) the number of initial caucusgoers supporting each candidate, (2) the number of caucusgoers supporting the remaining candidates after those failing to reach the 15 percent viability threshold were eliminated and (3) the number of state delegate equivalents resulting from those caucuses. Previously, only that third figure had been released.
Those three figures are telling about the candidates' strengths and weaknesses. We can think of the first number as a measure of a candidate's ability to translate support into votes, the second as a measure of turning skeptics into supporters and the third as a measure of turning votes into delegates. Each is important.
Turning Support Into Votes
Quite a few of the candidates have initial indicators of widespread public support—large rallies, many volunteers and good polling numbers—but these signs don't always translate into votes. Howard Dean, for example, was a strong poll leader going into the 2004 Iowa caucuses and attracted big, enthusiastic crowds. Yet people largely failed to show up to caucus for him in Iowa, and his campaign quickly cratered. Barack Obama, conversely, had similar pre-caucus enthusiasm in 2008, but his victory in Iowa allayed concerns that his support was just for show.
Judging from the 2020 results so far, Senator Bernie Sanders appears to have edged out former South Bend Mayor Pete Buttigieg by a few points in the first round of caucusing—that is, before any Iowans moved on to their second picks. Sanders had a strong showing and basically hit his polling estimates. Buttigieg, meanwhile, modestly overperformed his polling estimates. What's important is that neither of these campaigns' supporters failed to show up.
While Senator Elizabeth Warren's polling position had been eroding over the past few weeks, she managed to hit and maybe exceed that target in terms of votes. Former Vice President Joe Biden, however, significantly underperformed his polling expectations, coming in at just 15 percent of the first round caucusing. Klobuchar overperformed somewhat.
Turning Skeptics Into Supporters
Once candidates who hadn't reached the viability threshold were eliminated, their supporters were free to join other campaigns. From what I witnessed, the skills of the viable campaigns in wooing these supporters varied considerably. Some stood in the middle of the room and pleaded, some argued with potential supporters individually, and some directly negotiated with other campaigns, offering delegate positions in exchange for support.
The ability of candidates to pick up new supporters turned on two main factors: the candidates' appeal to people outside their initial support circle and the organizational skill of their backers. By far, as this excellent Philip Bump piece demonstrates, Buttigieg appears to have been the most successful during this realignment phase, increasing his share of supporters by about 4 percentage points. Warren and Sanders, by contrast, only went up about 2 percentage points each. All the other candidates lost support. Buttigieg seems to have had the most organized campaign and crossover appeal.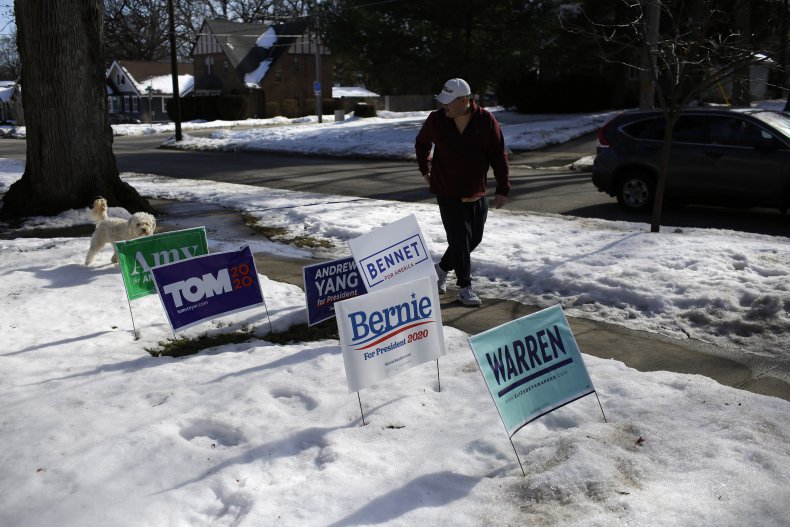 Turning Votes Into Delegates
Votes are nice, but ultimately the winner of the nomination will be the person with the most delegates. Buttigieg appeared, tentatively, to be the most successful in converting support from voters into state delegate equivalents. This seems to be a result of the geographic basis for their support. Buttigieg's support appears to have been stronger in the rural parts of the state, where caucuses are smaller and it takes fewer caucusgoers to produce a delegate. Sanders' support was in the more urban parts of the state.
I would caution against making too much of these results. Just because Buttigieg was more successful in winning crossover support and rural counties in Iowa does not mean he'll do so in other primaries or caucuses, let alone the general election. And just because Biden underperformed in Iowa doesn't mean he'll do so elsewhere. But Iowa's much-maligned 2020 caucus system actually provides us a good deal of information about the candidates' strengths and weaknesses, and some possible paths for turning a plurality of caucusgoers into a majority of delegates.
Seth Masket is a professor of political science and the director of the Center on American Politics at the University of Denver. His book, Learning From Loss: The Democrats 2016-2020, is due out from Cambridge University Press in September 2020.
The views expressed in this article are the writer's own.