iPhone Rumors: New Design, OLED Screen and Other Changes Apple Is Considering for 2018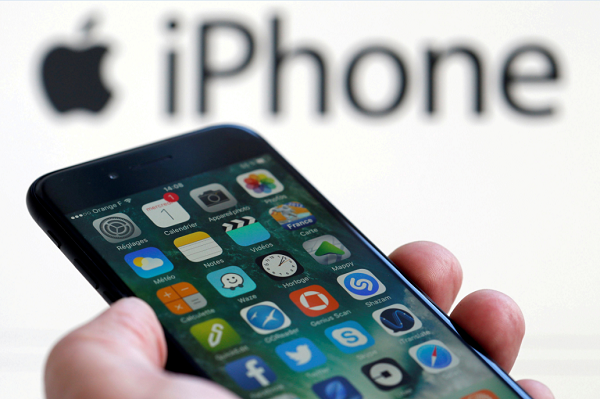 The design process for Apple's next generation iPhone is already underway, and the changes the technology giant is considering making to the iPhone 8 could have an astounding effect on competing smartphones.
The company is reportedly considering releasing three new iPhone models in 2018, according to a Thursday Nikkei report, and the most game-changing—and probably most lucrative—iPhone feature could be a new display made with an organic light-emitting diode (OLED). The OLED screen would roll out on all new iPhones, including the iPhone 8, sometime in 2018, while two other models will reportedly release in 2019 with liquid-crystal displays.
The OLED screens, which are currently only used on Samsung's Display smartphone, offer a sharper color contrast than LEDs. Blacks look richer on OLED displays, and images appear brighter and fuller under the light-emitting technology of OLED. Another perk of OLED is that it's ultrathin and flexible, which would allow iPhone screens to bend. The display is also considerably more durable and can function under a broader temperature range than LED, which tends to overheat quickly.
More than 90 million iPhone models are expected to be shipped over the second half of 2017, according to tech news site Nikkei. Were Apple to decide to use OLED screens on their new models going forward, OLED could easily become the mainstream display of smartphones going forward.
Although the screens would be better quality, making such changes could create inventory challenges. Due to iPhone's high demand, panel-makers in the industry told Nikkei that there are concerns they may not be able to produce enough to meet the high volume of new iPhones if all are made with OLED screens in 2018. Not to mention, if there was a shortage of OLED screens, Apple's decision to use them on iPhone 8 models would almost eliminate chances of competitors offering the OLED display for their products.
To combat that, Apple may only use OLED display in its premium handset, which is rumored to feature another new change: No home button.
There is a possibility that the iPhone 8 also won't feature the in-screen fingerprint scanning, according to tech news site NDTV, which allows iPhone users to unlock their phones with the touch of a finger. It's unclear whether the security feature will just be placed elsewhere, but KGI Securities analyst Ming-Chi Kuo told NDTV that the Touch ID technology won't be embedded under the display like current iPhone models.
The full redesign could cost iPhone users up to $1,000 for the new model. However, the other two releases are still slated to look similar to the currently available iPhone 7 and iPhone 7 Plus designs, and will probably be priced much cheaper.