FEMA 'Presidential Alert' Text: Can You Turn off Emergency Messages on iPhone, Galaxy, Android Devices?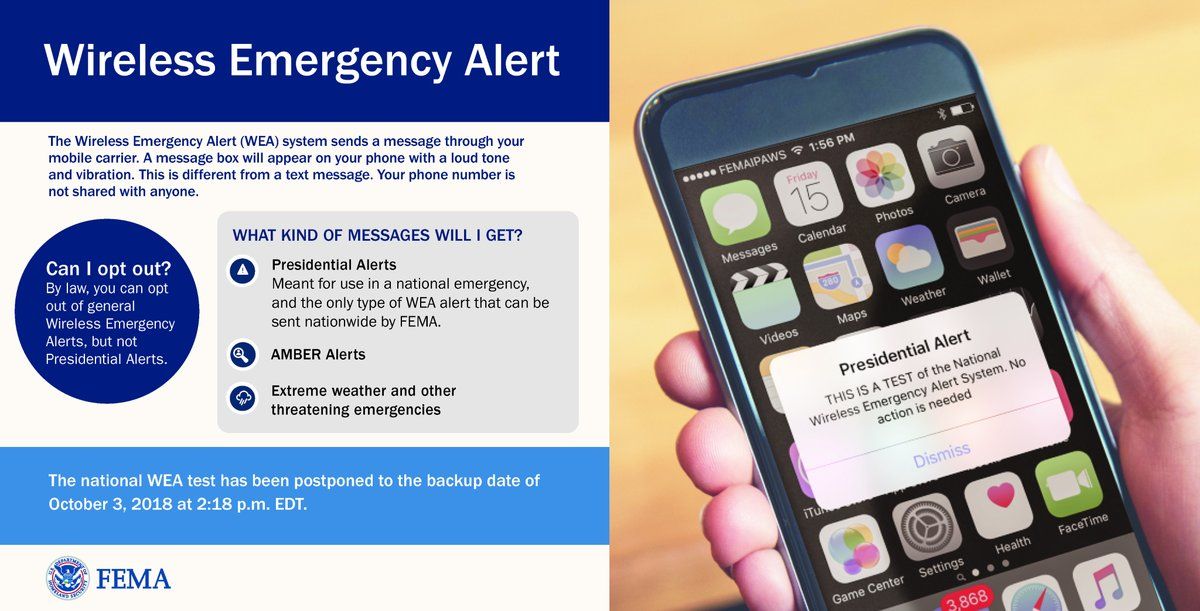 Most people are used to the alerts they sometimes get on the cell phone that indicate an emergency, like and AMBER alert about a missing child or a weather notification related to flooding or a hazard in the area. The loud alert, accompanied by a vibration, can vary in sound depending on the type of device but it always accompanied by a message that says what the hazard or alert is.
Users can opt to turn these "government alerts" off, in most cases. But there's a new one that device owners can't opt out of. Wednesday, people with Wireless Emergency Alerts compatible devices will all get an alert from the Federal Emergency Management Agency and the Federal Communications Commission from the president.
The message is simply a test of the Integrated Public Alert and Warning System. Starting at 2:18 p.m. EDT Wednesday cell phone towers are expected to broadcast the test message that says "Presidential Alert" as the header with the message "THIS IS A TEST of the National Wireless Emergency Alert System, No action is needed," according to FEMA. Users cannot legally opt out of this message.
There are actually two systems at work, the WEA system that is used for weather events, missing children and now the Presidential Alert. But the Emergency Alert System, or the EAS, is specifically designed so that the president can communicate the nation via broadcasts on television and radio necessary. That test will be similar to the other tests that happen once a month and is expected to last about a minute.
How to turn off emergency alerts on iPhone, Galaxy Phones:
On an iPhone, users can toggle the AMBER and Emergency alerts on or off easily in the notification settings. Users should first open their "Settings" and then scrolls down to, and select, "Notifications." This pulls up the options for all notifications across all apps, at the bottom of the list of apps, there's a "Government Alerts" section. Listed there are "AMBER Alerts" and "Emergency Alerts." Users can select to turn these on or off like they would toggle any option on or off on their device.
On a Samsung Galaxy device, users can also adjust their notifications. They should first open their messaging app and then select "Menu" in the corner. Once they do that, they can select "Settings" and scroll down to the "Emergency Alerts" section and uncheck the AMBER Alerts and the Emergency Alerts there. For some Galaxy devices, users have to go to "Apps" and then "Emergency Alerts" or "Settings" and then "Privacy and Emergency."
On other Android devices, users should select "Settings" and then scrolls down to the "Sound" option before selecting "Emergency broadcasts."
​