iPhone X 'Tesla' Costs $4,500 and Comes with a Self-Charging Solar Panel
A Russian web boutique called Caviar, which specializes in high-end smartphones and accessories—many branded with the face of president Vladimir Putin— has released a big-budget iPhone X "Tesla" handset that comes with a built-in solar panel to charge the battery using the sun.
A 64 GB model costs the equivalent of $4,500 (284,000 ₽ excluding taxes and duties) while a 256GB model will set you back around $4,800 (299,000 ₽ ). The Moscow-based firm says that its work was inspired by Elon Musk's "innovative developments" and that the first version of the phone—out of a run of 999—is intended to be sent to the billionaire Tesla and Space X CEO.
As first spotted by AppleInsider, the iPhone X "Tesla" appears to be significantly thicker at 16.2mm than its U.S.-made counterpart's 7.7mm. Caviar said the solar panel built into its carbon fiber case is shock-resistant. Additionally, it has IP67 water and dust resistance while each device will be numbered in the order they were made. The model designed for Musk has been engrained with the words "made on earth by humans", a homage to his rocket launch that sent a Tesla Roadster into space.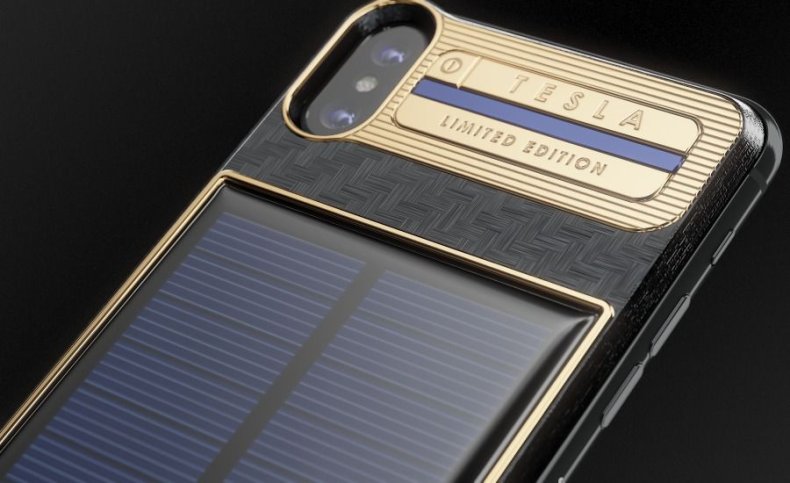 Caviar's engineers reportedly carried out more than 100 tests to prove the "effectiveness and safety" of the solar-charging system. The company said that it initially planned to release 99 handsets as part of the limited-edition series, but that pre-orders exceeded expectations.
Customers in Russia don't have to pay until the Tesla model is inspected, and the firm has said, without elaborating, that the transaction is "accompanied by a personal consultant."
"The case of the smartphone is equipped with a carbon base, golden decorative elements, battery charge indicator and charging shock-resistant plate," Caviar said in a release this week.
"It is easy to imagine this phone in the hands of the astronauts, pioneers, people who make great discoveries on the edge of human capabilities," it added. The boutique said the project was inspired by scientists, technologists and innovators including Steve Jobs, Nikola Tesla and Elon Musk.
Caviar boasts clients including actor Steven Seagal, oligarch Arkady Rotenberg and U.S. "Limp Bizkit" musician Fred Durst. It sells iPhones branded with the faces of leaders, including Vladimir Putin and Donald Trump and even released one to commemorate the pair's 2017 G20 meeting.
If that's too niche, perhaps a gold-plated AK-47 or Makarov pistol is of interest?