iPhone's 'Clean Energy' Charging Sparks Republican Outrage
The iPhone's newest update includes a feature that has some Republicans outraged on Twitter.
Republicans have recently opposed "woke" features implemented by companies, such as Hershey's, which recently used a transgender woman in its International Women's Day ad campaign, and M&M's, which updated its cartoon candy characters to include more gender-inclusive roles. Some Republicans think that iPhone maker Apple is the latest company implementing a "woke" trend.
With iOS 16.1, the iPhone's recent software update, some users noticed a new charging feature called Clean Energy Charging. Some Republicans were so displeased that they told their followers how to turn off the feature.
"I turned off clean energy charging to increase my carbon footprint. I believe in feeding trees," Georgia Republican Representative Marjorie Taylor Greene tweeted, including a photo on how photosynthesis works and retweeting a post from the account Chief Nerd, who identifies on Twitter as a "full-time software engineer" and "part-time citizen journalist."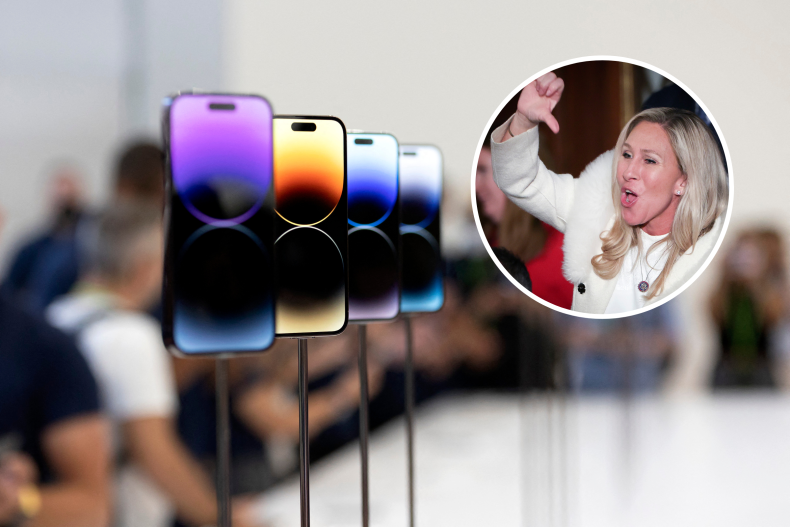 "If you noticed your iPhone is charging a little slower recently it may be due to a new setting Apple added in iOS 16.1 — Clean Energy Charging," Chief Nerd tweeted. "With it turned on, iOS will only recharge the iPhone's battery when the electrical grid uses cleaner energy sources like solar or wind. You can disable it under Settings > Battery > Battery Health & Charging."
John Rich, founder of Redneck Riviera whiskey, had a similar reaction.
"Had to update my phone and guess what I found? Go to: settings-battery-battery health&charging-Clean energy mode? 'Clean energy mode' decides how to allow your phone to charge based on your 'carbon footprint.' Turn it OFF. This ain't China, yet. Pass the word," Rich tweeted.
According to the Apple website, when an iPhone user enables Clean Energy Charging and connects their iPhone to a charger, the iPhone receives a carbon emission forecast from the local energy grid. The phone then uses the forecast to charge the phone during times of cleaner energy production.
Merriam-Webster defines "woke" as someone who is "aware of and actively attentive to important facts and issues [especially issues of racial and social justice]." Republicans have frequently used the word as an insult companies or people who don't align with their beliefs.
In February, Newsweek reported that Climate Central, a nonprofit news organization that analyzes and reports on climate science, conducted a study that found wind and solar capacity increased 16 percent from 2021 across the U.S. The past few years, many companies have sought out more sustainable and green energy efforts to combat climate change.
According to Apple, the Clean Energy Charging feature is available only in the U.S. and becomes the default setting once the iPhone updates to iOS 16.1.
Newsweek reached out to Apple and several climate experts for comment.