iPhones Looted From Apple Stores Display Message Saying Device is Disabled and 'Being Tracked'
Some Apple products stolen from stores looted during recent protests appear to be permanently locked, photos shared to social media this week have shown.
On Twitter, seemingly looted iPhones are pictured with blurred screens accompanied by a message that reads, "This device has been disabled and is being tracked. Local authorities will be alerted."
The message additionally requests that the iPhone is returned to the Apple Store it came from. Whether the disable and tracking functions apply to other Apple merchandise is unclear, as is the fate of individuals who fail to return devices that have been stolen.
Regarding the notification messages attached to looted phones, an Apple spokesperson told Newsweek the company does not comment on matters pertaining to security.
Some social media users have suggested there are ways to bypass the lockdown function to activate a looted device. However, since an iPhone removed from an Apple Store's showcase table, which the company refers to as a "demo" device, is wired differently than one a customer can purchase, traditional hacking methods will likely prove unsuccessful. Though Apple has programmed its demo devices with software that disables and tracks them once stolen for years, many were lifted from stores looted over the weekend.
Amid demonstrations protesting the death of George Floyd, multiple Apple Stores were subject to burglaries in the past week, as retail businesses across the United States reported theft and other property damage. Many of those participating in the protests—which condemn police violence and seek justice for Floyd and others who have died in custody—have rallied through nonviolent means. Amid widespread public action and preoccupied law enforcement, others have used demonstrations as opportunities to commit crimes.
Apple Stores in major cities, including Washington, D.C., Philadelphia, Portland and Phoenix, were looted and vandalized during protests that took place on Saturday. Though stores had recently reopened after lengthy closures implemented in response to the new coronavirus pandemic, Apple temporarily closed several U.S. locations due to looting concerns.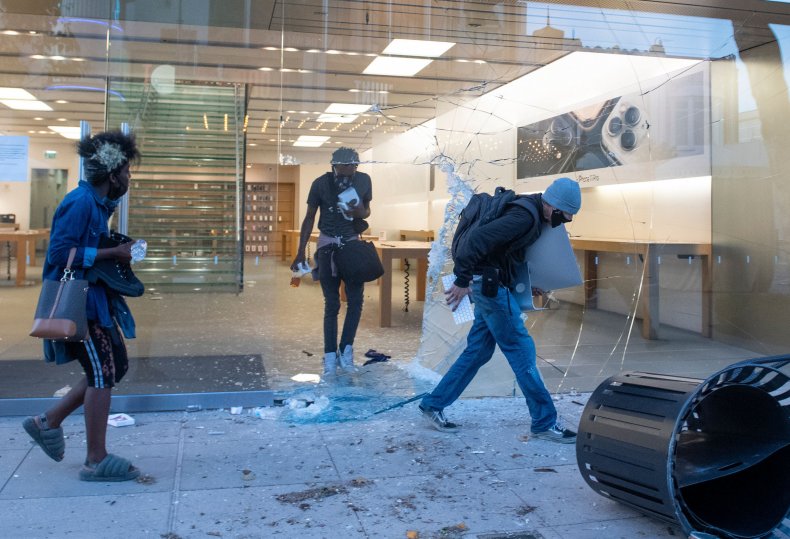 Apple has not released details about products lost through looting. However, the company's CEO addressed Floyd's death and the protests that have taken place since in a message to Apple employees, which Bloomberg News obtained on Sunday.
"Right now, there is a pain deeply etched in the soul of our nation and in the hearts of millions. To stand together, we must stand up for one another, and recognize the fear, hurt, and outrage rightly provoked by the senseless killing of George Floyd and a much longer history of racism," he wrote. "To create change, we have to reexamine our own views and actions in light of a pain that is deeply felt but too often ignored. Issues of human dignity will not abide standing on the sidelines."