Iran Accuses Trump Administration of Waging 'Propaganda Warfare' and Using 'Fake Intelligence' to Escalate Tensions
Iran's spokesperson for its diplomatic mission to the United Nations accused President Donald Trump and his administration of waging "propaganda warfare" and using "fake intelligence" to escalate tensions with the Persian Gulf nation.
Alireza Miryousefi made the statement on Thursday after the U.S. State Department withdrew nonessential staff from the American Embassy in Iraq, citing alleged threats from Iran and Iranian-backed militants.
The Trump administration's posture toward Iran has grown increasingly tense in recent weeks as U.S. officials said Iranian-backed groups had planned attacks on American and allied interests in the region.
"This is just the latest escalation in the propaganda warfare the U.S. waged against Iran, using 'fake intelligence' perhaps hoping to initiate a conflict," Miryousefi said in an official statement, Iran's Islamic Republic News Agency reported. "Iran is no threat to anybody in Iraq or elsewhere, and Iran is not preparing for any attacks anywhere.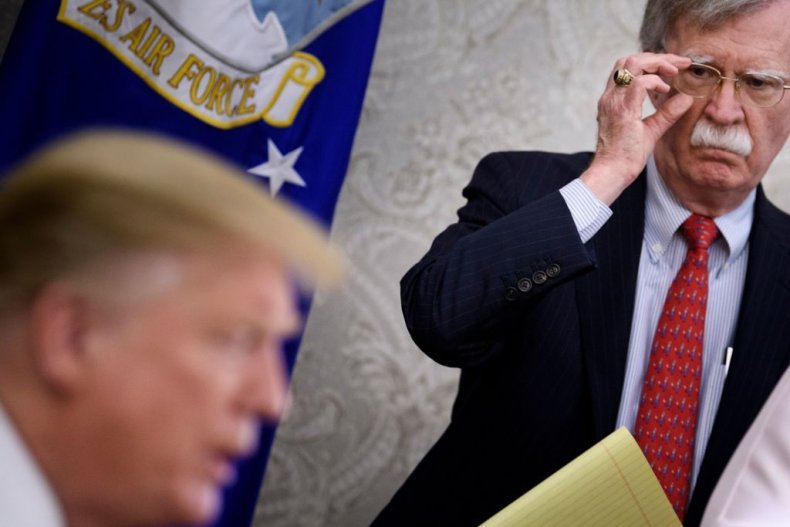 "Iran, as is evidenced by our history, only acts in self-defense, and has no offensive strategy against any nation," the diplomatic official added. "Iranians will not capitulate to this new psychological war."
Despite the warnings from the U.S., allies expressed skepticism about the threat posed by Iran. British Major General Chris Ghika, a senior officer in the U.S.-backed coalition fighting ISIS, said on Tuesday that he had seen "no increased threat from Iranian-backed forces in Iraq and Syria."
European Union Foreign Minister Federica Mogherini also warned against escalating tensions.
"We are living in a crucial, delicate moment where the most relevant and responsible attitude to take is that of maximum restraint and avoiding any escalation on a military side," she said.
Last week, Trump's National Security Adviser John Bolton announced that the U.S. had deployed the USS Abraham Lincoln Carrier Strike Group and a bomber task force to the Persian Gulf region. He said the move was intended to "send a clear and unmistakable message to the Iranian regime that any attack on United States interests or on those of our allies will be met with unrelenting force." It was also reported this week that top administration officials had recently reviewed a plan that would see 120,000 U.S. troops deployed to counter Iran.
Iranian officials dismissed the move, saying they had no plans to attack the U.S. but would not hesitate to defend themselves if necessary.
"Iran does not seek tension in the region, but Tehran will defend its rights powerfully," Iranian Foreign Minister Javad Zarif reiterated on Thursday during a trip to Japan, according to IRNA.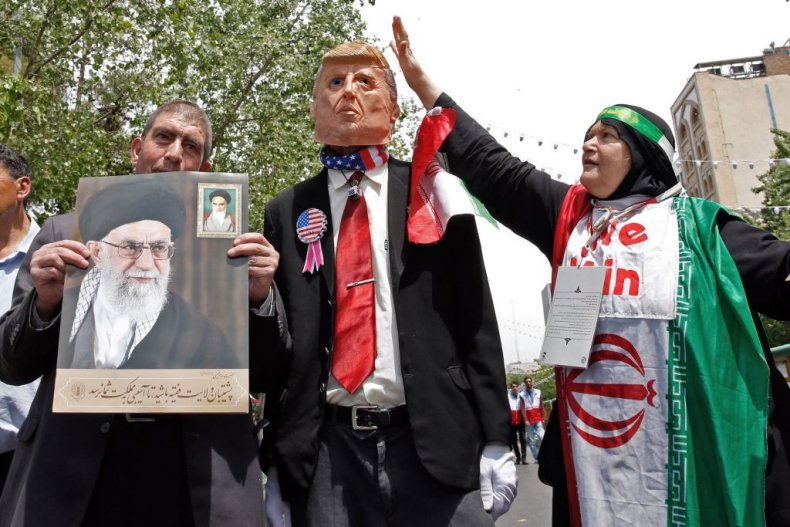 Many analysts and some politicians warned that the Trump administration might be taking similar actions to those taken by the administration of President George W. Bush in the lead up to the invasion of Iraq in 2003. U.S. officials used inaccurate intelligence and misled the public, claiming that the regime of Saddam Hussein possessed weapons of mass destruction. That claim was later revealed to be false. Allies and many in the U.S. were highly skeptical of the claims at the time, but Bush chose to move forward with overthrowing Hussein's government. Hundreds of thousands lost their lives as a result of that decision, and analysts argued it led to the growth of the extremist militant group the Islamic State, or ISIS.
"I really cannot believe that we failed to learn anything from the first decade of this century," Elise Jordan, who worked in the Bush White House, said Tuesday during a segment on MSNBC. "And we are actually considering escalating with Iran in a war that would further destabilize the region and unleash God knows what in terms of chaos in a very troubled region already."
Senate Minority Leader Chuck Schumer made a similar argument to Senate colleagues on Wednesday.
"Did we learn the lessons of the last decade?" Schumer asked. "There is an alarming lack of clarity here, there's a lack of strategy, and there's a lack of consultation."
Iran Accuses Trump Administration of Waging 'Propaganda Warfare' and Using 'Fake Intelligence' to Escalate Tensions | World