Iran's Ex-President Talks About Using Twitter, Is Reminded It Was Banned During His Tenure
The former president of Iran, Mahmoud Ahmadinejad, has been challenged in an interview about his time in power, which was marked by international criticism of his country's human rights record and a clampdown on freedoms.
Ahmadinejad was questioned by Radio Free Europe about his two terms in power between 2005 and 2013, during which opposition figures and journalists were arrested and social media platforms were filtered.
RFE interviewer Golnaz Esfandiari asked the former president: "You tweet in English and there were reports that you have an English teacher. Do you write the tweets yourself or do you consult with someone?"
Ahmadinejad replied: "It's normal, I consult with my friends. They suggest important regional issues, world issues, we create a list, we prepare a text and then we tweet." Esfandiari responded: "What anti-filtering tool do you use to access Twitter, which is filtered in Iran? I think it was banned under your presidency wasn't it?"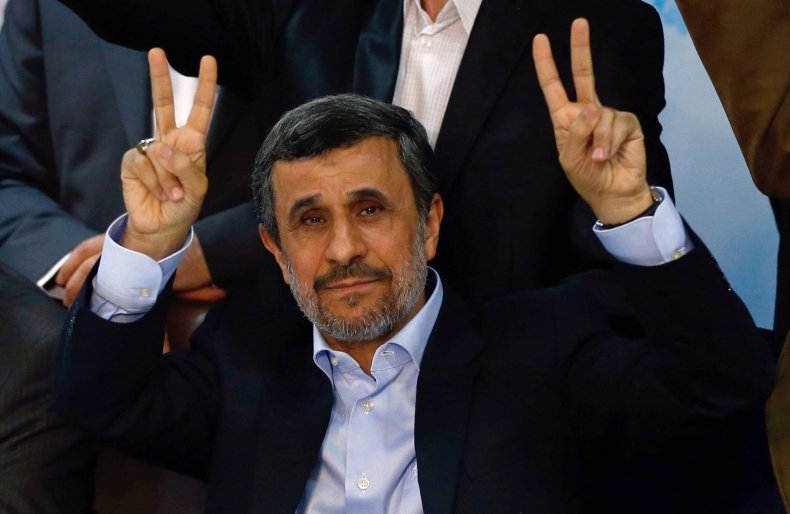 Ahmadinejad replied: "I don't recall," before Esfandiari added: "It is filtered. Twitter is filtered, Facebook is filtered."
Ahmadinejad then said: "Those who filter it, sell anti-filtering tools. Everyone is (on Twitter) It doesn't matter, it just adds a cost."
Iran banned Twitter in 2009, as it was being used by protesters to communicate following the disputed presidential election that year—although many used circumvention tools.
Without any announcement, Iranian authorities partially unblocked Twitter in November 2016. This was followed by a spike in usage of the microblogging site for millions of Iranians, according to the Campaign for Human Rights in Iran.
While the social networking site has been heavily filtered in the country for years, it is used by some of the Islamic republic's highest-ranking figures. Supreme Leader Ayatollah Ali Khamenei has accounts in several languages in which his speeches and statements are posted regularly. President Hassan Rouhani has over 1.1 million followers and foreign minister Mohammad Javad Zarif has 1.5 million followers.
Ahmadinejad also faced other tough questions about his tenure, including how he felt about the estimated 60 people killed, and many arrested and tortured, during protests after his re-election in 2009.
"Well, yes, one should feel upset whenever any human anywhere on the planet is in trouble," Ahmadinejad said before being asked why he didn't speak up about those hurt in 2009. "I did, it's been documented," he responded, "We're now in 2020, 11 years have passed, we have to think about today's problems."
He was also challenged over whether he believed opposition figures arrested during his presidency and still under house arrest should be released. He said: "I oppose the arrest, imprisonment and restrictions on any human being on the planet."
Ahmadinejad denied ordering the harassment of independent journalists and their families by the intelligence ministry during his tenure. As Esfandiari pressed Ahmadinejad on this, the former president said, "you don't let me speak, you interrupt any sentence I say."
When asked if he had any regrets about his presidency, he answered "No, why should I have regrets? Everything was done based on principles and plans and thoughts for the progress of Iran."
Ahmadinejad also believed that whoever won the U.S. election "doesn't make any difference to me" because in his view, U.S. foreign policy did not change with a change of president.