Iran has sought to shore up air, land and sea defense cooperation with neighboring Iraq, seeking a series of security deals as its rival, the United States, pulls out more troops in an effort to draw down its protracted war effort in the Middle East.
Just one day before the Pentagon's acting chief announced the decision to reduce the number of U.S. troops in Afghanistan and Iraq to 2,500 by January 15 as part of Trump's plans to end the United States' "perpetual war" abroad, Revolutionary Guard aerospace commander Brigadier General Amir Ali Hajizadeh railed against the United States on Monday in part of a series of meetings between senior Iranian and Iraqi military officials in Tehran.
"The United States is always seeking Iraq's oil wells, as well as the disintegration of Iraq and the division of its nation and officials," Hajizadeh said.
Trump has acknowledged his desire to maintain control of natural resources in the Middle East but has also promised to bring about an end to lengthy, costly military interventions across the world. In Iraq, both the U.S. and Iran battled the Islamic State militant group (ISIS) but the defeat of the jihadis and the White House's exit from a multilateral nuclear deal has brought about a sharp escalation in tensions with Tehran.
This animosity erupted earlier this year with the U.S. killing of Revolutionary Guard Quds Force commander Major General Qassem Soleimani and Iraq's Popular Mobilization Forces second-in-command Abu Mahdi al-Muhandis at Baghdad International Airport.
Hajizadeh said the peoples of Iran and Iraq "would never forget" their deaths and swore revenge for the explosive act that pit two nations Iraq considers partners against one another. Baghdad has continued to seek close cooperation with Washington even after the event but on Monday Iraq's defense chief stressed the importance of his nation's collaboration with Tehran.
Iraqi Defense Minister Lieutenant General Juma Anad Saadoun gave similar assurances Saturday to his Iranian counterpart Brigadier General Amir Hatami and on Sunday to Iranian military chief of staff Major General Mohammad Hossein Baqeri, who said the two countries have drafted an agreement to formally boost their joint military efforts.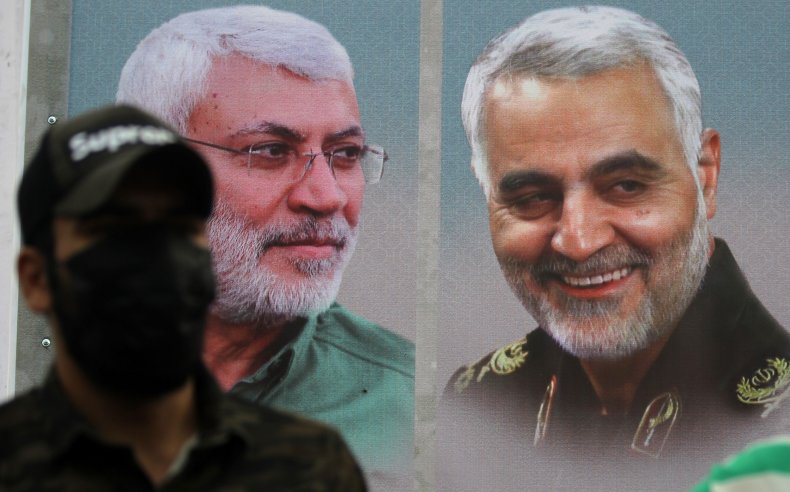 Baqeri said this included providing Iraqi forces with arms and equipment, an arrangement long restricted by international law until last month's expiration of a United Nations arms embargo the U.S. fought unsuccessfully to extend.
The two countries discussed specific areas of cooperation in a number of fields.
Saadoun also met Sunday with Supreme National Security Council Secretary Ali Shamkhani. The pair consulted on reinforcing security on their 1,000-mile border, with the senior Iranian official saying defense cooperation between the two nations "guarantees regional stability and security, and must be promoted to strategic levels and be institutionalized," according to the semi-official Tasnim News Agency.
Revolutionary Guard naval commander Rear Admiral Ali Reza Tangsiri sat down that same day with Iraqi navy chief Rear Admiral Ahmed Jassim al-Ma'arij for a dialogue on defending their maritime borders in the Persian Gulf.
When it comes to securing the skies, Iranian Army Ground Force Airborne Division commander General Yousef Qorbani spoke Sunday with his Iraqi counterpart General Samir Zaki Hussein about joint helicopter work among other topics. On Tuesday, Iranian Air Force commander Brigadier General Aziz Nasirzadeh and his Iraqi counterpart Lieutenant General Shahab Jahid Ali al-Shakarachi discussed coordination on the aerial battle against militant groups and the mutual development of their air forces.
Iran and Iraq have a complex history, having fought in a 1980s war in which the U.S. tacitly backed both sides. Tehran later established ties with the fellow Shiite Muslim-led administration that came to power in Baghdad after the U.S. invasion that overthrew Iraqi President Saddam Hussein.
The country has since been at the center of a struggle for regional influence between the U.S. and Iran, a contest in which the stakes have risen substantially in recent years.
As the Iran-Iraq meetings wrapped up Tuesday and the latest U.S. drawdown was announced, four rockets that Iraq's official Security Media Cell said were launched from the Al-Amin Al-Thaniyah neighborhood in New Baghdad's Al-Alf Dar district struck the capital's Green Zone, a secure section of the city hosting international buildings including Washington's massive, militarized embassy.
Such anonymous attacks, often targeting U.S. forces, have become increasingly common over the past two years as U.S.-Iran tensions have risen dramatically, and were often attributed by Iraqi authorities to unspecified "outlaws" and by the U.S. to Iran-aligned militias.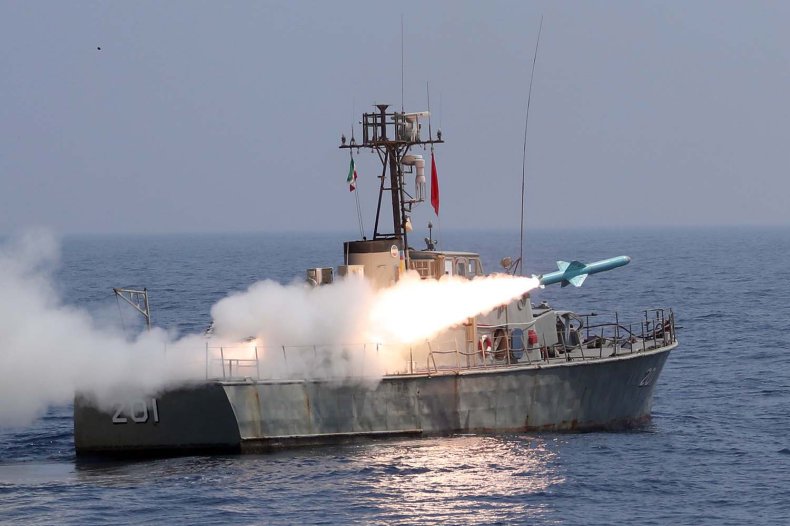 Iraq's Kataib Hezbollah, a member of Iraq's Popular Mobilization Forces, claimed the latest assault had been staged by U.S. forces to distract from Trump's projected electoral loss at home.
Trump has discussed little of foreign policy since media outlets last week declared Biden the victor in the 2020 vote, but a Monday report in The New York Times cited four current and former U.S. officials attesting that the president sought military options for bombing Iran's Natanz nuclear facility last week.
The site is believed to be hosting a uranium stockpile 12 times larger than permitted under the Joint Comprehensive Plan of Action (JCPOA), the 2015 nuclear agreement abandoned two and a half years ago by the Trump administration. The U.S. sanctions that followed have wrecked Iran's economy and fueled the worsening feud between the two longtime foes, but Iran has pledged to relive up to its commitments should Biden return to the JCPOA as promised.
Responding to reports of the latest U.S. military threat, Iranian mission to the United Nations spokesperson Alireza Miryousefi was ready, willing and able to defend itself.
"Iran has proven to be capable of using its legitimate military might to prevent or respond to any melancholy adventure from any aggressor," Miryousefi tweeted. "Trump's withdrawal from #JCPOA & his cruel sanctions have not changed the peaceful nature of Iran's peaceful program."