Iran Dismisses U.S. Aircraft Carrier Deployment as 'Clumsy' Psychological Warfare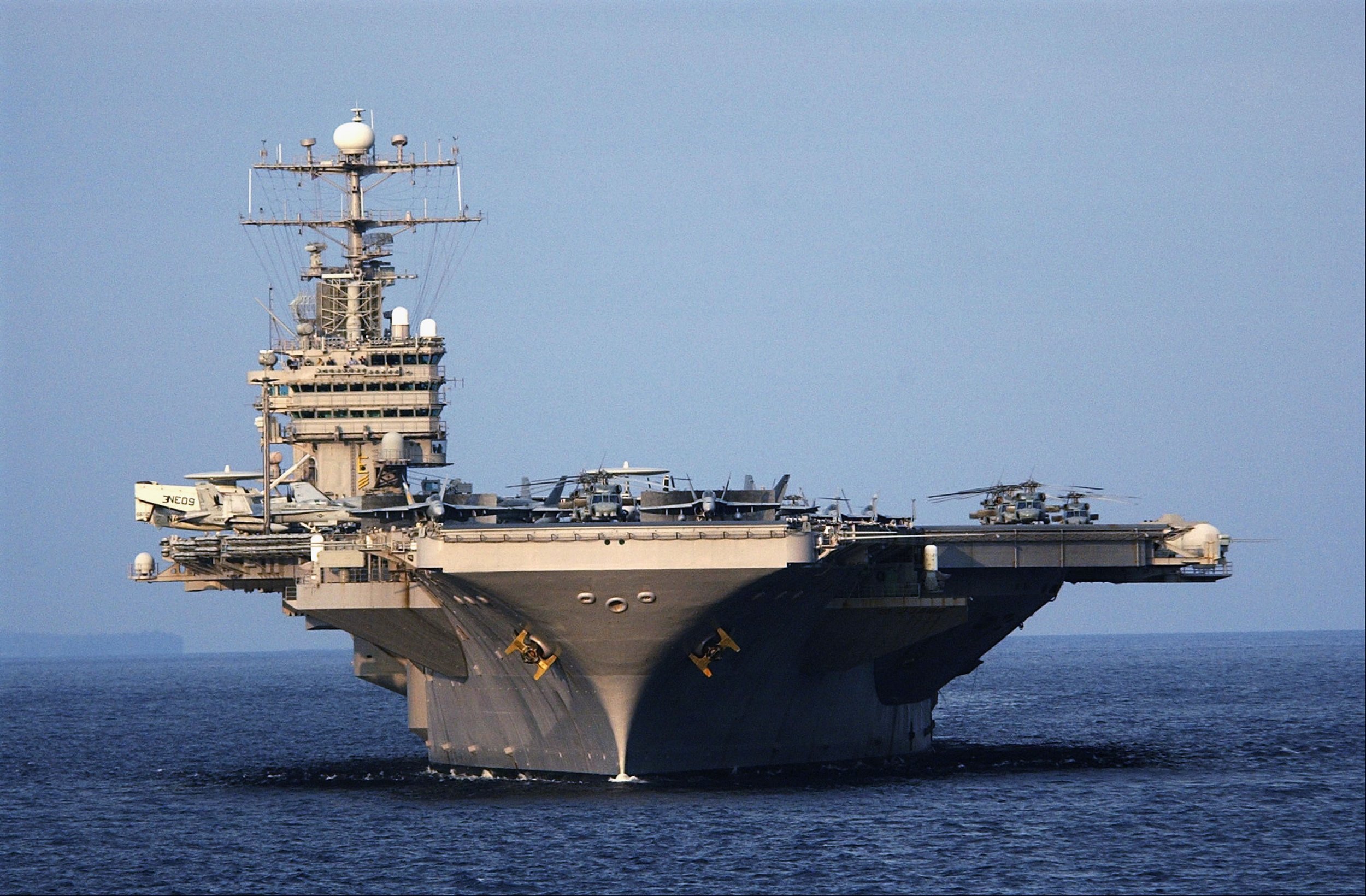 Iran's national security body has dismissed the deployment of an American carrier strike group to the Middle East as psychological warfare as tensions between Washington and Tehran continue to escalate.
According to Iran's semi-official Tasnim news agency, Keyvan Khosravi—a spokesperson for the Supreme National Security Council—issued a statement on the deployment of the USS Abraham Lincoln carrier group and a bomber task force, announced by National Security Adviser John Bolton on Sunday.
"Bolton's statement is a clumsy use of an out-of-date event for psychological warfare," said Khosravi, according to Al Jazeera. He also suggested that Iranian forces had been tracking the carrier group since it arrived in the Mediterranean Sea 21 days ago.
On Sunday, Bolton said the ships and bombers were being sent to the Middle East in response to "troubling and escalatory indications and warnings" from Iran. A prominent hawk who has called for military action against Tehran, Bolton did not specify what troubling indications prompted the deployment.
But for Khosravi, Bolton's motivation is simple. He said President Donald Trump's adviser "lacks military and security understanding, and his remarks are mostly meant to draw attention to himself."
In his announcement, Bolton said U.S. forces were deployed "to send a clear and unmistakable message to the Iranian regime that any attack on United States interests or on those of our allies will be met with unrelenting force."
"The United States is not seeking war with the Iranian regime," he added. "But, we are fully prepared to respond to any attack, whether by proxy, the Islamic Revolutionary Guard Corps, or regular Iranian forces."
On Monday, Acting Defense Secretary Patrick Shanahan said the forces had been repositioned based on indications of a "credible threat by Iranian regime forces," though he did not elaborate. "We call on the Iranian regime to cease all provocation. We will hold the Iranian regime accountable for any attack on U.S. forces or our interests," Shanahan said.
Last week, Iran warned that a "B-team" around Trump—including Bolton and Israeli Prime Minister Benjamin Netanyahu—were pushing for conflict with Tehran. "The B Team is pushing U.S. policy toward a disaster," warned Foreign Minister Mohammad Javad Zarif. "The plot is to push Iran into taking action. And then use that," he claimed.
An Iranian lawmaker responded to the deployment by threatening military action. Alaeddin Boroujerdi, a member of the Iranian parliament who previously served as the country's deputy foreign minister, said carrier strike group would "definitely be drowned by our precision-guided missiles" if it "made a mistake.
"War with Iran is playing with fire, and it will burn all, and not just Iran," Boroujerdi added.