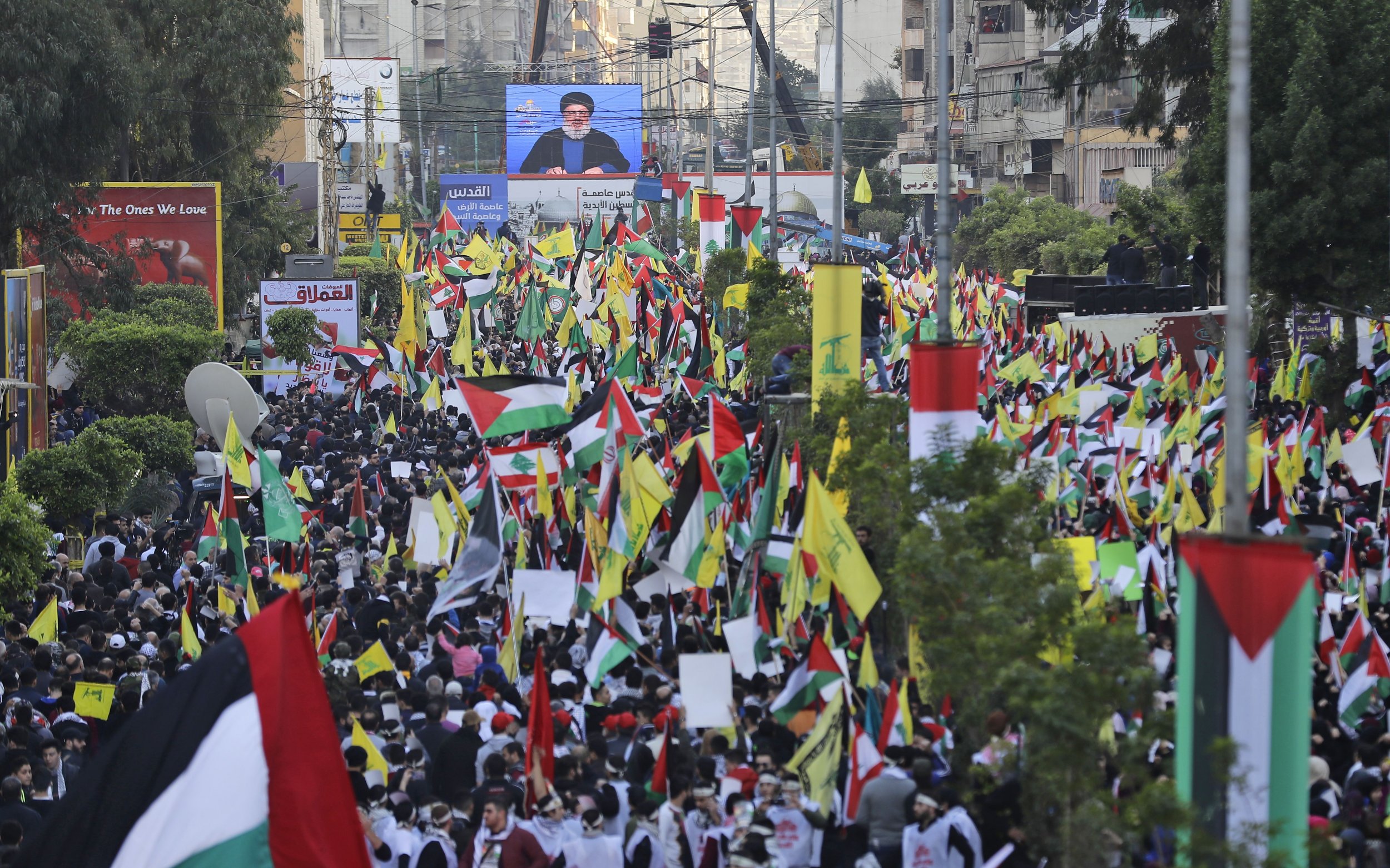 Lebanese Shiite Muslim group Hezbollah and Palestinian Sunni Muslim group Hamas, two influential political and paramilitary organizations opposed to Israel, have apparently joined forces in response to President Donald Trump's recent decision to recognize the contested, holy city of Jerusalem as the capital of Israel.
Hezbollah and Hamas, which both support an independent Palestinian state and have clashed with Israel on various occasions, found themselves on opposite sides of a civil war in neighboring Syria where Hezbollah mobilized on behalf of Syrian President Bashar al-Assad and Hamas supported opposition groups trying to oust him since 2011. As Assad, an ally of Russia and Iran, re-consolidated control over much of the territory he had once lost, however, Hamas has grown closer to the so-called axis of resistance formed between Iran, Syria and Hezbollah, and Trump's recent controversial ruling on Jerusalem, which Palestinians also claimed as their capital, has reportedly brought the two militant groups and other allies together.
Related: Iran says Arabs and Muslims must defend Jerusalem as rockets target Israel
"There could be an official announcement soon from the axis of resistance that it is coming together to confront Israel and Trump's decision," Lebanon's The Daily Star cited a Lebanon-based security source described as being close to both groups as saying Tuesday.
The alleged gathering, which also was mentioned by Iran's semi-official Press TV, also would include several other groups active in the Palestinian territories of Gaza and the West Bank as well as the Iran-backed, mostly Shiite Muslim Popular Mobilization Forces of Iraq. Whereas Hezbollah took on the Islamic State militant group (ISIS) and rebel groups in Syria and the outskirts of Lebanon, the Popular Mobilization Forces played a key role in defeating the jihadis from their country of origin.
The Popular Mobilization Forces fought alongside the U.S.-backed Iraqi military, but their opposition to the U.S.'s 14-year military presence in Iraq has recently landed some of their member militias on the State Department's list of designated foreign terrorist organizations. There they join Hezbollah, Hamas and other armed Palestinian factions potentially considering involvement in the axis of resistance, a partnership formed in opposition to the U.S, Israel and Saudi Arabia, a former ally of Hamas and bitter enemy of Iran.
Hezbollah Secretary-General Hassan Nasrallah called on Muslims and Christians earlier this month to unite in opposition to Trump's historic decision to name Jerusalem as the capital of Israel along with plans to move the U.S. embassy there from Tel Aviv. The city, which is considered sacred by Jews, Christians and Muslims, was given international status ahead of Israel's creation in 1948, but was divided between Israel and Jordan amid the conflict and mass displacement of Palestinians that followed. Israel later seized the whole city after a second Arab-Israeli conflict in 1967 and annexed the eastern half in 1980, a move not recognized internationally and viciously opposed by Arab and Muslim countries that view the city, or at least East Jerusalem, as the capital of a Palestinian state.
"The stance of the Palestinian people is the key to all the coming period," Nasrallah said during a speech, adding: "We renew our vow to stay with Palestine, Al-Quds [Jerusalem], and all the Islamic and Christian sanctities, as we are witnessing today a true intifada [uprising] in which Muslims and Christians are all united to defend the sanctities," according to Lebanon's Hezbollah-affiliated Al Manar.
Nasrallah said Hezbollah, which Iran helped establish in the middle of Lebanon's 15-year civil war and is often considered one of the world's most powerful non-state armies, could focus on supporting Palestinians now that ISIS had collapsed. Hezbollah fought two major wars with Israel, both of which resulted in Israeli withdrawals in 2000 and 2006. Hamas also emerged in the 1980s, but with the backing of Egypt's Muslim Brotherhood. Hamas played a key role in the anti-Israel intifadas of the late 1980s and early 2000s, but its rivalry with longtime, left-wing Palestinian resistance vanguard Fatah has alienated the two Palestinian movements and has potentially led to Fatah's exclusion from the upcoming meeting.
Facing an overwhelmingly negative international reaction to Trump's decision, the U.S. used its privilege as a permanent member of the United Nations Security Council to veto a resolution last week condemning it. Days later, the U.N. General Assembly put up another resolution, which the U.S. couldn't veto, and, despite Trump's threats to cut off financial aid to any country that voted against his announcement, the resolution passed 128-9.
In a separate development, Iran's parliament voted Wednesday in favor of recognizing Jerusalem as the capital of the U.N.-recognized "State of Palestine."