Iran and North Korea: Leaders Meet as Donald Trump Hits Countries With Crippling Sanctions
North Korea's Minister of Foreign Affairs Ri Yong Ho traveled to Iran on Wednesday to meet with his counterpart Mohammad Javad Zarif. The meeting comes as the administration of President Donald Trump doubles down on its efforts to levy sanctions against both governments.
Iran's state-run media said that the two leaders had discussed ways to expand the ties between the two countries and claimed, using vague language, that the two foreign ministers had discussed issues of mutual interest. The North Korean emissary is also meeting with Iranian President Hassan Rouhani.
North Korea has been subjected to numerous international sanctions over its development of nuclear weapons, its use of cyberattacks and for human rights violations. On Monday, North Korea's state media slammed the Trump administration for its failure to drop sanctions as the two countries pursue peace.
"There have been outrageous arguments coming out of the U.S. State Department that it won't ease sanctions until a denuclearization is completed, and reinforcing sanctions is a way to raise its negotiating power," North Korea's main newspaper said in an editorial. "How could the sanctions, which were a stick the U.S. administration had brandished as part of its hostile policy against us, promote the two countries' amity?"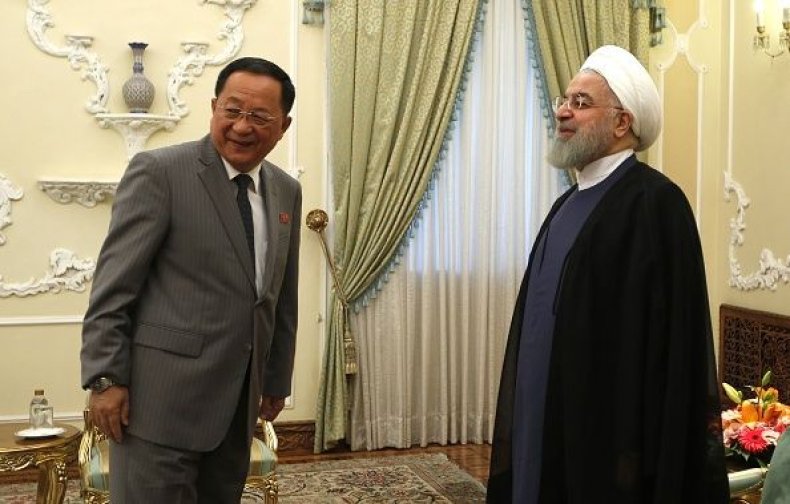 In June, Trump traveled to Singapore to meet with North Korean leader Kim Jong Un for the first time, and the two men signed a joint statement pledging to pursue the denuclearization of the Korean peninsula.
Nevertheless, a report issued by the United Nations last week revealed that Pyongyang had not yet started to denuclearize and has continued to develop its controversial missile program. Several days earlier, the Trump administration sanctioned the Russian bank Agrosoyuz Commercial Bank for doing business with a North Korean citizen who the Treasury Department says is a representative of the hermit kingdom's primary foreign exchange bank. Two North Korean companies and a North Korean citizen were also subjected to new sanctions for "illegal financial activity."
The Trump administration has continued to pursue diplomatic negotiations with North Korea, but has remained steadfast in its efforts to hit the isolated country with crippling sanctions until its nuclear weapons program has been completely abandoned.
Meanwhile, the Trump administration also re-imposed sanctions against Iran on Tuesday. Trump announced his government's decision to abandon the Iran nuclear deal, which put curbs on Iran's nuclear development program in exchange for sanctions relief, in May. European allies had urged Trump not to pull out of the deal because experts agreed that Iran was complying with its terms. However, Trump has claimed that the Joint Comprehensive Plan of Action, the formal name for the deal negotiated under former President Barack Obama, was a terrible deal and should be abandoned. He has also warned all European businesses that they will be hit with secondary sanctions if they do not stop working with Iran.
The European Union has said it hopes to provide some legal protections for European companies seeking to do business in Iran, but some European companies have already announced that they will halt their planned expansion into the country.
A second round of sanctions against Iran is planned for November. The Iranian rial has lost around half of its value since April due to the threat of U.S. sanctions. Trump has said that he would be willing to meet with Iranian President Rouhani, but Iran's leadership responded that it would only be willing to come to the negotiating table if Washington was first willing to "pull out the knife."