Iran Backs China, Calls to Investigate U.S. 'Creation and Spread' of Coronavirus
Iran has backed China's calls to investigate yet unfounded claims of the United States being the origin of the new coronavirus as an international blame game worsened over a pandemic that has infected more than 200,000 people across the globe.
Iranian Supreme National Security Council Secretary Ali Shamkhani lashed out on Twitter Wednesday against what he called the "typical way" in which some U.S. officials have emphasized China and its central Hubei province city of Wuhan as the likely place where the COVID-19 disease began and have blamed both Beijing and Tehran's governments for failing to stop its spread. Shamkhani argued this was being done by U.S. officials done in order to "evade responsibility" themselves.
"Instead of leveling false accusations against China and Iran, U.S. officials should respond to international demands regarding its role in creating and spreading the coronavirus and the continuation of its crimes against the Iranian people by keeping in place the economic sanctions," the senior Iranian official wrote.
Shamkhani's rhetoric echoed that of Chinese Foreign Ministry spokesperson Zhao Lijian, who alleged in a tweet Thursday that it "might be US army who brought the epidemic to Wuhan."
The tweet accompanied a clip in which Centers for Disease Control and Prevention Director Robert Redfield acknowledged during a House Oversight Committee session that there was a possibility that people in the U.S. who died of diagnosed influenza may actually have been killed by COVID-19 prior to widespread knowledge of the disease. Neither the CDC nor the World Health Organization has reported any COVID-19 infections in the U.S. prior to the outbreak in Wuhan.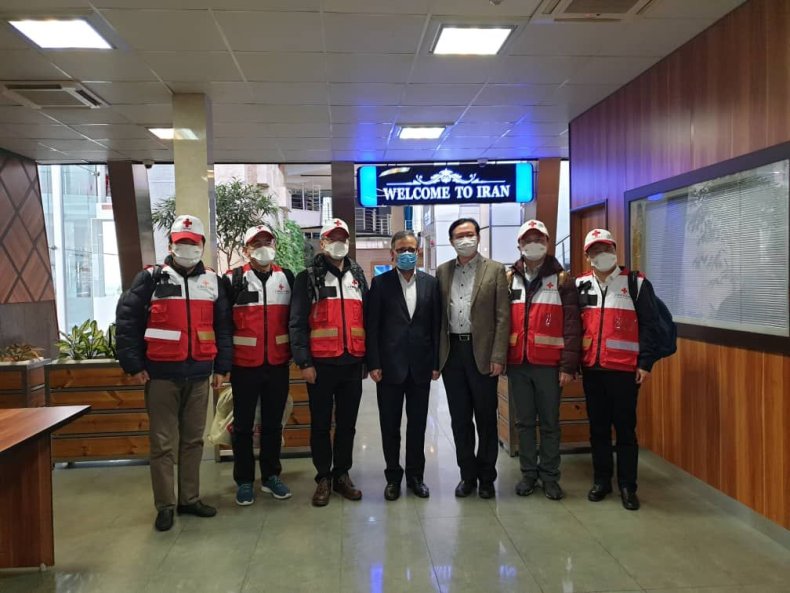 WHO recommends that new infectious diseases not be associated with geographic locations; people's names, a species/class of animal or food; cultural, population, industry or occupational references or terms that incite undue fear. Its 2015 guideline cites the severe acute respiratory syndrome (SARS) coronavirus as a good example of such naming practices and the Middle East respiratory syndrome (MERS) coronavirus as a poor one.
Still, President Donald Trump has actively sought to portray the COVID-19 as a "foreign" disease and has recently adopted the term "Chinese Virus" in his social media messaging. He told reporters Tuesday that he instituted the latest term because he "didn't appreciate the fact that China was saying that our military gave it to them."
Trump dismissed reports that such terminology might offend Asian-Americans or put them at risk at another conference the following day, saying "they probably would agree with it 100 percent, it comes from China."
Other Republican lawmakers such as Representative Kevin McCarthy of California, Senator Marsha Blackburn of Tennessee and Senator Rick Scott of Florida have adopted similar, controversial terms to describe COVID-19. Secretary of State Mike Pompeo used the term "Wuhan virus" in countering what he called a "disinformation campaign" by the Iranian government regarding the origin of the disease.
"Instead of focusing on the needs of the Iranian people and accepting genuine offers of support, senior Iranian officials lied about the Wuhan virus outbreak for weeks," Pompeo said during a press conference Tuesday. "The Iranian leadership is trying to avoid responsibility for their grossly incompetent and deadly governance. Sadly, the Iranian people have been suffering these kinds of lies for 41 years."
"They know the truth: The Wuhan virus is a killer, and the Iranian regime is an accomplice," he added.
The Trump administration has also accused China of attempting to initially cover up the extent of the epidemic, which soon produced new outbreaks in South Korea and Iran. While Italy today has the most reported active cases and deaths outside of China, Iran still has still struggled to contain a coronavirus that managed to infect and kill even elite government officials.
Iran has appealed to the International Monetary Fund for $5 billion in emergency funding to help handle its crisis as the country contends with U.S.-imposed economic restrictions laid out since the U.S. left a 2015 multilateral nuclear deal. The agreement saw Tehran agree to curb its nuclear activities in exchange for sanctions relief. Still, the Trump administration left in May 2018, arguing the accord did not go far enough to prevent Iran's support for foreign militias and its ballistic missile development in a move that deeply escalated tensions between the two foes.
"Unlawful US sanctions drained Iran's economic resources, impairing [the] ability to fight #COVID19," Iranian Foreign Mohammad Javad Zarif tweeted Tuesday. "They literally kill innocents. It is immoral to observe them: doing so has never saved anyone from future US wrath. Join the growing global campaign to disregard US sanctions on Iran."
The following day, Iranian Foreign Ministry spokesperson Abbas Mousavi criticized Saudi Arabia, Bahrain, Morocco and the exiled government of Yemen for blocking a Non-Aligned Movement joint statement opposing the ongoing U.S. measures against Iran as it faced mounting COVID-19 infections. China, a party to the nuclear deal, has frequently criticized U.S. sanctions against Iran and has stepped up humanitarian assistance to the country amid the coronavirus pandemic.
"The Iranian government and people are at a crucial juncture in their fight against the epidemic," Chinese Foreign Ministry spokesperson Geng Shuang told a press briefing Monday. "Continued unilateral sanctions at this particular time will only make things worse, which apparently breach international law, basic norms governing international relations and humanitarianism."
"They also severely impact Iran's epidemic response and the delivery of humanitarian aid by the U.N. and other organizations," Geng added. "We urge the relevant country to immediately lift such sanctions on Iran, stop getting in the way of Iran's efforts against the epidemic, and avoid further harm to Iran's economy and people's livelihood."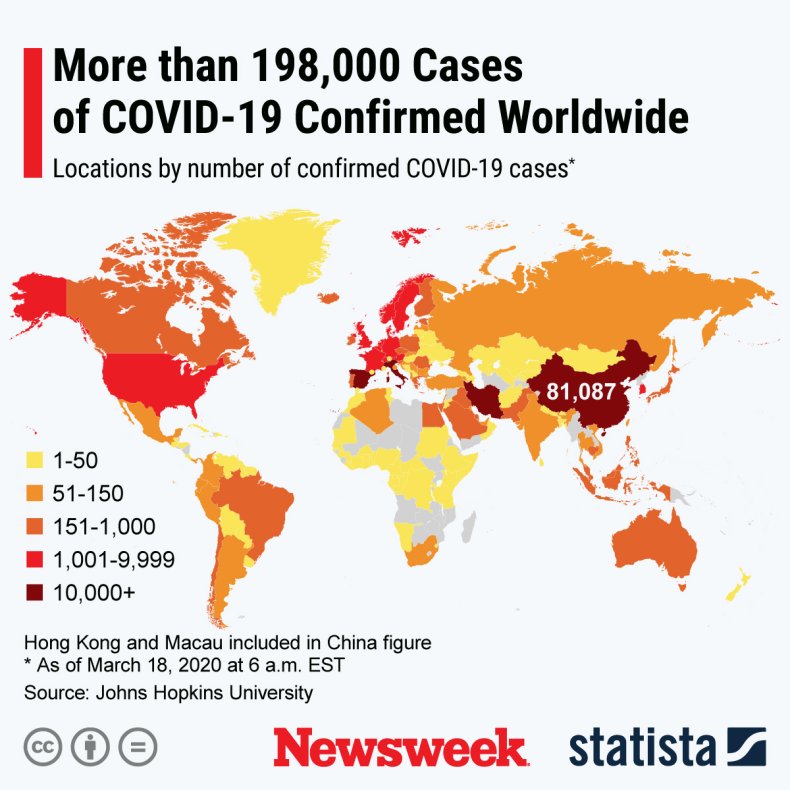 The above map was provided by Statista
Robert Destro, the State Department's assistant secretary for the Bureau of Democracy, Human Rights and Labor, said last week that the administration would "try to be useful and to provide assistance" to countries like Iran, North Korea and China. Secretary of State Mike Pompeo has argued, however, that any country looking to support the Islamic Republic should first consider demanding the release of political prisoners.
"We made a commitment to do everything we can to provide them with all that America can deliver for Iran. I hope they'll accept that offer," Pompeo Tuesday's press conference. "That alone will contribute to Iran being able to manage this problem set for the Iranian people. I hope they'll take us up on these humanitarian efforts, not only us but countries all around the world who want to come help the Iranian people stay healthy and mitigate the risk that's there."
On Tuesday, however, the top U.S. diplomat announced new sanctions against those "who have engaged in activity that could enable the Iranian regime's violent behavior." The designations were listed Wednesday by the State Department and included nine entities and three individuals from Iran, China and South Africa.
The move also came as violence continues to rock Iraq, where a U.S.-led coalition formed to battle the hardline Sunni Islamic State militant group (ISIS) have increasingly faced off with Shiite Muslim militias, some of whom had close ties with Iran.