In downtown Tehran, the German electronics powerhouse Siemens AG opens and closes for business each day. But since 2010, no new business has been done there. "You walk in the door and the staff will tell you, 'We are keeping the office open until the Iranian sanctions are lifted,'" says Michael Tockuss, managing board member of the German-Iranian Chamber of Commerce Association, in Hamburg, Germany. "People forget that many companies, like Siemens, have a history with Iran that goes back more than 100 years. They stick to the rules, but they keep up the relationship."
For Big Oil, the payoff for keeping up the relationship could be enormous, which is why oil multinationals are discreetly, but assiduously, courting Iran's oil ministry. The Islamic Republic possesses almost 10 percent of the world's crude oil reserves and nearly one-fifth of gas reserves, behind only Russia. In 2012, the United States started cracking down on foreign companies doing business with Iran. Since then, Iran's oil sector has hemorrhaged an estimated $1 billion a day, with many of its energy resources left untapped and underdeveloped.
Now, after being frozen out of the international banking system, stripped of trade with the West and denied investment in its brimming oil and gas fields, Iran is poised to become the biggest country to rejoin the global economy since the collapse of the Soviet Union. But that's only if its nuclear talks with the West succeed.
This doesn't just mean Iranians will benefit. It will also mean a major rebalancing of the power brokers of the Middle East, potentially opening the door to an era of prosperity that could bring Iran closer to the West for the first time in decades, or create a much better-capitalized and more virulent foe that uses its newfound economic fortunes for destructive ends, throwing the region into greater turmoil. For U.S. allies like Israel and Saudi Arabia, which harbor grave fears that Iran may develop a nuclear weapon, the potential for Iran to become a regional superpower as well as a cutthroat competitor doesn't just pose a security threat—it is a nightmare.
For oil majors, it raises the prospect of unlocking Iran's long-neglected energy resources, transforming the Islamic Republic into one of the world's most promising frontier markets virtually overnight.
Even with global powers racing to finalize a deal for a nuclear détente before the June 30 deadline, it is becoming increasingly evident that, for U.S. allies, including all of those participating in the ongoing nuclear talks—France, Germany, the U.K., Russia, China and the European Union—that is proving too long to wait. "There has been a lot of preparation by companies looking to get back into Iran, and it's been going on for months," says Mark Dubowitz, executive director of the Foundation for Defense of Democracies, a nonpartisan policy institute in Washington, where he leads projects on Iran, sanctions and nuclear nonproliferation. "Western companies are loath to put anything on paper, but they are getting into position, just waiting and anticipating. They're all very eager to get back in."
The situation puts oil majors in a delicate position: How can they manage to be first at the feeding trough when a deal gets inked while not violating international sanctions that forbid most types of business with Iran, under threat of penalties that could amount to billions of dollars?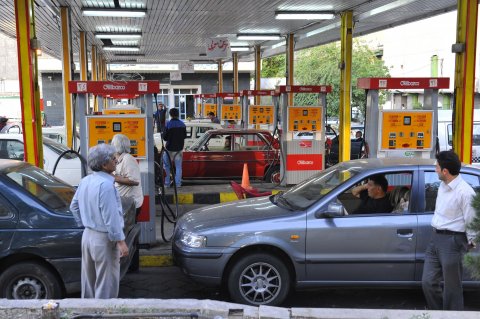 Iranian officials have indicated that Royal Dutch Shell, Italy's Eni SpA and France's Total SA have met with Iran's oil minister. Iran has invited the U.K.'s BP PLC, along with U.S.-based ConocoPhillips and Chevron Corp.—companies with which it has had prior relationships—to discuss energy projects. At the same time, China has been importing hundreds of thousands of barrels of Iranian oil a day, while Russia just lifted the Kremlin's ban on an arms deal with Iran that would deliver an advanced missile system that can engage 30 aircraft at once.
The early overtures, Dubowitz says, give weight to concerns that multilateral sanctions designed to discourage Iran from pursuing a nuclear weapon are already being tested and even undermined. Such moves weaken the hand of the West while it's still at the deal table. If a deal fails, it may even mean some sanctions get diluted or dropped. "Russia, in particular, is violating a commitment it made," Dubowitz notes, calling the lifting of its arms ban in conjunction with an oil-for-food program (also announced in April between the two countries) a "very sophisticated" sanctions workaround.
In recent months, traffic to Iran from Europe and the United States has doubled, says Sina Makki, chief executive of the Tehran office for HRG Worldwide, a British global travel company catering to business executives. "We have seen a lot of executive delegations from Europe—Germany, Italy, France and also England—particularly from Frankfurt, which has direct flights to Iran. I have also been surprised by the number of people coming from the U.S. over the past two months," he says. The executive delegations include oil companies, Makki told Newsweek, though he declined to name specific firms.
Royal Dutch Shell, headquartered in the Netherlands, has been one of the few oil majors to acknowledge its interest in Iran, although the company has declined to directly address whether it met with Iran's oil ministry. Reached by Newsweek, Total and Eni also declined to confirm whether they had spoken with Iran's oil ministry, though both companies have histories of doing business with Iran.
In the U.S., ConocoPhillips said it "is not engaged in business discussions with Iran," while Chevron wouldn't comment. ExxonMobil said it is "prohibited by U.S. law from participating in any business involving Iran." BP, whose roots trace back to the discovery of an Iranian oil well in 1908, told Newsweek it has "no immediate plans right now to engage in or invest with Iran," and would not confirm receiving an invitation to do so.
As recently as the 1970s, Iran maintained a strong alliance with the West. For more than a decade, the Shah of Iran received financial and military backing from the U.S., allowing him to briefly hold on to the last vestiges of his dynastic claim over a 2,500-year-old Persian monarchy. In exchange, the U.S. was allowed to remake Iran into a pro-Western state meant to block the scourge of Communism from spreading throughout the Middle East—while also helping itself to Iran's oil industry. Things did not go as planned. The Shah, was overthrown in Iran's 1979 revolution, Western oil interests were quashed, and Iran was declared an Islamic Republic that has since distrusted the West deeply.
In February, the Iranian chambers of commerce of the U.K., Germany and France, including Tockuss's German-Iranian Chamber of Commerce Association, formed the European-Iranian Business Alliance, whose sole purpose is to pave the way for European businesses to reestablish the "preeminent commercial relationship" they enjoyed throughout the early 21st century while trading goods and services with Iran. The London-based group, which met in April, is in talks with the European Parliament and may soon be joined by Italy, Switzerland and Sweden, says Tockuss, who lived in Iran for seven years running Tehran's German-Iranian Chamber of Commerce and Industry.
The preliminary steps signal two things: The economics of Iran are poised to change dramatically as soon as a deal is struck—and even if a deal is not struck, the shifting tectonics of the Middle East will likely never be the same. "This is a high-risk deal, and if the talks don't pay off, it will lead to more conflict in the Middle East, not less," says Michael Singh, a fellow at the Washington Institute for Near East Policy and former senior director for Middle East affairs at the National Security Council. "We're gambling that Iran will change its ways."
That's admittedly a big if, but the incentive for Iran to do so is huge. As BCA Research notes, "Its population is young, well-educated and primed to benefit from the country's opening to the rest of the world." Plus, many Iranians have scattered to different parts of the globe, forming networks that could help seed Iran with talent and capital.
The weeks ahead will be of immense consequence for Iran, as well as a test of America's ability to carry out foreign policy objectives without partisan sniping. "How it will work remains to be seen, because it's still very, very early days," Shell CEO Ben van Beurden said during a conference call April 8. "We haven't really seen how and when sanctions will be lifted, and then we haven't seen really yet what the terms and conditions will be for investing in Iran."
If Iran does agree to rein in its nuclear program in exchange for the lifting of the financial sanctions that have isolated it from the West for years, analysts predict oil markets could see truly free-market pricing for the first time since 1930. This is happening alongside a U.S. energy boom that has led to reliance on oil imports from the Middle East falling significantly, compared with long-term average levels. U.S. imports from Saudi Arabia alone have dropped to 66 percent of the average monthly levels from 1973 to 2014, according to BCA Research. "The U.S. is no longer willing to expend increasingly scarce resources to micromanage the Middle East, provided that its minimum interests can be secured," it said in a note issued in April.
In other words, the U.S. no longer needs the Middle East for energy the way it once did, so it will be expending less time and money on the world's oil basin. By opting to try to settle disputes instead of doubling down on them, which has proved to be expensive both in outright costs and human lives, the U.S. is effectively "deleveraging" from the Middle East, BCA Research observed. This has sparked heightened nervousness among established regional powers, such as Saudi Arabia and Israel, which are eyeing the redrawing of the Middle East's power map. BCA added, "Without a foreigner imposing an equilibrium from above, the region experiences disequilibrium from below."
In an effort to preserve its market share, Saudi Arabia in April flooded the market with more than 10 million barrels a day of oil, a near-record high, prompting some observers to proclaim OPEC dead. With Iran possibly pouring even more oil into the market later this year, global oil prices could fall $5 to $10 a barrel into 2016, which is good news for oil consumers, says Francisco Blanch, head of commodities and derivatives research at Bank of America Merrill Lynch in New York.
Earlier this year, Iran's crude oil production edged close to 3 million barrels a day, but exports have trailed at just above 1 million barrels a day. "We think Iran could jump to 2 million barrels or so a day this year if a nuclear agreement is signed in June," Blanch says. At its height, before the fall of the Shah, Iran produced more than 6 million barrels a day. With the right level of investment, it could return to those levels, Blanch predicts.
"You can't blame oil companies for wanting to get back in," he says. "It's a no-brainer. Even with Iran's oil fields not receiving the proper attention, this is low-hanging fruit. But it's been low-hanging fruit forever. That's the point. Iran will have to cooperate with investors and foreign interests or it will be just like Venezuela, where you have the low-hanging fruit but the wheels are falling off the car."