U.S. Navy Shares Video of Iranian Speedboats Harassing American Vessels
The U.S. Navy released part of a video Tuesday showing speedboats and a larger ship from Iran's Islamic Revolutionary Guard Corps (IRGC) harassing American vessels in the Persian Gulf.
The IRGC boats were employing "unsafe and unprofessional" maneuvers—repeatedly crossing in front of the U.S. patrol boats at close range despite multiple warnings—according to the Navy. The first public announcement of the April 2 encounter came from the Navy on April 24.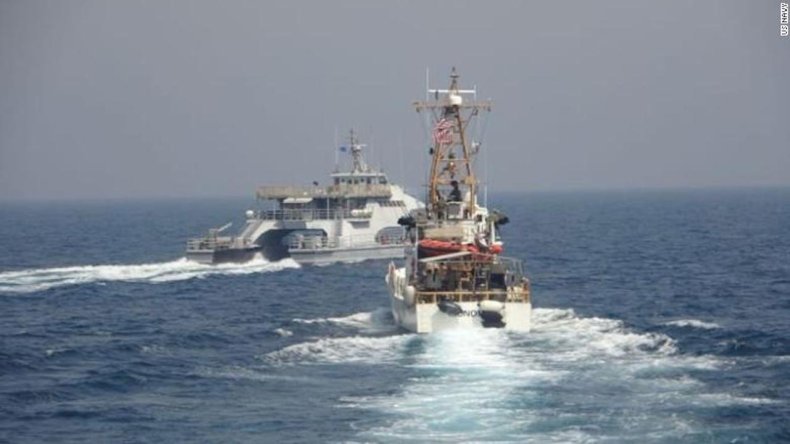 The Navy reported the IRGC speedboats and a larger support vessel were swarming around two U.S. Coast Guard vessels, performing maneuvers characterized as potentially dangerous within 70 yards of the American ships. The encounter was said to have lasted for around three hours, during which the U.S. vessels repeatedly warned the Iranians boats to cease operating in such a manner.
The April 2 incident came on the same day President Joe Biden's administration announced it would begin indirect negotiations with Iran in an attempt to get both countries back into compliance with the deal limiting Iran's nuclear program.
In the video released by the Navy, the larger IRGC vessel can be seen cutting in front of the Coast Guard cutter USCGC Monomoy (WPB 1326). The 180-foot, twin-hull Iranian ship is called the Shahid Nazeri by the IRGC but referred to as Harth 55 by the U.S.
The Harth 55 can be seen in the video in front of the Monomoy's bow, which forced the U.S. crew to conduct a defensive maneuver to prevent a collision. U.S. Navy officials reported that three Iranian fast-attack crafts and the Harth 55 moved aggressively around the Monomoy and another Coast Guard cutter, the USCGC Wrangell (WPB-1332), while they were patrolling international waters in the Persian Gulf. The U.S. patrolling was characterized as part of a routine maritime security patrol.
"The Harth 55 closed aggressively on Wrangell's bow, resulting in Wrangell maneuvering to avoid collision while sounding five short blasts from the ship's horn," said Fifth Fleet spokeswoman Commander Rebecca Rebarich in a statement.
A similar incident occurred in April 2020. Eleven Iranian gunboats swarmed around six U.S. warships, which resulted in then-President Donald Trump saying he gave instructions to the Navy to open fire on Iranian gunboats "if they harass our ships at sea." Following that warning, Iran unveiled 112 more weaponized speedboats the next month.
At the ceremony to unveil those new vessels, IRGC Navy Commander Admiral Ali Reza Tangsirisaid, "Today we announce that wherever the Americans are, we're right there beside you, and in the near future you will sense us even more."
This latest event marks the first time Harth 55 was used as part of Iran's swarm boat tactics. In the past, only Iran's smaller speedboats were believed to have taken part in harassing maneuvers toward U.S. ships.