Iran's Chances of Making It Out of First World Cup Round: Betting Odds
Iran is scheduled to begin its FIFA 2022 World Cup conquest in Qatar on Monday, at the same time the country is reeling from continued protests.
The country is part of Group B, along with England, the United States and Wales. Iran will first play England at 8 a.m. ET November 21 at Khalifa International Stadium.
While England is viewed as a presumptive favorite to successfully top the standings in this group, Iran hasn't made it beyond the group stage in five previous World Cups.
FanDuel Sportsbook features an over/under of 2.5 goals for the Iran-England matchup, with the under favored at -150 odds.
Here are the rest of FanDuel's betting lines, odds and game props:
Moneyline: ENG: (-310) | IRN: (+950) | DRAW: (+360)
Spread: ENG: +1 (+110) | IRN: -1 (+220)
Total: 2.5 – Over: (+124) | Under: (-150)
Team to Score the First Goal: ENG: (-350) | IRN: (+400) I NO GOALS: (+850)
FanDuel's Devon Platana notes that Iran has gone 2-4-9 (win, draw, loss) in its 15 previous tournament matches, winning just one time in the last three such tournaments.
England, which has never played Iran, finished fourth in the 2018 World Cup and placed second at the 2020 Euro Cup.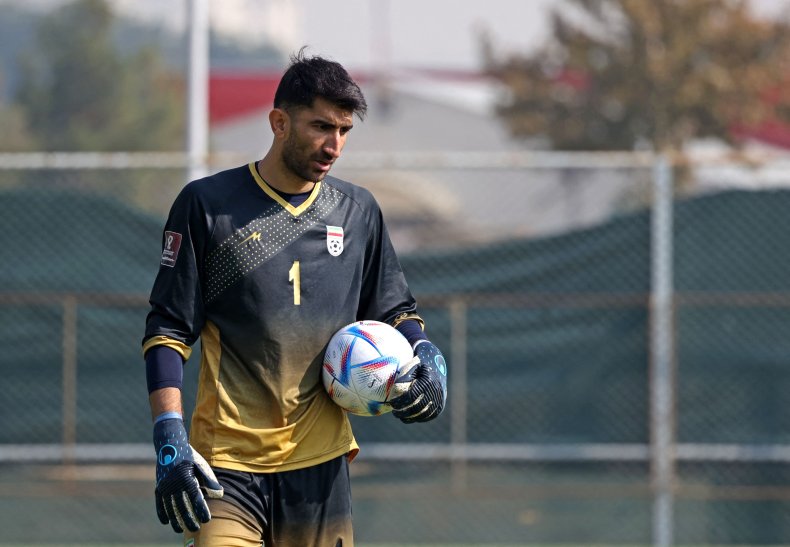 The sportsbook Vegas Insider gives England the fourth-best odds to win the 2022 World Cup, at +800. Iran is third from last in its prospects, just above Saudi Arabia and Costa Rica at +50,000 odds.
Iran also has the worst odds in Group B, predicted by prognosticators to finish behind England, the U.S. and Wales.
Group play is a round-robin format. All teams play each other once, with the top two teams advancing to the knockout stage and round of 16.
Each win in group play is worth three points while draws are worth one point. A loss garners zero points. There are multiple tiebreakers utilized in the case that there is a tie for a group winner, or for the second-place team in the group to advance.
Iran's other games are against Wales at 5 a.m. ET on Friday, November 25, at Ahmad Bin Ali Stadium and against the U.S. at 2 p.m. ET on Tuesday, November 29, at Al Thumama Stadium.
Iran has recently reeled from protests and civilian imprisonments. The Independent Persian reported on Twitter that documents leaked inside the country requested that the protests in Iran should not be reported throughout the World Cup.
"Iran World Cup squad announcement delayed amid reported pressure on coach to drop star striker Azmoun and other players sympathetic to protests over repression of women in Iran," tweeted ESPN football commentator Ian Darke on Monday. "Big story."
Iran's all-time leading international goal scorer, Ali Daei, posted Monday to his 10.7 million Instagram followers that he declined an invitation to attend the games in solidarity with the protesters.
"I rejected the official invitation of FIFA and Qatar Football Federation to attend the World Cup with my wife and daughters," Daei wrote. "I prefer to be next to you in my homeland and express my sympathy with all the families who lost loved ones over these days."