Iran Condemns U.S. Government for 'Caging' Immigrant Babies
Iran's foreign minister issued a statement Thursday condemning the U.S. government for separating "immigrant families and caging their babies."
Foreign Minister Javad Zarif shared the statement on his official Twitter account, with the caption: "Those who live in glass houses shouldn't throw stones." The message came as U.S. officials expressed support for protesters in Iran, criticizing the Middle Eastern nation for corruption and oppressing freedoms.
The minister's statement opens by accusing the U.S. government of "squandering [American] citizens resources" through foreign wars, supporting Israel and "other terror-sponsoring regimes" and criticizes its "wasteful" production of nuclear weapons. The minister went on to condemn American authorities for "suppression" and "imprisonment" of protestors, as well as the controversial crackdown on immigration along the southern border with Mexico.
"The people of the United States are tired of the corruption, injustice, and incompetence of their leaders. The world hears their voice," the minister said.
Zarif's comments came as Iran's President Hassan Rouhani unleashed similar criticism Thursday. Calling out President Donald Trump directly, Rouhani said: "Before us is a person who separates a mother from her child, is against Islam and Muslims, and boasts about a wall on the U.S.-Mexican border."
Ayatollah Ali Khamenei, Iran's Supreme Leader, weighed in on the current immigration issues rocking the U.S. as well last week. "The Americans separate the children from the immigrant parents with complete maliciousness," he said, according to Reuters.
Iranian media have also capitalized on the ongoing immigration scandal rocking the U.S. Iranian television channel Press TV—affiliated with the state-run Islamic Republic of Iran Broadcasting agency— has tweeted photos of the facilities, where unaccompanied migrant children are being held, as proof of America's disregard for human rights.
"Half of Americans feel ashamed of their government and if we poll them, we will find out that they are dissatisfied with their government and the White House," Rouhani said.
A poll published in May by Pew Research does show that 54 percent of Americans "do not like" the way Trump conducts himself as president. An additional 26 percent have mixed feelings. However, a year previously, a slightly higher amount—58 percent—of those polled did not like Trump's conduct, while 25 percent had mixed feelings.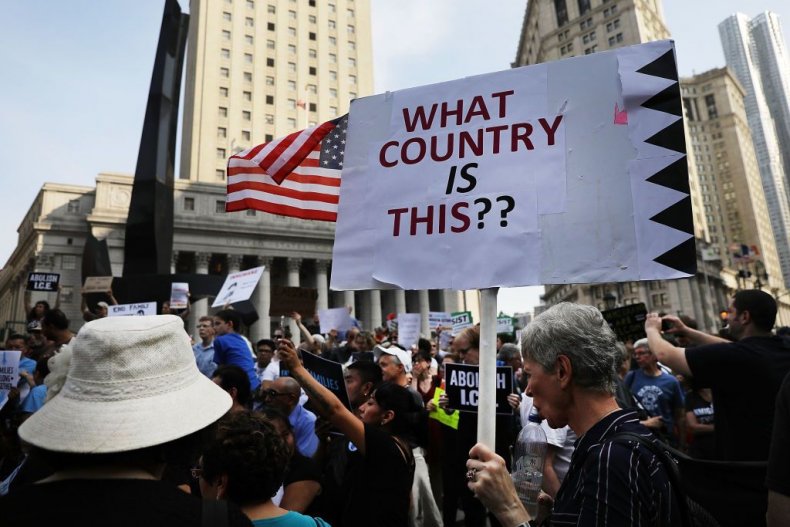 Earlier this month, Iran's parliament released a 47-page report detailing alleged human rights abuses committed by the U.S. "Historically speaking, since the thirteen states were a colony of British Empire and slavery had currency there, violation of most fundamental human rights has always been a noticeable characteristic of the U.S. governments," the report claimed.
Despite Iran's criticism, organizations such as Human Rights Watch (HRW) and Amnesty International frequently call out the Middle Eastern nation's rights record. HRW's 2018 report on Iran listed a string of problems in the country, such as the arrests of journalists, protesters and political dissidents. Minority religious groups, such as the Baha'i, also face significant discrimination and even imprisonment.
Amnesty's 2017/2018 report on Iran detailed rights violations as well. "The authorities heavily suppressed the rights to freedom of expression, association and peaceful assembly, as well as freedom of religion and belief, and imprisoned scores of individuals who voiced dissent," Amnesty wrote. "Torture and other ill-treatment" is routinely used by authorities, the report added.
At the same time, HRW's 2018 report also alleges that the U.S. "moved backward on human rights at home and abroad." Specifically highlighting the impact of Trump's administration, the organization said "members of racial and ethnic minorities, immigrants, children, the poor, and prisoners" are the most likely groups to suffer abuse in the U.S.