Iran Considered Carrying Out Disruption at World Cup: IDF Intel Chief
Iran allegedly considered carrying out some type of disruption at the men's soccer World Cup in Qatar, the military intelligence chief of the Israel Defense Forces (IDF) said Monday.
Speaking at an Institute for National Security Studies (INSS) conference in Tel Aviv, Israel, Major General Aharon Haliva said that the "only thing" stopping Iran from such a disruption was concern over how host country Qatar might respond, according to The Times of Israel.
The 2022 World Cup kicked off Sunday and is set to last through December 18. Iran's national team is one of 32 that secured a place in the World Cup, but turmoil at home has shifted additional attention to its participation in the event.
Iran began experiencing massive protests and civil unrest after the death in September of Mahsa Amini, a 22-year-old Kurdish woman who was arrested by the country's "morality police" for allegedly wearing an "improper" form of hijab in the Iranian capital of Tehran. Iranian authorities have denied accusations that the severe beatings she allegedly suffered while in custody caused her death.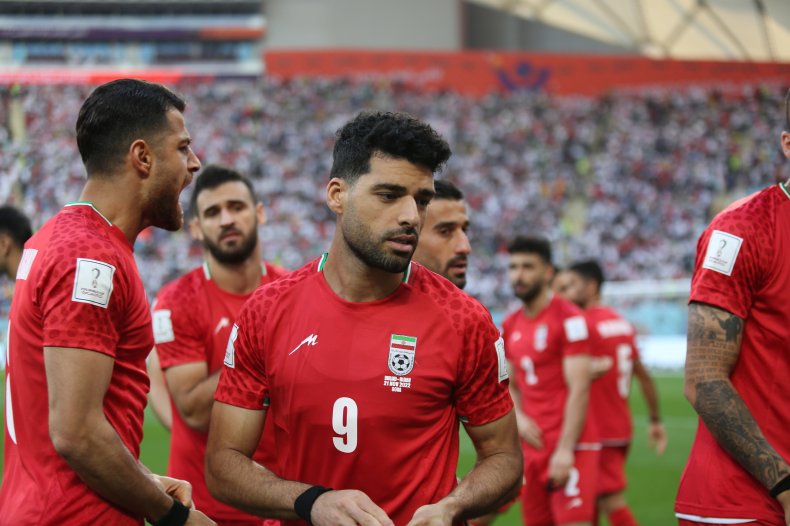 In early October, an Iranian coroner's report attributed her death to pre-existing medical conditions and said that it ​​was "not caused by any blow to the head and limbs," according to Reuters.
The Iranian regime has cracked down on the demonstrations, including allegedly opening fire on protesters. The Iran Human Rights NGO (IHRNGO) estimated Saturday that at least 378 people have been killed by Iranian security forces during the protests, including 47 children and 27 women.
Prior to its World Cup match on Monday, the Iranian team remained silent during its national anthem in what some viewers interpreted to be a silent statement of solidarity with the protesters at home. Additionally, The Guardian newspaper's chief sports reporter, Sean Ingle, tweeted that there was "loud whistling" from Iran fans for the national anthem during the match, "many of whom are protesting against their regime."
Haliva said at the INSS conference that the Iranian regime was concerned about maintaining its hold on power as the protests continue and it contends with Western-imposed sanctions, the Post reported. But Haliva added that he does not see the regime as being at risk, and warned that "much more aggressive responses in the region and in the world" should be expected amid the building pressure on Iran.
Elizabeth Shakman Hurd, a professor of political science and religious studies at Northwestern University, told Newsweek that Iran would have "very little" to gain by carrying out a terrorist attack at the World Cup.
Decades of diplomatic and military conflicts have contributed to lasting tensions between Iran and Israel. Hurd said that in accusing Iran of weighing a terrorist act at the World Cup, the IDF may have been "taking advantage of an opportunity to spread rumors about the Iranian regime, which they seek to bring down through almost any means."
"Any opportunity to inflame passions against Iran is a moment you expect to hear from the Israeli government, and the IDF in particular," Hurd said.
Hurd said that while it can be hard to gauge the situation from afar, the Iranian regime may not be fully in agreement when it comes to the protests and whether its hold on power is at risk.
"That is, I would expect a number of different views within the regime both [in] regard to its potential for losing control and also in reference to the regime's violent crackdown on protestors who are demanding change," Hurd added. "The hard-liners of course support more violence in defense of the state, but it would be naive to assume that there are no sympathizers with the protestors on the inside, even if they have been silenced for now."
The IDF declined to comment further to Newsweek.
Newsweek, which was not able to independently verify Haliva's claims, reached out to Iran's Foreign Ministry for comment.
Update 11/23/22, 5 p.m. ET: This article was updated to show that the IDF declined to comment.
Correction 11/23/22, 5 p.m. ET: An earlier version of this article incorrectly reported that Haliva said that Iran considered carrying out a terror attack at the World Cup. Haliva did not specify that the way Iran allegedly considered disrupting the event was specifically through an act of terror.