Iran Could Soon Surpass Uranium Stockpile Limit, Despite European Efforts to Ease Tensions: Report
A day after the European Union made a move without U.S. involvement to keep Iran from breaking compliance with an important 2015 nuclear agreement, the Islamic Republic could soon surpass that deal's agreed-upon cap on uranium, according to a report from Iran's semi-official Fars news agency.
Fars on Saturday quoted an unnamed "informed source" as saying that Tehran's stockpile of low-enriched uranium could "soon" grow larger than the maximum of 300 Kg (approx. 661 pounds). That amount was set by the 2015 Joint Comprehensive Plan of Action (JCPOA), in which Iran agreed to severely curb its nuclear program in exchange for the U.S. and other signatories ending a number of sanctions that had been put in place against the Middle Eastern nation. That agreement — colloquially known as the "Iran nuclear deal" — was signed by President Barack Obama, along with leaders from China, the EU, France, Germany, Russia and the U.K.
However, President Donald Trump withdrew the U.S. from the JCPOA in May 2018, reinstating sanctions and moving forward with a "maximum pressure" campaign aimed at cutting Iran's foreign trade ties and ability to export oil. The U.S. has also threatened its European allies — who have abided by the agreement, despite America's exit — with sanctions for continuing to doing business with Iran.
EU officials announced on Friday that the group of nations had officially launched a special trade vehicle — Instrument in Support of Trade Exchanges (INSTEX) —designed to allow limited trade with Iran while at the same time avoiding sanctions from the United States.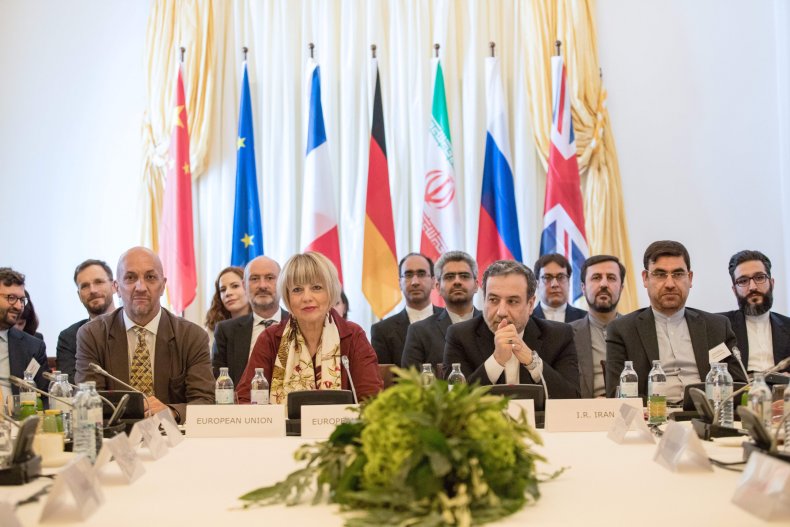 At the time, Iranian Deputy Foreign Minister Abbas Araghchi called the progess made in this meeting with the EU "positive" and "a step forward," but clarified that "it is still not enough and it is still not meeting Iran's expectations."
The portrait painted by the source quoted in Saturday's Fars report was not as hopeful.
"As the commission meeting in Vienna could not satisfy Iran's just demands," said the source, according to a Reuters translation. "Iran is determined to cut it commitments to the deal and the 300 kg enriched uranium limit will be soon breached."
While surpassing the stockpile limit would violate the terms of the JCPOA, the Washington Post notes that it is a small fraction of what would be needed for a nuclear weapon. The low-enriched uranium has only been enriched with about 4 percent of the Uranium-235 isotope, which makes it suitable for use in nuclear power plants, but far from the 90 percent enrichment typically found in nuclear weaponry.
Iran has repeatedly claimed that it has no intention of using its nuclear program to develop weapons. However, Tehran has argued in recent months that it should no longer be required to comply with the JCPOA if the U.S. is no longer part of the deal.
The EU had hoped to ease tensions with INSTEX. However, when it was first announced in January, the EU this trade vehicle would be "focusing initially on the sectors most essential to the Iranian population — such as pharmaceutical, medical devices and agri-food goods," far from the influx of foreign trade promised by the JCPOA.
Tensions between Washington and Tehran have only worsened in recent months, as the U.S. pushed for more sanctions and sent additional military assets to the Middle East, claiming Iran and Iran-backed forces posed a heightened threat to its regional interests.
Washingont has blamed Iran for recent attacks against oil tankers in the Gulf of Oman, though Tehran has steadfastly denied those allegations. Then last week, Iran's Revolutionary Guard downed a U.S. Navy RQ-4A drone that it claimed was flying in Iranian airspace; the U.S. has insisted the drone was over international waters. Trump nearly responded to that incident with attacks on Iranian military assets, but opted against doing so at the last minute.