In Iran, a Crackdown Before the Election Protest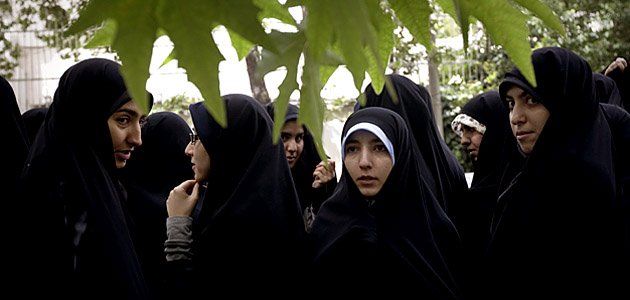 They're back. In recent weeks, Tehran residents have seen an increase in the numbers of a familiar, but not entirely welcome, sight: gashte ershad, or morals-police patrols. In the past, these patrols have tried to keep women's Islamic dress, or hijab, in check. (No-nos include showing too much hair or bare toes, for instance.) Amorous couples often get a slap on the wrist, too (holding hands not allowed; kissing in public? forget it). But the current clampdown seems harsher than in the past: Tehran residents who spoke to Newsweek say many young women are being detained on the spot without a warning. Several improperly dressed women were even suspended recently from the Allameh Tabatabai University in Tehran, according to the Mehr News Web site. "It's getting ridiculous," says Bita, a young woman in Tehran who asked that her real name not be used. "They're even arresting women who appear to be too tan. I mostly stay off the streets."
What gives? Supporters of the Green Movement in Tehran say the squeeze by the morals police is part of a broader crackdown against opposition activists in the lead-up to the one-year anniversary of the June 12 elections. Opposition leaders Mir Hussein Moussavi and Mehdi Karroubi have both called for a protest march on the day of the anniversary. And the government has pushed back: a handful of prominent journalists and student activists have been arrested in the past week. Meanwhile, some prisoners who had been released on furlough in recent months have been called back to Evin Prison. (Iranian prisons sometimes temporarily parole their charges for special holidays.)
Still, it's the hijab clampdown that's sending out the clearest message. "One of the reasons this [hijab] issue has come up is because of the anniversary of the elections," says Salih Nikbakht, a human-rights lawyer in Tehran. "Some [of these women] may take part in protests and street demonstrations. So the authorities are enforcing these laws again" to scare them away from protests. And there's even a push to add more conservative laws to the books: Two weeks ago, the Majlis, or Parliament, approved a draft bill that would give the government even more authority to crack down on morality issues, including women's dress. For some ladies, the message is coming across loud and clear. "I've already noticed a difference in the way government employees, teachers, and other women are dressing," says Nikbakht. "They don't want to have a confrontation with the police over a small issue like this."
In Iran, a Crackdown Before the Election Protest | World