Iran Demands Global Condemnation of Alleged Israeli 'State Terror' Over Scientist's Assassination
Iran's Foreign Minister Javad Zarif said "terrorists murdered" Mohsen Fakhrizadeh, calling for global condemnation of Israel—which he suggested carried out the assassination.
Iran's defense ministry announced Fakhrizadeh's death on Friday. The scientist was in charge of the Ministry of Defense's Research and Innovation Organization. The ministry said he died after a clash between his security team and assailants.
"Terrorists murdered an eminent Iranian scientist today. This cowardice—with serious indications of Israeli role—shows desperate warmongering of perpetrators," Zarif tweeted, commenting on the assassination. "Iran calls on int'l community—and especially EU—to end their shameful double standards & condemn this act of state terror," he wrote.
Hossein Salami, chief commander of Iran's paramilitary Revolutionary Guards condemned the attack. "Assassinating nuclear scientists is the most violent confrontation to prevent us from reaching modern science," he tweeted.
"In the last days of their gambling ally's political life, the Zionists seek to intensify and increase pressure on Iran to wage a full-blown war," Hossein Dehghan, an adviser to Iran's supreme leader Ali Khamenei and a 2021 presidential candidate, wrote on Twitter, in what appeared to be a reference to President Donald Trump. "We will descend like lightning on the killers of this oppressed martyr and we will make them regret their actions!"
Although it remains unclear who was behind the assassination, Israel has previously carried out assasinations in Iran. Trump retweeted a post from Israeli journalist Yossi Melman, who previously served with an Israel special forces unit.
"Mohsen Fakhrizadeh has been assassinated in Damavand, east of Tehran according to reports in Iran. He was head of Iran's secret military program and wanted for many years by Mossad. His death is a major psychological and professional blow for Iran," Melman wrote.
Newsweek reached out to the U.S. State Department and Israel's Ministry of Foreign Affairs for comment, but they did not immediately respond.
The New York Times reported earlier this month that Israeli agents gunned down Al Qaeda's second-highest commander, Abdullah Ahmed Abdullah (known as Abu Muhammad al-Masri) on August 7 in Iran's capital Tehran. The assassination was reportedly carried out under the approval and request of the U.S. government. Although the death of the high-level Al Qaeda leader had been rumored for several months, it was not confirmed until The Times report.
At the beginning of 2020, Trump ordered the assassination of Iranian military leader Qasem Soleimani. A U.S. drone strike was carried out as Soleimani arrived in Baghdad, Iraq on January 3, leaving him and nine others dead.
Israeli media reported this week that Secretary of State Mike Pompeo secretly met with Israel's Prime Minister Benjamin Netanyahu and Saudi Arabia' Crown Prince Mohammed Bin Salman in Saudi Arabia last Sunday. Israeli Education Minister Yoav Galant, a member of Netanyahu's cabinet and political party, confirmed the reports to Israel's Army Radio. But Saudi Arabia's Foreign Minister Faisal bin Farhan al-Saud denied the report.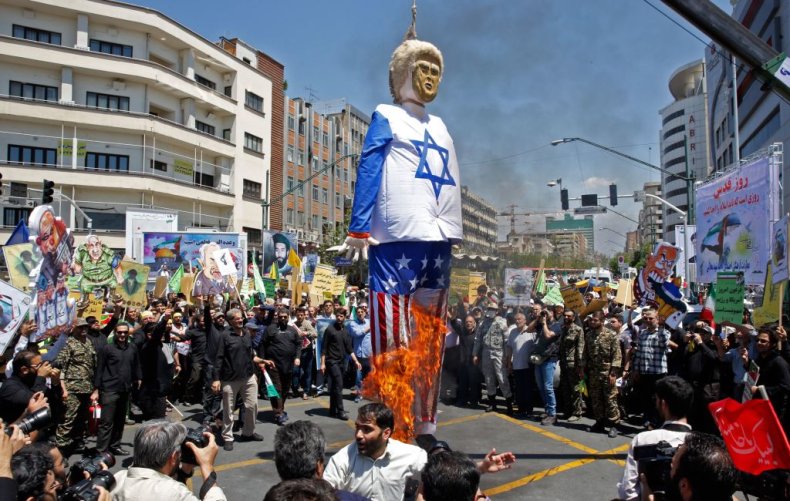 Although Israel and Saudi Arabia do not have formal diplomatic relations, both nations urged the Trump administration to take a hardline stance against Iran and its nuclear ambitions after a few years of improving ties under former President Barack Obama. Trump withdrew from the Joint Comprehensive Plan of Action—commonly referred to as the Iran nuclear deal—in May 2018, despite Tehran remaining in full compliance with the international treaty.
The 2015 deal was signed by the Obama administration, the European Union, France, the United Kingdom, Germany, Russia and China, granting Iran sanctions relief and international investment in exchange for curbing its nuclear program. Trump withdrew from the deal and reimplemented financial sanctions that had been lifted under Obama.
Despite the pressure from the U.S., analysts now believe Iran is far closer to being able to create a nuclear weapon than when Trump first took office. European allies have criticized the U.S. for its unilateral action against Iran, as they have attempted to preserve the international accord with Russia and China.