Iran Denies American Reports It Tried to Seize British Tanker in Persian Gulf: 'There Have Been No Encounters'
The Iranian Islamic Revolutionary Guard Corps (IRGC) has denied reports that its naval forces attempted to seize a British oil tanker in the Strait of Hormuz, despite U.S. claims that one of its surveillance aircraft captured footage of the incident.
British warship HMS Montrose reportedly chased the small Iranian craft away from the British Heritage tanker. The vessel trained its guns on the assailants, but the Iranian crews heeded verbal warnings and backed off before warning shots were fired.
Speaking on the condition of anonymity, a U.S. official said the Iranian action "was harassment and an attempt to interfere with the passage," according to Reuters.
But the IRGC naval forces public relations department released a statement disputing the reports. The service claimed its vessels had been carrying out patrols "according to regular procedures," the Mehr News Agency reported. "During the last 24 hours, there have been no encounters with foreign vessels, including English ones."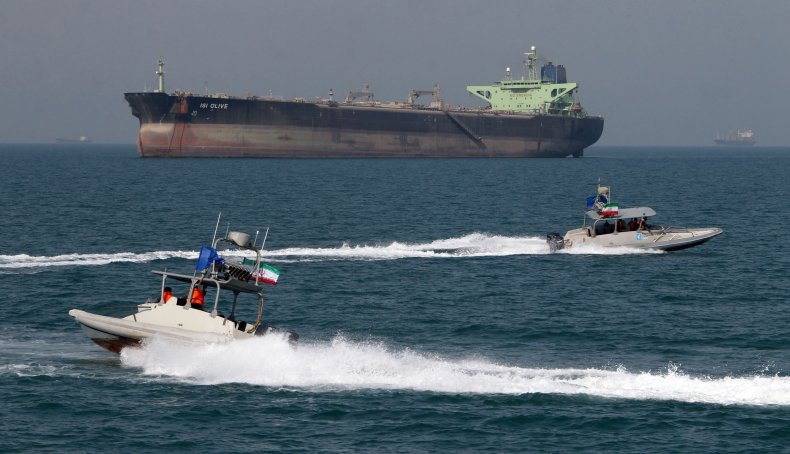 Tensions in the Persian Gulf and Strait of Hormuz have been heightened in recent months, amid a diplomatic standoff between the U.S. and Iran over the beleaguered Joint Comprehensive Plan of Action, better known as the Iran nuclear deal.
Iran is accused of attacking multiple commercial ships passing through the strategically-vital strait. In May, four tankers were bombed while at anchor off the coast of the United Arab Emirates, while in June two more were bombed while sailing through the Strait of Hormuz. The U.S. has blamed Iran for both attacks.
Friction has also developed between Iran and the U.K. after British forces seized an Iranian vessel off Gibraltar last week. The tanker was believed to be shipping oil to Syria in contravention of European Union sanctions on the country.
Iranian officials responded angrily, suggesting a British tanker should be seized in retaliation.
The IRGC naval forces statement stressed that "if an order to seize foreign vessels is received, IRGC naval forces...are able to carry out their mission in its geographical zone without delay, decisively and fast."
The British Ministry of Defense released a statement accusing the Iranian vessels of behaving in a manner "contrary to international law," CNN reported.
"Three Iranian vessels attempted to impede the passage of a commercial vessel, British Heritage, through the Strait of Hormuz," the statement continued. "HMS Montrose was forced to position herself between the Iranian vessels and British Heritage and issue verbal warnings to the Iranian vessels, which then turned away."
"We are concerned by this action and continue to urge the Iranian authorities to de-escalate the situation in the region," the ministry added.
The graphic below, provided by Statista, illustrates the strategic importance of the Strait of Hormuz.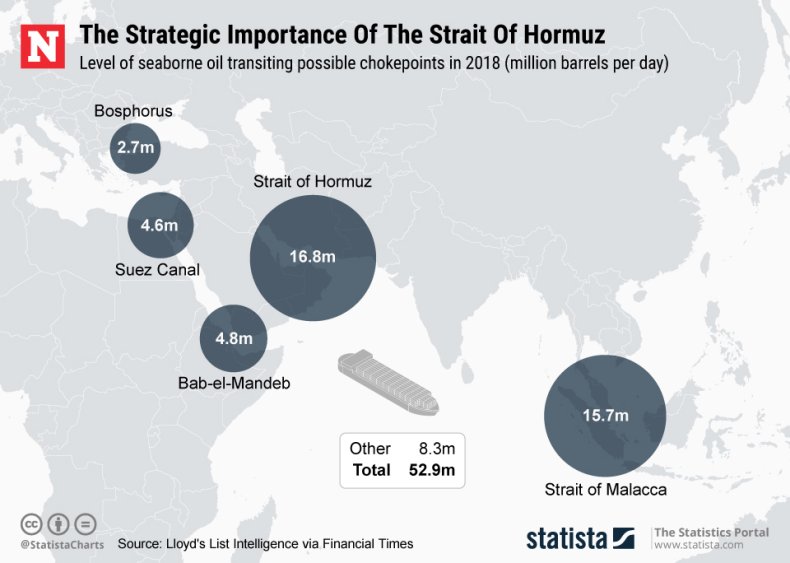 This article was updated to include an infographic.