Iran Denies Supplying Drones to Russia as Ukraine Says They Destroyed Six
The Iranian government has denied that it's supplying drones to Russia for use in Ukraine despite claims from the Ukrainian government that their forces have shot down many of the unmanned combat vehicles.
In a statement issued by the country's foreign ministry on Saturday, Foreign Minister Hossein Amir-Abdollahian "emphasized that the Islamic republic of Iran has not and will not provide any weapon to be used in the war in Ukraine."
That statement comes as the General Staff of the Armed Forces of Ukraine reported on Facebook early on Saturday that the country's air force destroyed six Iranian-made Shahed-136 "kamikaze" drones overnight.
"The 'Shahed-136' kamikaze drone and an attack helicopter (type to be specified) were destroyed by anti-aircraft missile units of the Southern Air Command of the Air Force," the general staff wrote, adding that "five more Iranian kamikaze drones 'Shahed-136' were destroyed by the forces and means of the East Air Command of the Air Force."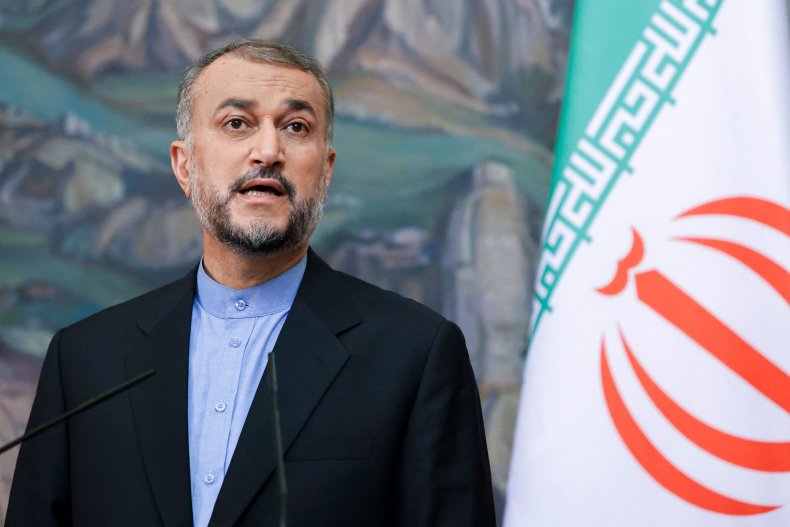 Newsweek has reached out to the Ukrainian and Russian governments for comment.
In a call with the Portuguese foreign minister, João Gomes Cravinho, Amir-Abdollahian said: "We believe that the arming of each side of the crisis will prolong the war," according to a report from Agence France-Presse (AFP).
"We have not considered and do not consider war to be the right path either in Ukraine or in Afghanistan, Syria and Yemen," he added.
Amir-Abdollahian made the same point in a call with Josep Borrell, the European Union (EU) high representative for foreign affairs.
"We have defense cooperation with Russia, but our policy regarding the war in Ukraine is not sending weapons to the conflicting parties, stopping the war and ending the displacement of people," the Iranian foreign minister told Borrell.
Those denials come after Ukrainian diplomatic sources in Washington, D.C. told the press last week that the country's air defenses were intercepting an average of six of so-called "suicide" drones every day.
Newsweek has also reached out to the Iranian foreign ministry for comment.
Unnamed Biden administration officials told The Washington Post in late August that Iran was planning to supply hundreds of UAVs (Unmanned Aerial Vehicles) of different kinds to Moscow, including the Shahed-136 and Mohajer-6 models.
Meanwhile, Reuters reported on Friday that EU foreign ministers will discuss the issue of the transfer of Iranian drones to Russia during their meeting on Monday and that an analysis of the drone activity has been conducted.
The EU ministers were already set to impose sanctions on 15 Iranian officials involved in a crackdown on protests in the country where more than 100 people have died.
The protests were prompted by the death in custody of 22-year-old Mahsa Amini, who was arrested by Iran's morality police for alleged violations of the country's strict public dress code for women.