Iran Dismisses Israel-UAE-Bahrain Deal as 'Strategic Mistake' as Hezbollah Calls for 'Military Resistance'
As Israel, the United Arab Emirates and Bahrain signed historic peace deals in Washington, D.C., on Tuesday, Iran dismissed the agreement as a "strategic mistake" and the Iranian-backed Lebanese militant group Hezbollah called for "military resistance" in support of the Palestinians.
Iranian government spokesperson Ali Rabiei said that "any step taken to formally normalize relations" with Israel is a "strategic mistake," Iran's Islamic Republic News Agency reported. "The oppressed people of Palestine and Muslims who have lived with the Palestinian cause will not admit any normalization of relations," he said.
Rabiei said that the deals were "not for the benefit of the people residing in the region, but in favor of the [reelection] campaign of U.S. President Donald Trump."
Meanwhile, the Deputy Secretary-General of Hezbollah Naim Qassem said the agreement between the two Gulf Arab states and Israel would not benefit Palestinians. He called for an armed response.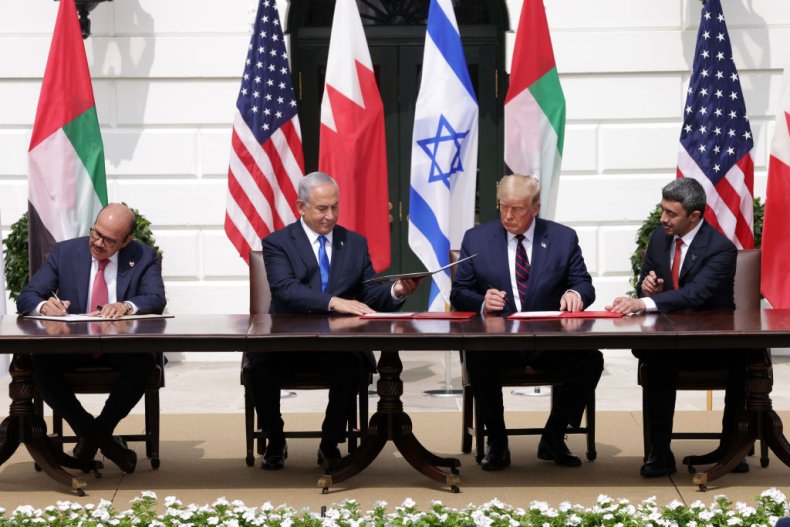 "We should make efforts for the liberation of Palestine and Jerusalem al-Quds, and this will not be possible except through military resistance along with other forms of resistance, namely cultural, political, social resistance and etc, but the main focus of our work must be armed resistance," he said, according to Iran's Tasnim News Agency.
"How could we take back the land of Palestine? We will take it back with our own hands, through fighting, jihad (endeavor for the sake of God) and resistance. This is the only way forward for us," he said.
Newsweek reached out to the Iranian Foreign Ministry for comment, but it did not respond by the time of publication.
Hilal Khashan, a professor of political science at the American University of Beirut, said he does not expect Iran or Hezbollah to take any "retaliatory action."
"I would not take Naim Qassem seriously. His call for military resistance is hollow. What prevents Hezbollah from military resistance? Hezbollah understands the tragic consequences of provoking the Israelis," Khashan told Newsweek.
The modern state of Israel was formally established in 1948 on lands that had been inhabited by the Palestinians for centuries. Although the Palestinians and Israelis remain in conflict, Palestinians live largely within the West Bank and Gaza, which have relatively little autonomy and are regularly under surveillance by the Israeli military.
The Arab League, of which Bahrain and the UAE are members, had long held that there should be no normalization of ties with Israel until Palestinians are granted a fully independent state. But the UAE and Bahrain on Tuesday signed deals to normalize ties with Israel, following in the footsteps of Egypt in 1979 and Jordan in 1994.
"Israel never took seriously the issue of establishing a Palestinian state. Ever since Camp David Accords, they have been talking about autonomy. I see no hope for establishing a Palestinian state," Khashan told Newsweek. "Neither Israel nor the Arab states are interested in seeing the rise of a Palestinian state."
Palestinian leaders have condemned the UAE's and Bahrain's decision.
"The only path for peace for the Palestinians is ending this brutal Israeli occupation and granting the Palestinians their inalienable rights for self-determination. Without that there is no path to peace in the region," Ammar Hijazi, assistant minister of multilateral affairs for the Palestinian Authority, told Al Jazeera.
President Donald Trump and Israel's Prime Minister Benjamin Netanyahu hailed the deal as a step toward fully ending tensions between Arab states and Israel.
"This peace will eventually expand to include other Arab states. And ultimately, it can end the Arab-Israeli conflict, once and for all," Netanyahu said.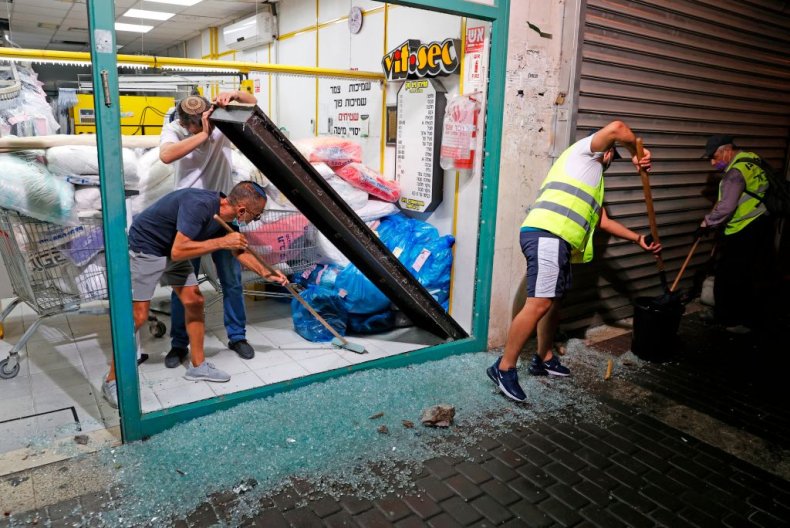 Meanwhile, only a few dozen protesters turned up to demonstrate against the agreement in the Palestinian city of Ramallah, Israeli newspaper Haaretz reported. Activists there told the newspaper that this was the result of disillusionment, and the reality that many Palestinians no longer believe their protests will result in meaningful actions from policymakers.
The Times of Israel reported Tuesday that a rocket was fired from Gaza, striking a storefront in the southern Israeli city of Ashdod. A 62-year-old man and a 28-year-old man were reportedly injured in the attack.