Iran: Donald Trump Cartoon Contest Mocks President as Money-Obsessed Nazi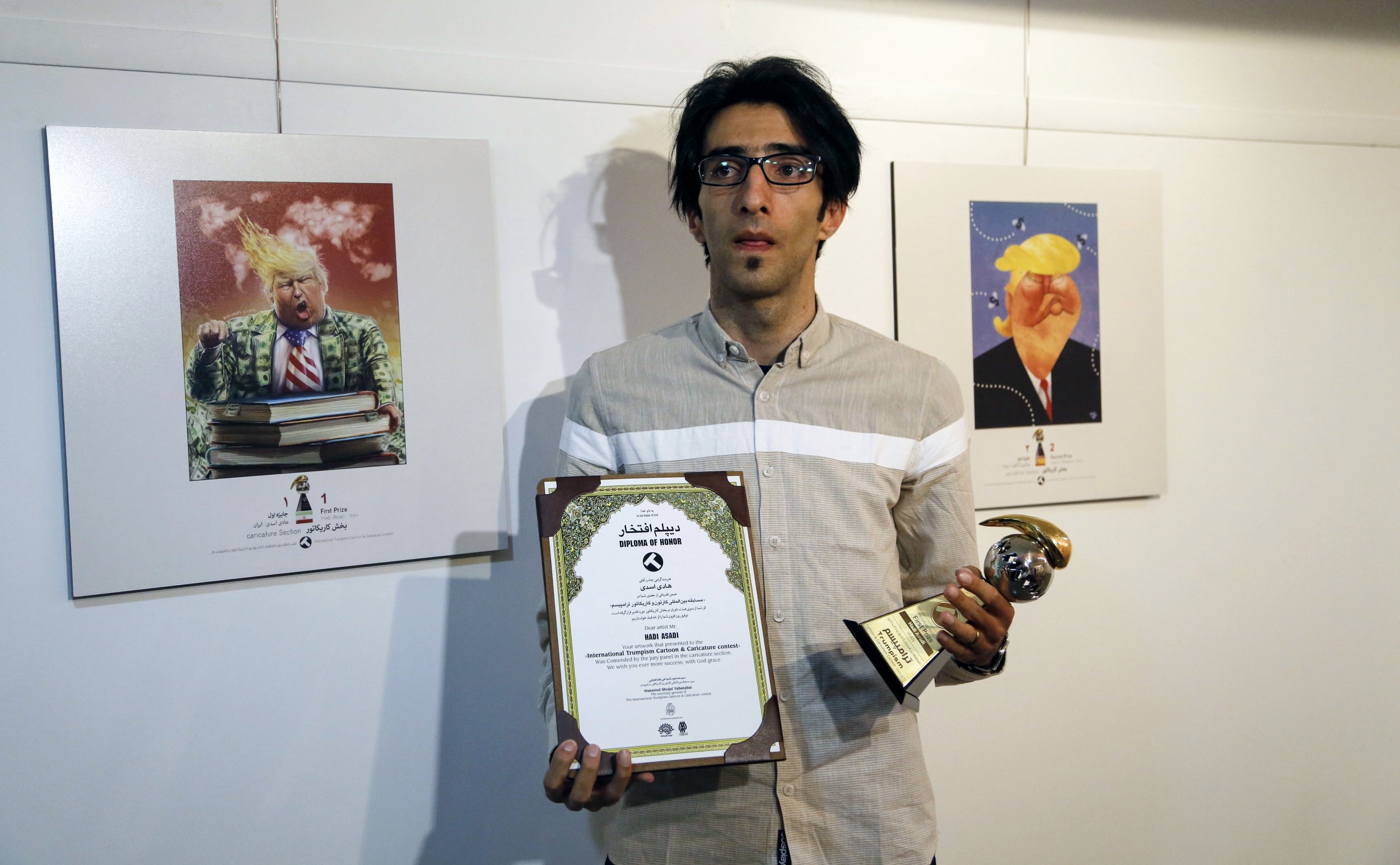 Hundreds of entries into an Iranian cartoon competition mocking Donald Trump have attacked the president as a racist, a warmonger and a Nazi.
The winner of the so-called "Trumpism" competition, Iranian cartoonist Hadi Asadi, depicted the president wearing a suit made of dollar bills, scornfully drooling over a pile of books. Behind him, a shock of burning yellow hair issues smoke that forms a map of the world.
In a competition held by a group that has previously organized similar contests on themes including the Islamic State militant group (ISIS) and the Holocaust, the International Trumpism Cartoon and Caricature Contest pulled no punches.
Read More: Iran: Travel Ban Is 'Shameful' to All Iranians Fighting ISIS and Upholding Nuclear Deal
The 'T' in 'Trump' to promote the event was a swastika, encouraging many of the entries to compare the president to Adolf Hitler. One entry showed Trump giving a Nazi salute while another showed the president drawing a Hitler moustache on the statue of liberty.
"The ism in Trumpism is a reference to racism and Nazism," Masuod Shojai Tabatabaei, the organizer told the Associated Press. "Many believe his remarks are similar to Hitler. He has had a bad attitude toward media [and] refugees.
"Trump's behavior clearly sets out Iran's reasons to distrust the U.S., consequently, we decided to use art's capacity for displaying the behavior," Tabatabaei told Iranian local media.
"Aside from his personal characteristics, Trump has also posed different challenges to the world and treats Iran and the Islamic world unconventionally in particular," he added.
Asadi, whose cartoon was chosen from among 1,600 entries from 75 countries, won $1,500 in prize money, Monday. "I wanted to show Trump while trampling symbols of culture," Asadi, who spent two weeks working on the cartoon, said. He added that the focus of his piece was on Trump's "money-mindedness and war monger nature."
Two U.S. contestants were awarded for their entries. Robert Jones Clayton, again, compared Trump to Hitler while another cartoon by Ed Wexler showed the president being pursued by a snowball with a red hammer and sickle emblem on it—a reference to an ongoing investigation into Trump staff and their connections to the Kremlin.