Donald Trump Calls Fox News and Says He's Reined in Iran, While Also Claiming Tehran Just Bombed 2 Oil Tankers
President Donald Trump called into Fox and Friends on Friday morning and argued that his administration is responsible for reining in Iran.
"They've changed a lot since I've been president, I can tell you. They were unstoppable and now they are in deep, deep trouble," Trump said. "They were screaming 'death to America.' They haven't been screaming death to America lately."
The comments were made at a time when Trump administration officials are escalating rhetoric against Iran, and as fears rise of an eventual conflict with Iran.
The Trump administration has explicitly blamed Iran for attacks on two oil tankers in the Gulf of Oman. The U.S. Navy released a video on Thursday that purportedly showed members of Iran's Revolutionary Guard removing a mine from one of two tankers hit by explosions. The tankers belonged to Japan and Norway.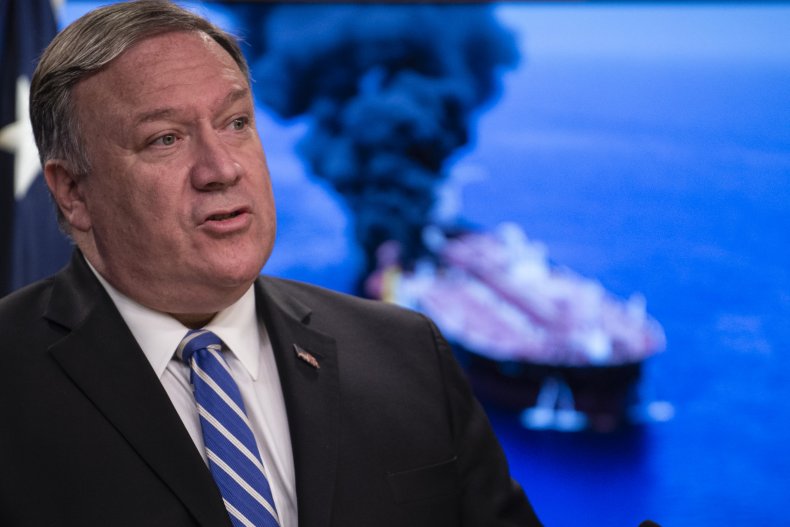 Speaking to Fox and Friends on Friday, Trump reiterated his administration's claim that Iran was behind the recent attacks.
"Iran did do it. And you know they did it because you saw the boat. I guess one of the mines didn't explode and it's probably got essentially Iran written all over it," Trump told the hosts of his favorite morning show. "You saw the boat at night trying to take the mine off unsuccessfully. Took the mine off the boat. And that was exposed. That was their boat. That was them. And they didn't want the evidence left behind. I guess they didn't know that we have things that can detect in the dark that work very well," he continued.
Secretary of State Mike Pompeo also said that "the weapons used, the level of expertise needed to execute the operation, recent similar Iranian attacks on shipping, and the fact that no proxy group operating in the area has the resources and proficiency to act with such a high degree of sophistication," all demonstrate that Iran is responsible for the attack.
"Taken as a whole, these unprovoked attacks present a clear threat to international peace and security, a blatant assault on the freedom of navigation and an unacceptable campaign of escalating tension by Iran," Pompeo told reporters Thursday.
Iran's Foreign Minister Mohammad Zarif called the oil tanker incident "suspicious" and noted that Iran wants to discuss the attacks with regional partners to avoid escalation. He also suggested that the Trump administration would use the incidents as a pretext for escalating tensions with Iran.
Japan's Prime Minister Abe Shinzo traveled to Iran on Wednesday in an attempt to try to calm the situation. But Trump dismissed the effort. Iran's foreign minister claims that the U.S. is trying to sabotage diplomacy.
"That the US immediately jumped to make allegations against Iran—w/o a shred of factual or circumstantial evidence—only makes it abundantly clear that the #B_Team is moving to a #PlanB: Sabotage diplomacy—including by @AbeShinzo—and cover up its #EconomicTerrorism against Iran," Zarif tweeted on Thursday.