Iran Shot Down One of These U.S. Spy Drones, Two More Crashed, Now Navy May Only Have Two More Left
One of the U.S. Navy's most advanced spy drones recently suffered a Middle East crash that follows two more incidents that potentially leave the military branch with just two more of the massive, costly unmanned aerial vehicle.
An RQ-4A Broad Area Maritime Surveillance Demonstrator (BAMS-D) "struck foreign object debris (FOD) during takeoff while supporting operations in the U.S. Fifth Fleet area of responsibility" on November 26, the Navy said in a statement published Thursday by the U.S. Naval Institute's news outlet. No personnel were injured, but the incident "resulted in damage to the port side of the aircraft," according to the statement.
This drone model, also known as the Global Hawk, is estimated to cost some $180 million and was previously involved in a 2012 crash during a training flight in Maryland. CNN reported at the time that the U.S. Navy had acquired five of the aircraft.
More recently, the Global Hawk was shot down by Iran's Revolutionary Guard in a dramatic surface-to-air missile strike over the Strait of Hormuz in June. The United States Naval Institute estimated that this attack, coupled with the latest loss, leaves the Navy with only two more of its original fleet of five drones that the Pentagon was reportedly having second thoughts about.
The Fifth Fleet did not immediately respond to Newsweek's email request for comment.
Citing current and former U.S. military officials, Foreign Policy reported last month—prior to the latest incident—that the Air Force was looking to retire 21 of its own 35 RQ-4 Global Hawks. The proposal has been reportedly submitted to the Office of the Secretary of Defense and came as the newer MQ-4C Triton was set to replace the system.
The reported move also, however, came amid the growing capabilities of near-peer competitors like Russia and China, as well as increasingly powerful tools being developed by other powers like Iran.
The Islamic Republic held a massive air defense war games exercise last month covering an area roughly the size of the U.S. state of California. The drills, which a senior Iranian military official touted as utilizing "world-class" and "cutting-edge" anti-aircraft systems, were held just as the U.S. Navy's Nimitz-class aircraft carrier USS Abraham Lincoln sailed through the same Strait of Hormuz where the Pentagon drone was downed over the summer.
The critical waterway is considered the world's most important maritime oil chokepoint and has been a flashpoint for worsening tensions between Washington and Tehran. With President Donald Trump refusing to return to a 2015 nuclear deal struck with Iran and other major powers and imposing sanctions on the longtime foe, Tehran has refused to negotiate and episodes of unrest have erupted in the critical region.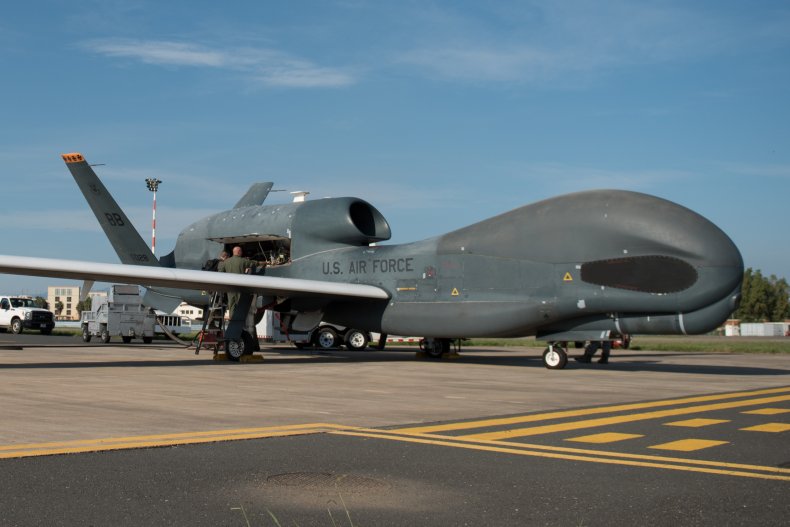 The U.S. has blamed Iran for attacks not only on oil tankers in the Gulf Oman and oil facilities in Saudi Arabia, but also on positions associated with the longstanding U.S. military presence in Iraq. As a series of unclaimed airstrikes widely attributed to Israel targeted Shiite Muslim militias partnered with Tehran in recent months, unclaimed rocket strikes blamed on these same militias and Iran itself have continued to hit mixed U.S.-Iraq-international coalition sites across the country.
In a statement published Friday, Secretary of State Mike Pompeo condemned these attacks, vowing that "the United States will continue to work hand-in-hand with our Iraqi partners, including the Iraqi Security Forces, which played a pivotal role in reclaiming Iraq's sovereignty from ISIS."
"We must also use this opportunity to remind Iran's leaders that any attacks by them, or their proxies of any identity, that harm Americans, our allies, or our interests will be answered with a decisive U.S. response," he added. "Iran must respect the sovereignty of its neighbors and immediately cease its provision of lethal aid and support to third parties in Iraq and throughout the region."
Addressing the U.S. and Israel at an event Wednesday night in Tehran, however, Revolutionary Guard Major General Rahim Safavi called Iran an "invincible nation" and vowed that "America will soon flee the region of West Asia."