Semi-official media sources with ties to the country's influential Revolutionary Guard have already picked a likely winner from among the seven men who have been qualified for the Iranian presidency.
The likely victor of that speculation is a conservative, but even this shift to the right may not be enough to turn the tide against the nuclear talks currently being pursued by the United States and Iran.
Iran's Fars News Agency first reported Friday the names of the seven candidates out of nearly 600 who were approved to run next month by the 12-member Guardian Council. The right-wing-dominated list included former nuclear negotiator Saeed Jalil, Chief Justice Ebrahim Raisi, Expediency Council Secretary Mohsen Rezaee, legislator Alireza Zakani, Deputy Parliament Speaker Amir-Hossein Ghazizadeh Hashemi, former Vice President Mohsen Mehralizadeh and Central Bank Governor Abdolnaser Hemmati.
Shortly after the report, which was later confirmed by the Iranian Interior Ministry, Fars News Agency then issued its own prediction of the results, with a 72.5% landslide for Raisi, by far the most prominent of the pack. It also predicted a lackluster 53% turnout.
Raisi, a hardliner, has expressed skepticism toward Iran's diplomatic overtures to the West, especially in the wake of former President Donald Trump's 2018 exit from a nuclear deal with Iran and major world powers. That agreement was put together by former President Barack Obama and Iranian President Hassan Rouhani, whose second and final term comes to a close with this year's vote.
The U.S. exit from the agreement, officially known as the Joint Comprehensive Plan of Action (JCPOA), was followed by the rollout of intensive sanctions that have wreaked havoc on the Iranian economy. They remain in place today, even as President Joe Biden seeks a U.S. reentry to the deal in exchange for Iran reinstating suspended enrichment limits.
But with Raisi as the favorite to head what would be a far more conservative administration than Rouhani, Iran's commitment to nuclear diplomacy remains a decision rooted in the ultimate authority of Supreme Leader Ayatollah Ali Khamenei.
"Iran's position on the JCPOA is a systemic decision, meaning that it is the outcome of an internal bargaining process that carries the stamp of the supreme leader," Amwaj.media editor Mohammad Ali Shabani told Newsweek. "Mindful of this, and given the dynamics we have seen in Vienna, the next Iranian president is likely to enter office with the U.S. as a signatory to the nuclear deal once again."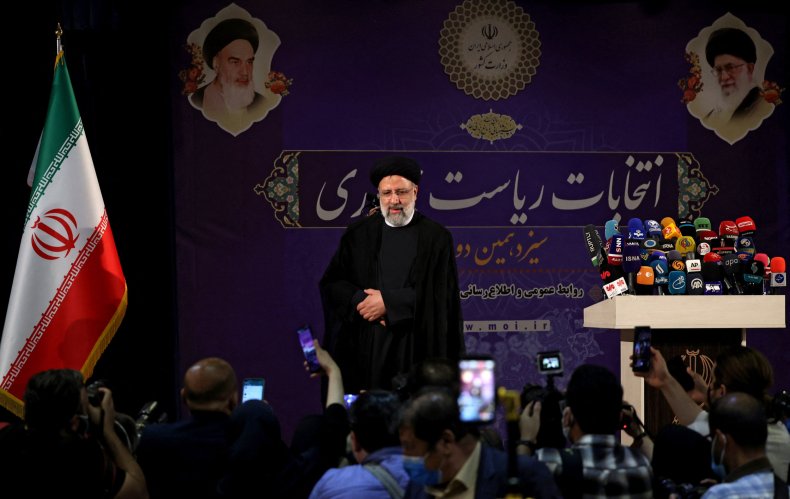 Amwaj.media has closely followed the Iranian elections process, including takes featuring insider correspondents on the ground. The outlet previously identified Raisi as a probable frontrunner, not only for the presidency but for the supreme leader position itself.
Until then, however, Khamenei's word, as negotiated among other key stakeholders in Iran, remains law.
"While certainly far more conservative than Rouhani, matters such as normalization of relations with the United States are largely the outcome of a consensus among the establishment," Shabani said. "The president can play an important part in shaping this consensus, but cannot break it entirely on his own."
Setareh Sadeqi, a Tehran-based researcher and political commentator, also saw the matter of strategy toward the U.S. as subject to a consensus across the Iranian political system.
"I think the final lineup of the candidates, whether it stays the same way as it was announced today or changes, as well as the election results, do not really affect Iran's approach towards the JCPOA," Sadeqi told Newsweek, "because there is a consensus in Iran that Iran has given enough concessions, and it's time for the European signatories to stand up to the U.S. and take us back to the deal and to its commitments."
She highlighted Iran's ongoing efforts to preserve the agreement while also taking reversible measures permitted by the agreement in retaliation for the non-compliance of other parties. While Iran has suspended caps on uranium enrichment, the country has also extended a parliamentary-imposed deadline to end International Atomic Energy Agency cooperation while negotiations continued in Vienna.
"I don't think a new Iranian administration will take a very different approach towards the JCPOA because Iran has waited for so long for the U.S. to go back to its commitments," Sadeqi added. "Iran stayed committed to the deal. It waited a while before reducing its commitments, waiting for the U.S. to go back to the deal, but this did not happen."
Now, she argued, it was up to Washington's new leadership, not that of Tehran, to demonstrate its commitment.
"I think everything depends on how the U.S. will act towards the deal rather than who the next president in Iran will be, because everything has been decided by the current administration and then passed through the parliament," Sadeqi said. "The parliament is not going to change, they're going to be the same representatives, and the public opinion here is demanding the same thing from the governments, that either the sanctions are immediately lifted and people can feel that in their life, or Iran stops giving concessions and cooperating."
Recent polling released in late March by Iran Poll and the Chicago Council on Global Affairs revealed that a slim majority in Iran supports the JCPOA, but also opposes any arrangement in which Iran would reinstate its initial obligations before the U.S. did so first, or in which their country offered extra concessions involving the likes of its nuclear or missile programs.
A model predicting potential voter turnout was similar to the Fars News Agency's results, with Iran Poll reporting 53% will "definitely" vote, while an additional 22% will "probably" vote. Another 15% will "definitely" not vote, and 9% will "probably" vote, according to the study.
In a statement sent to Newsweek later Wednesday, the head of media at Iran's permanent mission to the United Nations, Shahrokh Nazemi, also argued that "the result of the presidential election in Iran has nothing to do with the ongoing talks in Vienna."
And, echoing Shabani and Sadeqi, Nazemi confirmed there was a consensus toward pursuing JCPOA restoration.
"There is a widespread consensus across the Iranian system on our approach towards JCPOA," Nazemi said. "As we have said on numerous occasions, as soon as the US lifts its sanctions in accordance with its JCPOA obligations, and that is fully verified, Iran will immediately return to its JCPOA obligations."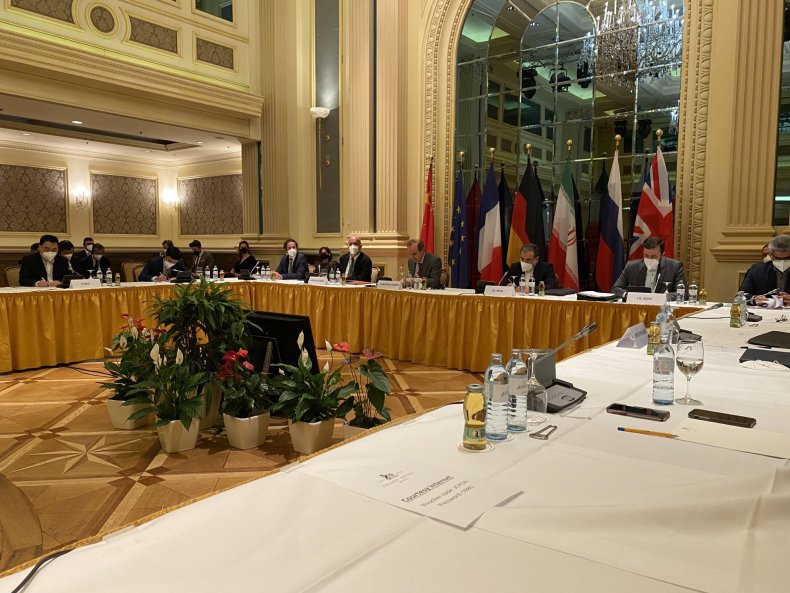 The Biden administration, for its part, has sought to distance itself from any external constraints that could be perceived as influencing the already arduous indirect talks in Vienna between Washington and Tehran.
Asked Thursday whether Iran's June 18th vote was considered a deadline, White House Press Secretary Jen Psaki declined to establish the connection, but she did note that the race may have an effect on Iran's own calculus.
"I'm not going to set new deadlines today; I'm sure that won't surprise you," Psaki told reporters at the time. "There are certainly political factors that are factors for countries like Iran, that are key parties in these discussions and negotiations."
She said the U.S. objective would remain unchanged.
"Our, of course, goal is to mutually return to compliance with the JCPOA, and we would be prepared to lift the sanctions necessary for our JCPOA compliance only if Iran were prepared to return its nuclear program to its JCPOA status," she added. "We will see where we get, but that is our bottom line."
In an interview with CNN aired Sunday, Secretary of State Antony Blinken reiterated that both the U.S. and Iran had made some progress in clarifying their expectations of what a successful outcome for their talks might look like. Still, some doubts lingered as the talks were set to enter their fifth round.
"We are fully prepared to go back to the original deal as it was," Blinken said. "That's our initial objective, and, again, we don't know if the Iranians are."
That same day, Tehran's top negotiator, Iranian Deputy Foreign Minister Abbas Araghchi, posed a similar question to the U.S. side after briefing members of parliament on the progress of the talks he called "Very tough. But useful."
"Bottom line is same: Having left JCPOA, US must first provide verifiable sanctions lifting. Iran will then resume full implementation," Araghchi tweeted Sunday. "Is the US ready?"
Other signatories have since signaled hope for what Russian permanent representative to international organizations in Vienna Mikhail Ulyanov described as "the fifth and probably final round" of JCPOA restoration talks. He said on Twitter that "the participants expressed readiness to do their best to resolve the remaining outstanding issues and to complete negotiations successfully as soon as possible."
The European Union's mission also expressed its preparedness to reach a solution accepted by all parties, as did China, whose permanent representative, Ambassador Wang Qun, "called on all parties to enhance the sense of urgency, & reach a package solution by coming up w/ political decision, so as to get the U.S. & #Iran back to full implementation of #JCPOA ASAP," according to a Twitter statement.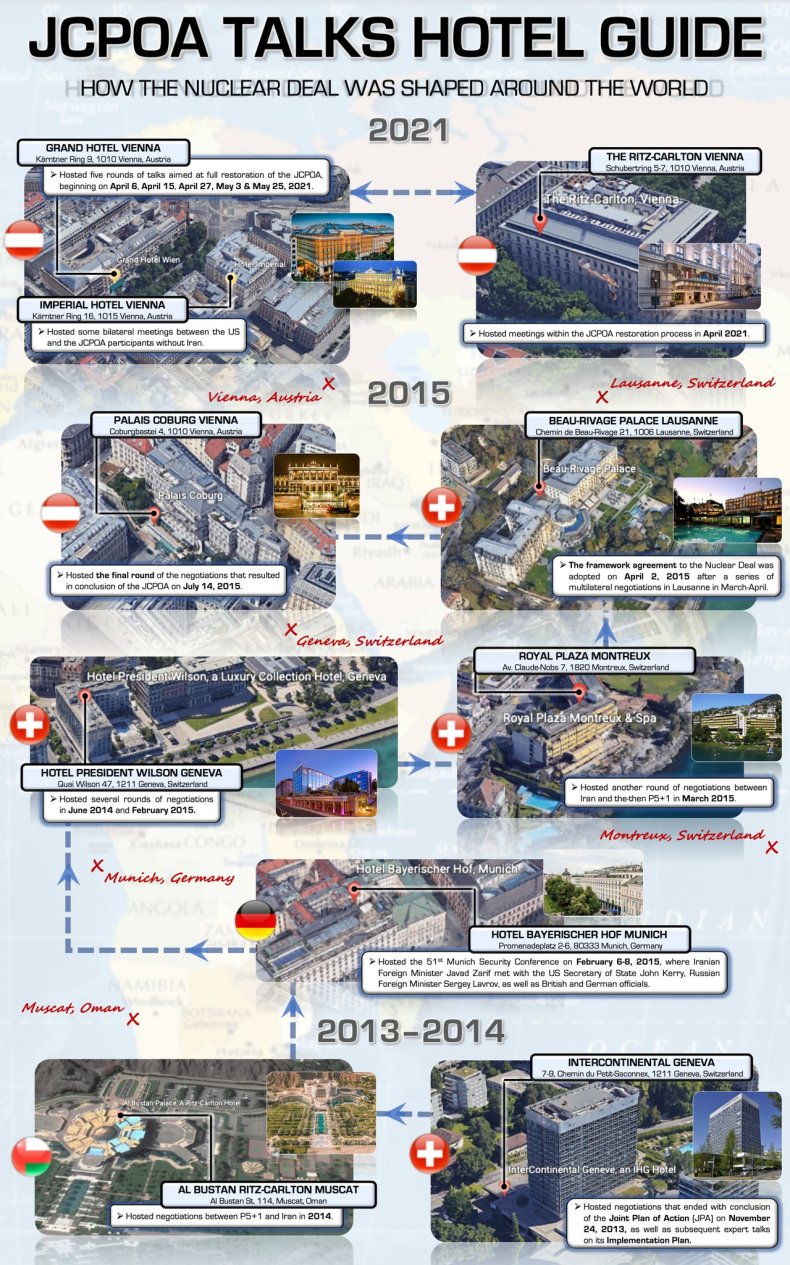 This article has been updated to include a statement by Iran's permanent mission to the United Nations.