Iran Election Polls Show President Hassan Rouhani in Trouble Before Friday Vote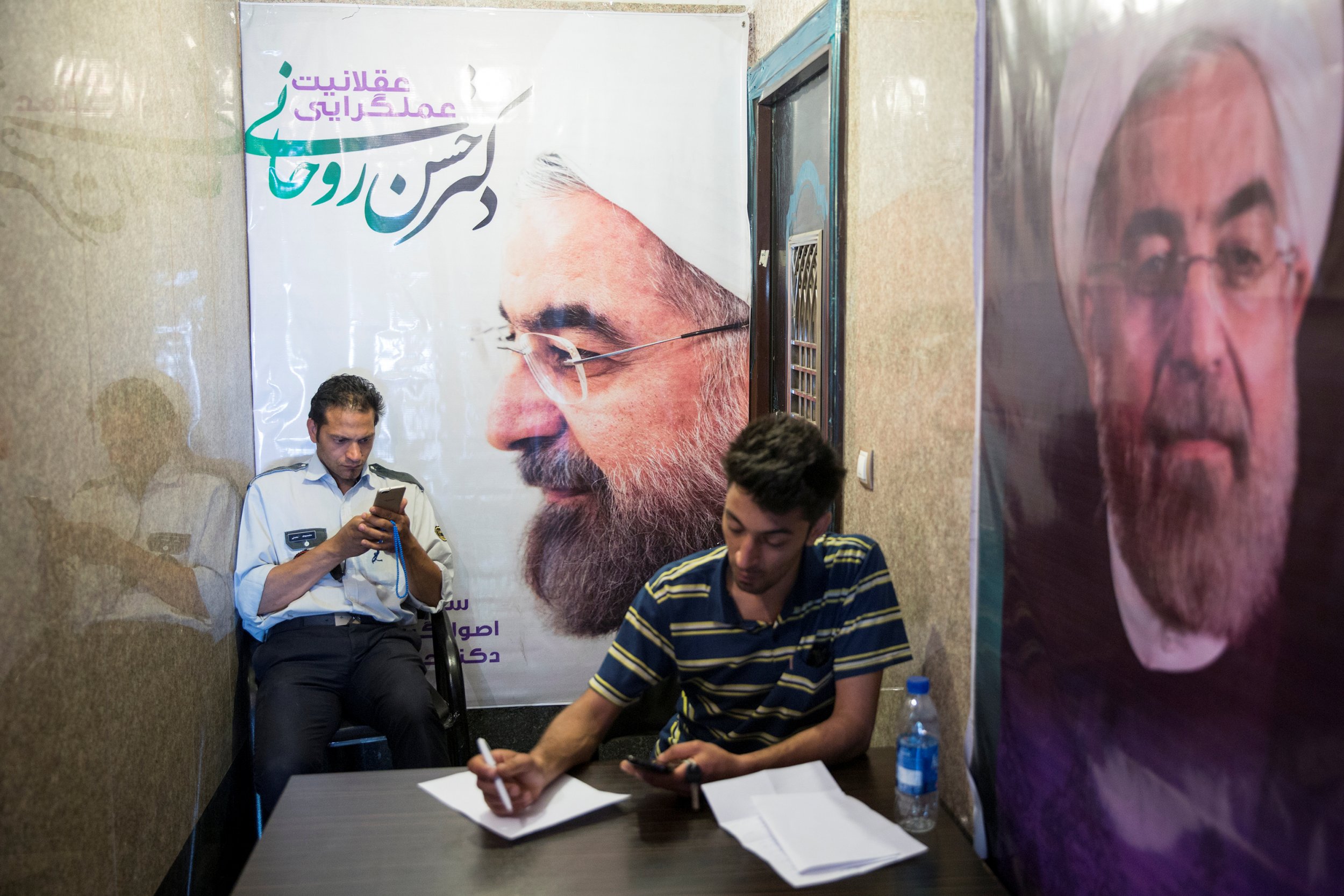 Although some have called Iran's elections merely ceremonial, given that much of the Persian nation's power resides in the ayatollah, Ali Khamanei, Friday's democratic showdown that pits sitting President Hassan Rouhani against a three-deep field could result in a more conservative government and potentially jeopardize the international nuclear deal that has curbed the defense proliferation of one of the Middle East's greatest powers.
A combination of recent polls, concerns over the economy and one failed candidate's endorsement of a fellow conservative could mean Rouhani's ouster. In the lead-up to the election, most expected the reformist, 68-year-old Rouhani to earn another term. According to Al-Monitor, a poll conducted May 7-8 by the Iranian Students Polling Agency gave Rouhani 42 percent of the voters, followed by popular cleric Ebrahim Raisi at 27 percent and Tehran Mayor Mohammad Bagher Ghalibaf at 25 percent.
Another poll by the International Perspectives on Public Opinion also reflected a distinct advantage for Rouhani, but did show he was vulnerable. He was at 29 percent, while Ghalibaf was at 12 percent and Raisi at 11 percent, between May 8 and 11, but 28 percent of the respondents claimed to be undecided and 20 percent did not wish to answer.
Each poll was taken days before Ghalibaf dropped out and fully endorse Raisi, who's viewed as a hard-liner and supposedly close to Khamanei.
Displays like the one that took place in a mosque Tuesday night in Tehran—with Ghalibaf taking to the stage and joining Raisi, the two linking hands and raising them together—could foreshadow Raisi's rise and Rouhani's departure. "Bye bye, Rouhani," the crowd chanted according to NBC News. "At the end of the week, Rouhani is gone."
Much of the discord that could trigger Rouhani's ouster involves the controversial nuclear deal struck in 2015, and the economic boost it was supposed to provide in return for Iran's compliance. Years of sanctions had kept Iran from the world's global banks, as inflation skyrocketed to 40 percent, according to Time.
When the nuclear deal was reached, it was believed Iran could experience as much as five percent growth in gross domestic product in the first 12 months and possible eight percent growth in 18 months. Oil production was also expected to jump, helping to drop global prices, and the floodgates for foreign direct investment were opened. (The Trump administration on Wednesday extended waivers that allow foreign companies to continue investment in Iran, but the Treasury Department also imposed seven sanctions on Iran's missile development, BuzzFeed reported.)
Yet, Iran's unemployment rate last year climbed 1.4 percent, to 12.4 percent, even though the economy added 600,000 jobs in 2016. The job growth number was huge, but more than a third of Iran's population is made up of 15- to 29-year-olds and only half of those new to its job market were able to secure employment.
Rouhani's answer to the unemployment problem is the pursuit of $140 billion in foreign investment to make up for the crippling effects of the sanctions over the last decades, according to Reuters, and while some were skeptical, the U.S.'s waivers could assuage some fears of investors.