As Iran Calls for Middle East to Work Together on 'Non-Aggression,' Saudi Arabia's Minister Walks Out
Iranian President Hassan Rouhani repeated a message of peace amid dangerous regional frictions during this year's United Nations General Assembly, but his rival's top diplomat skipped the talks.
With conflict still festering in Syria, Yemen and the Palestinian-administered Gaza Strip, deadly instability still plaguing Iraq and Libya and heightened tensions across the Persian Gulf, Rouhani said Wednesday that "the Middle East is burning in the flames of war, bloodshed, aggression, occupation and religious and sectarian fanaticism and extremism." In the latest flare-up, crucial Saudi oil sites were targeted in strikes that were claimed by a Yemeni militia. Despite the militants' claims, governments including Saudi Arabia's and the United States' have steadfastly blamed Iran. Iranian officials have repeatedly denied the allegations over the past ten days and as Rouhani introduced a new call for regional cooperation.
"I should like to invite all countries directly affected by the developments in the Persian Gulf and the Strait of Hormuz to the coalition for HOPE, meaning Hormuz Peace Endeavor," Rouhani said. "The goal of the coalition for HOPE is to promote peace, stability, progress and welfare for all of the residents of the Strait of Hormuz region and enhance mutual understanding and peaceful and friendly relations amongst them. This initiative includes various venues for cooperation such as the collective supply of energy security, freedom of navigation and free transfer of oil and other resources to and from the Strait of Hormuz and beyond."
Rouhani named a number of tenets for such a grouping, including two fundamentals: "non-aggression" and "non-interference in the domestic affairs of each other." He said Iranian Foreign Minister Mohammad Javad Zarif would provide more details to prospective member states, but one key player was missing.
Saudi State Minister for Foreign Affairs Adel al-Jubeir was seen exiting the building before Rouhani's address.
At least two Saudi delegates were present for the talk, though the country has yet to comment on Rouhani's HOPE coalition proposal. The HOPE coalition was first unveiled Sunday, with Zarif explaining its premise to a small group of journalists, including a Newsweek reporter, at a private meeting in New York.
On Tuesday, Jubeir told the Council on Foreign Relations that Saudi Arabia wants "an Iran that acts as a nation-state, that respects the sovereignty of nations, that respects international laws, that doesn't interfere in the affairs of other countries, and then we will have an Iran that can be a good neighbor to us, and doesn't support terrorism."
Both Jubeir and Rouhani separately emphasized the fact that the two nations were "neighbors," though they have been competing for influence across the Middle East for decades and cut ties entirely in 2016. Revolutionary, Shiite Muslim Iran and monarchical, Sunni Muslim Saudi Arabia have mutually accused one another of fueling regional instability, with the Saudis receiving significant support from the U.S.
Washington has also backed Riyadh and its allies' campaign against the Zaidi Shiite Muslim Ansar Allah movement, also known as the Houthis, in Yemen. This group has launched a number of cross-border drone and missile attacks, though it has denied accusations that it received direct support from Iran, which has threatened an "all-out war" if attacked in response to last week's attacks in Saudi Arabia.
"Our region is on the edge of collapse as a single blunder can fuel a big fire," Rouhani said Monday. "We shall not tolerate the provocative intervention of foreigners, we shall respond decisively and strongly to any sort of transgression in violation of our territorial integrity, however, the alternative and proper solution is to strengthen consolidation among all the nations with a common interest in the Persian Gulf and Strait of Hormuz region."
"This is the message of the Iranian nation," he added. "Let's invest in a hope for a better future rather than in war and in violence. Let's return to justice, to peace, to law, commitment and promise and, finally, to the negotiating table."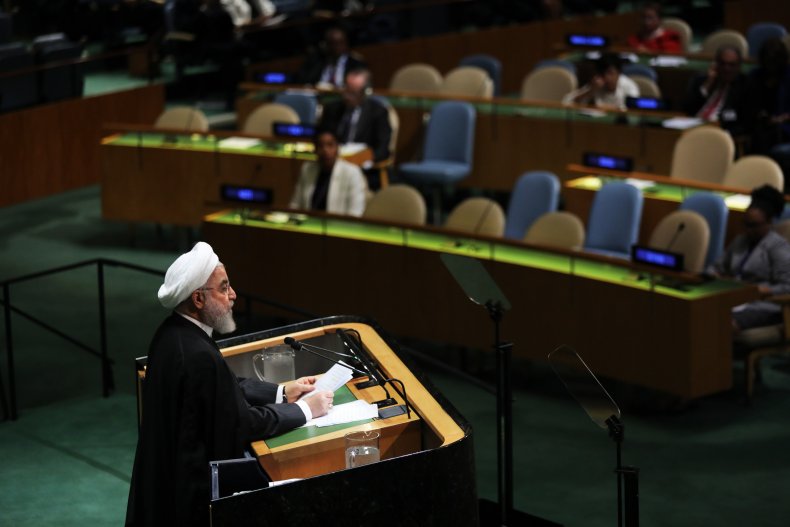 The U.S. and Iran did manage to enter their first major talks since the 1979 Islamic Revolution that ousted a West-backed monarchy, and in 2015 the two struck a nuclear deal—officially the Joint Comprehensive Plan of Action (JCPOA)—alongside China, the European Union, France, Germany, Russia and the United Kingdom. Unhappy with its terms, however, President Donald Trump unilaterally left the agreement and imposed heavy economic restrictions that have spurred regional unrest and proved an obstacle to new diplomatic initiatives.
"Our response to any negotiations under sanctions is negative, the government and people of Iran have remained steadfast against the harshest sanctions in the past one and a half years and will never negative with an enemy that seeks to make Iran surrender with the weapon of poverty, pressure and sanctions," Rouhani said.
"If you require is a positive answer, and as the leader of the Islamic Republic, the only way for talks to begin is to return to commitments and compliance, he continued. If you are sensitive to the name of 'JCPOA' well then you can return to its framework and abide by United Nations Security Council resolution 2231. Stop the sanctions so as to open the way for the start of negotiations."
He added: "I would like to make it crystal clear if you are satisfied with the minimums, we will also convince ourselves with the minimums, either for you or for us. The JCPOA was a minimum for you and for us, if you wish more if you require more, you should also give and pay more."