European Union Leader Lashes Out Against Trump on Iran Deal: 'With Friends Like That, Who Needs Enemies?'
A top European Union official slammed President Donald Trump over his decision to end the Iran nuclear deal on Wednesday morning.
"Looking at latest decisions of [Trump] someone could even think: with friends like that who needs enemies," wrote Donald Tusk, president of the European Council. "But frankly speaking, Europe should be grateful to President Trump. Because thanks to him we have got rid of all illusions. He made us realize that if you need a helping hand, you will find one at the end of your arm."
The European Council is the governing body of the European Union, in charge of creating the EU's political agenda.
In a letter to his European colleagues ahead of a summit Wednesday evening, Tusk doubled down on his convictions. "Following last week's announcement of the United States withdrawal from the Joint Comprehensive Plan of Action with Iran, we need a united European front," he wrote. "The deal is good for European and global security, which is why we must maintain it. Despite the US hesitation."
Tusk also mentioned looking into ways to protect European companies from "negative consequences of the US decision."
While European officials have spoken out against Trump's trade actions before, the language used by Tusk marks a new tone in the relationship. The letter appeared to confirm fears that pulling out of the Iran deal, which was strongly supported by European leaders like French president Emmanuel Macron, British Prime Minister Theresa May and German Chancellor Angela Merkel, could cause a rift in the relationship between the United States and long-standing allies.
On Saturday, Merkel told Europeans that the U.S. had made potential peace in the Middle East "even more difficult" and warned that "the harder the problem is, and the easier the solution is claimed to be, the more suspicious and critical everyone should be."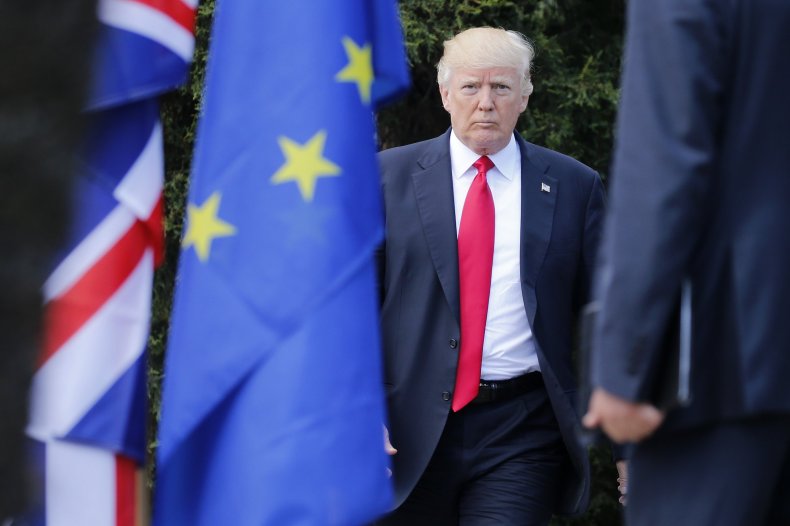 White House National Security Adviser John Bolton indicated on Sunday that the U.S. would be willing to impose sanctions on any European companies that continue to work or do business with Iran.
In his letter, Tusk also warned against the U.S. negotiating new trade tariffs on steel and aluminum, saying that the EU would "stick to its guns" on keeping deals current. "The EU and US are friends and partners, therefore US tariffs cannot be justified on the basis of national security," he said. "It is absurd to even think that the EU could be a threat to the US. We need to bring back reality in this discussion, which is not the case today."