Iran Fires Missiles, Torpedoes, Drones in War Games After U.S. Weapons Test in Persian Gulf
Iran has launched a comprehensive set of war games spanning all units of the Islamic Republic, conducting drills that included the launching of missiles, torpedoes and drones in a bid to deter any potential threats.
The exercise is part of an annual series known as Zolfaqar, which kicked off this year on Sunday in southern Iran near the mouth of the Persian Gulf.
Among the array of missiles fired as the exercise reached its second day on Monday were Qader, Qadir and Nasr anti-ship missiles, along with anti-aircraft systems such as the 15-Khordad and Mersad. Undersea, submarines IRIS Tariq and IRIS Qadir fired Valfajr torpedoes at mock targets.
Iran also employed the use of loitering munitions commonly known as suicide drones to take out simulated enemies. One model seen in imagery release by the Iranian military included the Arash, which flew a long distance before crashing into a predesignated target on the side of a mountain.
As the drills commenced on Sunday, Major General Gholam-Ali Rashid, commander of the Khatam al-Anbiya Central Headquarters, described the maneuvers as designed to "preserve the territorial integrity of dear Iran, as well as the position and power of the region, against the coalition of enemies, and specifically the coalition of the United States and the Zionist regime," a reference to Iran's archfoe Israel.
"Our armed forces, including the army and the Islamic Revolutionary Guards Corps, will crush any threat posed by any arrogant and aggressive power, at any level, and originating from any territory," Rashid said.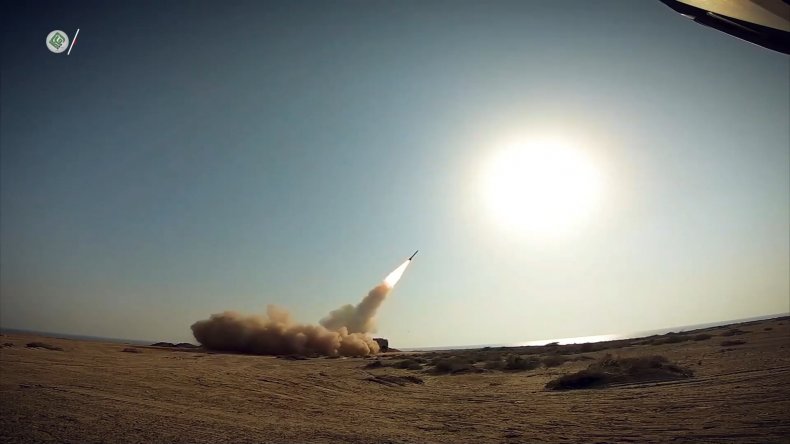 Iran's drills began just a day after the U.S. Navy conducted a missile exercise of its own in the Persian Gulf.
In a press release published Sunday, U.S. Central Command said "U.S. Navy patrol coastal ships conducted a live-fire exercise with the MK-60 Griffin guided-missile system in the Arabian Gulf, Nov. 4-6, to test crew proficiency and system functionality."
The U.S. military often uses the term Arabian Gulf to describe the region more commonly known internationally as the Persian Gulf, due to links between the Pentagon and Arabian Peninsula states that host U.S. forces, as well as the greater dispute that exists between Washington and Tehran.
Vessels that participated in the U.S. training included coastal patrol ships USS Firebolt, USS Thunderbolt, USS Tempest, USS Chinook, USS Hurricane, USS Whirlwind, expeditionary mobile base platform ship USS Lewis B. Puller and guided-missile destroyer USS Michael Murphy.
"Some ships also conducted a live fire exercises with crew-served weapons to maintain operator proficiency and readiness for future missions," the Bahrain-based U.S. 5th Fleet said.
The U.S. and Iranian maneuvers came as tensions remained especially high in the region.
In neighboring Iraq, explosives-rigged drones targeted the residence of Prime Minister Mustafa al-Kadhimi in an assassination attempt. The attack followed weeks of unrest stemming from an election last month that a number of Iraqi parties close to Iran are disputing, resulting in demonstrations in which protesters have been hurt and killed.
Both the U.S. and Iran, along with other countries across the globe, condemned the attack, for which no faction has claimed responsibility.
Days earlier, Iran's Revolutionary Guard released footage of a tense encounter that took place a week prior between the elite branch's naval forces and the U.S. 5th Fleet. The video showed Iranian forces storming a Vietnamese-flagged oil tanker based on accusations that it was involved in an incident in which the U.S. seized Iranian oil.
The U.S. has placed Iran under strict sanctions since former President Donald Trump left a multilateral nuclear deal in 2018. In response, Tehran has gradually reduced its own commitment to the agreement as European signatories failed to normalize trade ties for fear of punishment from Washington.
An effort to bring both sides back to initial levels of compliance with the accord, officially known as the Joint Comprehensive Plan of Action (JCPOA), was launched in April after President Joe Biden took office promising a return to the deal. Six rounds of indirect talks between the U.S. and Iran, and direct talks among other parties to the agreement, have taken place in the Austrian capital of Vienna, but so far no resolution has been found.
After a months-long pause coinciding with the Iranian election, participants have announced a resumption of negotiations to take place on November 29.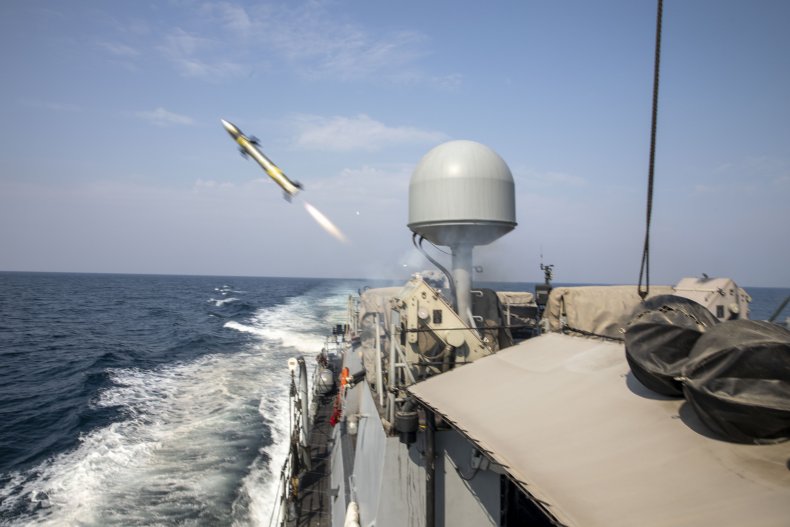 Iranian Foreign Ministry spokesperson Saeed Khatibzadeh accused the Biden administration of failing to live up to its pledge to return to the nuclear deal, and set several conditions for the U.S. during a press conference Monday.
Washington, Khatibzadeh argued, "must in the first place accept, as the culprit in the current situation, to reverse the path that it has engaged in, must lift the oppressive sanctions that were imposed after the withdrawal of the United States from the JCPOA, and ensure that no government in the United States ever again mocks the world and international law by repeating these circumstances."
Iranian Deputy Foreign Minister Ali Bagheri is set to travel to the United Kingdom, France and Germany later this week to discuss getting the Vienna talks back on track.
In Washington, Secretary of State Antony Blinken discussed outstanding U.S. concerns with Iran's nuclear activity and other issues during a press conference alongside his Egyptian counterpart, Sameh Shoukry.
"On Iran, we share serious concerns regarding Iran's destabilizing influence in the region, including its support for terrorism, its ballistic missile program, and the deplorable practice of arbitrarily detaining foreign nationals—including U.S. citizens—to exert political pressure," Blinken said.
And though Tehran has always denied seeking a nuclear weapon, the top U.S. diplomat said Washington would be in touch with European parties to prevent such an outcome.
"An Iran with a nuclear weapon would be an even more destabilizing force in the region and beyond," Blinken added, "which is why President Biden met recently in Rome with his German, French, and British counterparts to discuss how we can work together to get Iran back into compliance with the JCPOA, the nuclear agreement."