Iran Foreign Minister Abbas Araghchi Says There Has Been Good Progress In U.S. Nuclear Talks
Ongoing talks between Iran, the U.S. and other nations involved in the Joint Comprehensive Plan of Action (JCOPA) have made progress, Iran's Deputy Foreign Minister Abbas Araghchi told reporters Wednesday.
The talks have been ongoing in Vienna, Austria for weeks, with the unofficial goal for the U.S. to rejoin the agreement before Iran holds national elections in June. Speaking to reporters ahead of discussions, Araghchi said that good progress had been made on an agreement between Iran and the senior diplomats from China, Russia, Germany, France and the United Kingdom serving as a go-between with U.S. delegates.
Araghci said key issues still remain in contention, and those will need to be discussed with Iranian government officials not involved in the talks.
German Foreign Minister Heiko Maas indicated to reporters that Iran will have to take the next step, since Washington D.C. appears willing to offer some concessions in discussions, though it's unknown what those may be. Iran has previously asked the U.S. to lift all sanctions.
"There is a fundamental willingness (from Washington), but, of course, it depends, in turn, on Iran complying with the commitments it is clearly violating," Maas said. He added that there are "concrete results" thanks to the talks, but did not elaborate on what those were.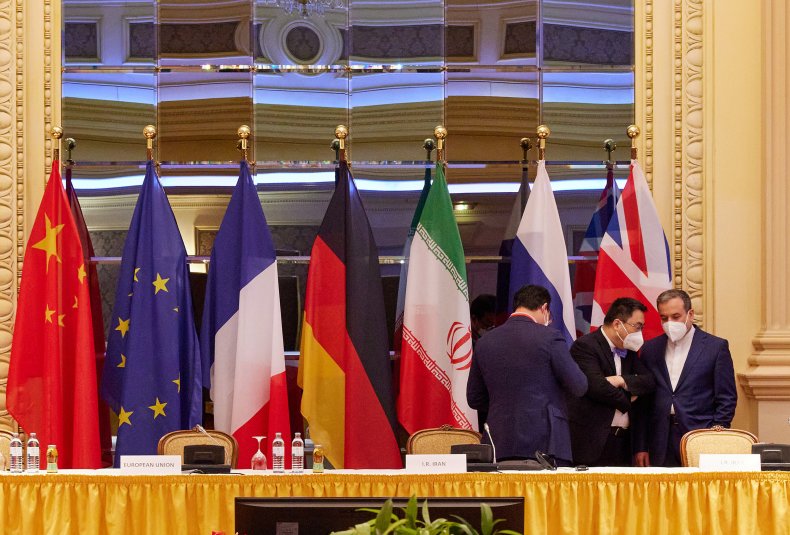 For more reporting by the Associated Press, see below.
"I cannot predict how it will end up, because ultimately the results of the negotiations will be assessed again in the respective capitals and then approved or not," Maas said. "But our goal is to achieve a result in the negotiations in the next two weeks and thus create the conditions for the U.S. to return to this agreement."
The U.S. hasn't been represented directly at the talks, which started in early April, but does have a delegation in Vienna and representatives from the other countries have been shuttling between it and the Iranian side.
The 2015 deal, known as the Joint Comprehensive Plan of Action, or JCPOA, promises Iran economic incentives in exchange for curbs on its nuclear program.
The ultimate goal is to prevent Iran from obtaining an atomic bomb, which it insists it doesn't want to do. President Donald Trump pulled out in 2018 saying it wasn't broad enough in scope and needed to be renegotiated.
He embarked upon a campaign of "maximum pressure" aimed at bringing Iran back to the negotiating table, reimposing sanctions that have crippled Iran's economy.
Iran has refused to engage in any direct talks with the U.S., however, and has instead been steadily violating the restrictions of the JCPOA, like enriching uranium to a greater purity than permitted, stockpiling more enriched uranium than allowed and using more advanced centrifuges, to try and pressure the other powers for economic relief.
The talks in Vienna have been focusing on how to bring Iran back into compliance — including what would be done with the newly-installed advanced centrifuges — and which sanctions the U.S. would agree to remove and when.
"There is a fundamental willingness (from Washington), but, of course, it depends, in turn, on Iran complying with the commitments it is clearly violating," Maas said. "And that is a very arduous process."
If the two sides are able to reach an agreement in the next two weeks, it would come before Iran's June presidential election, which some believe could complicate further discussions.