Iran Fortifies West Hemisphere Ties, Will Sign 20-Year Deal with Venezuela
Iran and Venezuela have announced plans to finalize a 20-year strategic agreement, fortifying the Islamic Republic's ties to the Western Hemisphere and bringing together two foes of the United States and its pressure campaigns against them.
Iranian Foreign Minister Hossein Amir-Abdollahian and Venezuelan Foreign Minister Felix Plasencia Gonzalez met Monday in Tehran, where they "discussed bilateral issues and the expansion of cooperation between the two countries," according to the Iranian Foreign Ministry.
The pair "decided to hold a joint economic commission of the two countries in the near future and to compile and finalize a comprehensive plan for the 20-year economic cooperation between the two countries."
That same day, Plasencia sat down with Iranian President Ebrahim Raisi "to advance towards the deepening of diplomatic relations," according to the Venezuelan side. The Iranian leader "expressed the will of the Islamic Republic to build a road map for the coming years, and strengthen the historical ties that unite both nations."
Raisi invited Venezuelan President Nicolás Maduro to visit the Islamic Republic in the coming months to further boost relations between two countries that are subject to strict U.S. sanctions. Caracas and Tehran have a common agenda in seeking to resist the measures the United States has rolled out against them.
During the talk, Raisi "rejected the embargoes and sanctions imposed by the United States on third countries; and he agreed with Foreign Minister Plasencia in the commitment to reinforce multilateralism and reject the interference and interventionism of the North American country."
In his own office's readout, Raisi said working with countries like Venezuela would be a priority for his administration.
"In this government, we are determined to overcome the problems caused by the enemies and continue the path of development of our country," Raisi said, adding that, "to develop bilateral relations, we need to have a clear, long-term plan so that relations develop to their maximum."
In this respect, he said "a bright outlook" had emerged for the future of relations between Iran and Venezuela.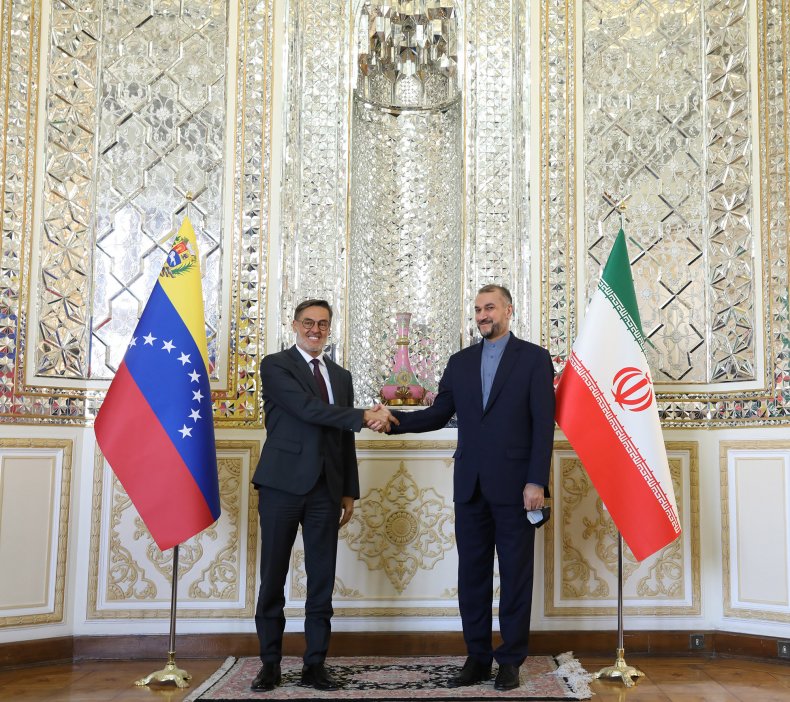 Iran has set out to improve its relationship with a number of countries in recent years, especially since the U.S. exit in 2018 from a multilateral nuclear deal also signed by other top world powers. Last year, Iranian officials also signed a 25-year strategic cooperation deal with China, and the Raisi administration remains in talks with Russian counterparts to sign a strategic partnership of their own.
When it comes to Venezuela, Iran has defied U.S. restrictions and dealt in oil and gas with the Maduro administration, which Washington no longer recognizes since sponsoring opposition leader Juan Guaidó in early 2019. Last year, as former President Donald Trump continued his "maximum pressure" campaign, the U.S. seized four Iranian fuel tankers bound for the Latin American nation and later sold off the cargo.
President Joe Biden's administration has continued to challenge Maduro's legitimacy and blacklist his socialist government. The White House has, however, set out to reverse Trump's position on the Iran deal by pursuing negotiations geared toward reentering the accord, though discussions remain frozen after six rounds of talks in the Austrian capital of Vienna.
Both sides have publicly questioned the other's commitment to returning to the agreement.
At the same time, Iran has continued to focus on building on its relationships abroad, including in the region, where discussions are taking place with Saudi Arabia and the United Arab Emirates. Venezuela too has sought to rebuild relations in its respective region, with Maduro traveling to Mexico last month in what was his first foreign trip since the U.S.-backed push to oust him.
In Mexico, Maduro's government and representatives of Venezuela's opposition have met for talks geared toward ending the country's political crisis. The U.S. has continued to lash out at the Maduro administration, however, and on Sunday extradited Colombian businessman Alex Saab, who was part of Maduro's negotiating team before being arrested last year in the West African island nation of Cape Verde on money laundering charges.
The Maduro administration has since suspended talks with the opposition and has demanded Saab's immediate release, a call echoed by the United Nations Human Rights Committee. The U.S. urged Venezuela to release six executives of U.S. oil giant Citgo who were arrested in November 2017, shortly after Washington first issued intensive sanctions against Caracas.