In Iran, Hardline Cleric Ebrahim Raisi Emerges to Challenge Hassan Rouhani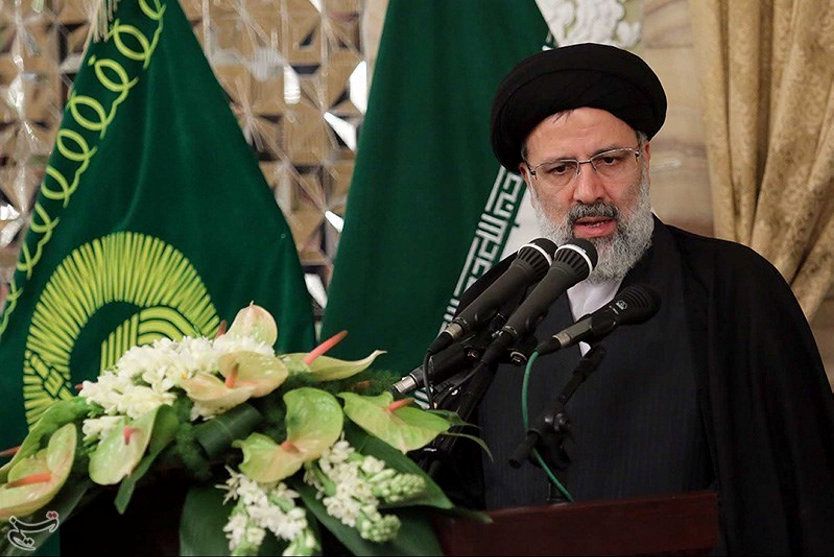 In Iran, candidates have begun to register for the Iranian presidential election — scheduled for May 19 —in a vote that will once again position the country's reformists against its conservative elite.
Last year, Mahmoud Ahmadinejad, former president and one of the country's most prominent populists, began giving off signals that he was preparing a third run at the leadership.
Read more: Here are five of Mahmoud Ahmadinejad's weirdest conspiracy theories
Despite being encouraged not to run by Iran's Supreme Leader Ayatollah Ali Khamenei in September 2016, Ahmadinejad registered his name in what seemed a direct challenge to the country's highest religious figure.President Hassan Rouhani, like Ahmadinejad, dreams of another term. But in the run up to the vote, a candidate has emerged who experts say could render Rouhani a one-term president: 56-year-old former prosecutor-general and hardline cleric Ebrahim Raisi.
Raisi is custodian of the Imam Reza shrine in Mashhad, Iran's second-biggest city, and presides over a billion-dollar religious fund known as the Astan-e Qods Razavi. He is a close ally of Khamenei, who appointed him as head of the foundation last year. Many Iranians speculate that Raisi is Khamenei's choice to stand against Rouhani, although Iran's top cleric has not yet said who he is supporting.
Raisi's role presiding over the shrine, visited by 30 million religious pilgrims every year, will likely improve his standing with Iranians who may not immediately recognize him—especially when up against Rouhani, who has led the country for the past four years.
Iran's conservative elite has not yet agreed upon a single candidate it can back against Rouhani. But while a lot can change before election season officially begins on April 28, many see Raisi as the man with the most potential to pose a serious challenge to Rouhani. Before Ahmadinejad's announcement, Raisi was the frontrunner among five hardline candidates.
It's possible that the conservative right will select whoever they consider the strongest challenger to Rouhani, with others stepping aside to allow a one-on-one battle for the presidency. In 2013, several conservative candidates ran against each other, splitting the vote and allowing Rouhani to win. If that happens again, it could thwart the conservative camp's electoral chances once more.
With close connections to the Ayatollah and the Iranian intelligence services, Raisi has always been considered a potential successor to Khamenei, who is now 77, rather than as president. As a result, many are surprised by his decision to risk a presidential run.
"If Raisi is such a strong contender for the Supreme Leadership, it's slightly puzzling as to why he is throwing his hat into the rather unpredictable presidential race. If there is a serious weakening of the right-wing vote by having more than one candidate, he could fall a victim," says Sir Richard Dalton, former British ambassador to Iran.
On the other hand, victory could boost his chances of succeeding Khamenei.
While little is known about Raisi personally—bar a general hatred toward the West—his intentions in the elections have become clearer. In his bid for the presidency, Raisi has tried to paint himself as a man of the people, highlighting the economy and corruption as key focuses in the early stages of his campaign.
Read more: After nuclear deal, Iran could receive first Boeing jet a year earlier than expected
The landmark nuclear agreement signed between Tehran and world powers in July 2015, on the back of Rouhani's promises to boost the economy, should have ensured he coasted to a second stint as the country's leader.
But Iranian citizens say they have not reaped the economic benefits the leadership touted as the main justification for the deal. While Iran has struck deals with foreign companies since the agreement, most are not really underway—and even though the economy is performing better under Rouhani, Iranians do not see the country reaching its full potential.
"Whilst the Rouhani camp will try to present a positive picture of the trickle-down effects of the nuclear deal for the Iranian economy, the opposite front will likely criticize the deal as unable to provide the economic recovery portrayed by the administration and present an alternative based on a populist economic policy," says Tabrizi.
Raisi has targeted corruption in the country, and said that he would not use his position as the head of a wealthy foundation, or its finances, to help his election campaign.
Experts say a Raisi victory could increase already simmering tensions between the Islamic Republic and the West, particularly with the U.S. under President Donald Trump, who has voiced his opposition to the Iranian regime and the nuclear deal and cut off all diplomatic contacts with the country after Barack Obama's thaw in relations with the country.
But if the Trump administration does an about-turn in the future and seeks cooperation with Tehran on some level, Raisi would present a bigger challenge than the current leader.
"It will be harder to reestablish diplomatic links under Raisi than it would under Rouhani," says Dalton. "So crisis management would be more problematic under Raisi."
Rights groups have criticized Rouhani for a lack of reform on political and social freedoms, a promise he made when he rode to power on the back of votes from young Iranians. But if Raisi is elected, the situation for more liberal-minded Iranians is not optimistic, Dalton concedes. "You could certainly kiss goodbye to any relaxation."