America Faces 'Another Vietnam' If It Does Not Leave Middle East, Aide to Iran's Supreme Leader Warns
Iran's leaders have vowed to avenge slain commander Qassem Soleimani by forcing the U.S. out of the Middle East, as huge crowds thronged Tehran's streets for the general's funeral ceremony.
The Iranian regime has promised to retaliate against the U.S. for the assassination of Soleimani, who was killed by a U.S. drone strike in Baghdad last week. His death represents a major escalation in the simmering U.S.-Iranian conflict, and has prompted fears that a direct military confrontation could soon erupt.
On Sunday, Ali Akbar Velayati—a senior aide to Ayatollah Ali Khamenei—warned that American forces are risking a drawn-out, bloody and unsuccessful stay in the Middle East.
"Americans took a foolish move by assassinating him and they must leave the region," Velayati said of Soleimani's killing, according to the state-affiliated Fars new agency. "If they do not leave the region, they will face another Vietnam," he added.
President Hassan Rouhani also vowed this weekend to eject Americans from the region in response to Soleimani's death.
The president visited members of Soleimani's family on Saturday at their house in Tehran, the BBC reported. "The Americans really did not realize what [a] grave error they have committed," he said. "Revenge for his blood will be exacted on that day when the filthy hands of America will be cut off forever from the region."
President Donald Trump and Secretary of State Mike Pompeo have framed Soleimani's death as a victory for the U.S.'s regional strategy, claiming—though as of yet presenting no evidence—that Soleimani was preparing imminent attacks that threatened American lives.
Pompeo has said that the assassination made Americans safer, though acknowledged, "It may be that there's a little noise here in the interim."
Iran supports a wide range of militias across the Middle East, employing them as proxy forces to further Tehran's interests without risking Iranian lives and minimizing the risk of diplomatic blowback. The below graphic, provided by Statista, shows some of Iran's operations in recent years.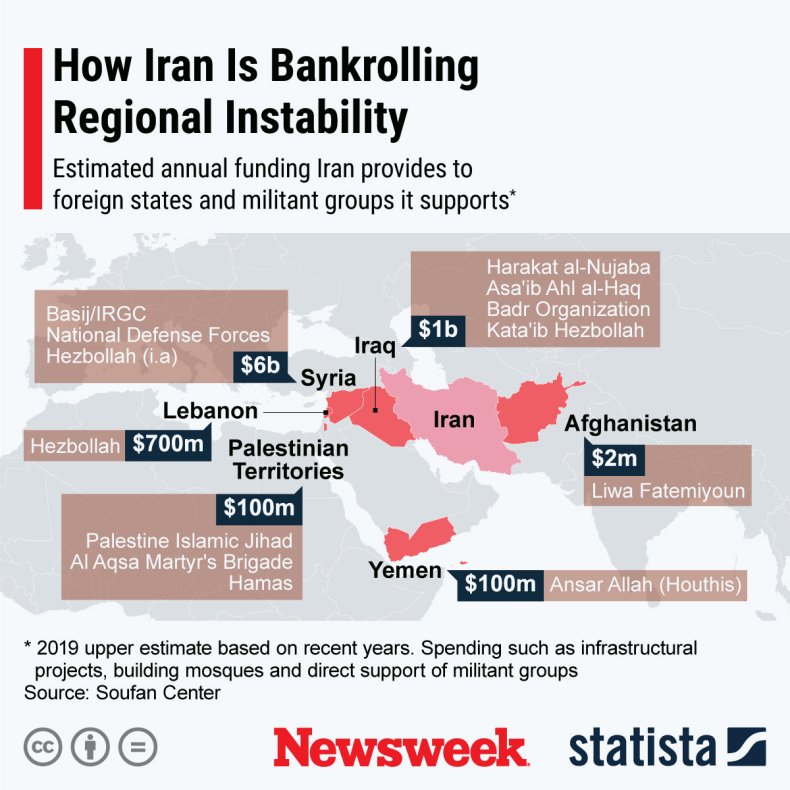 Though Iran has a large military of its own, it has primarily used these militias—particularly in Iraq—to harass American troops and interests in the region.
Soleimani's death came after a tit-for-tat series of escalations beginning with the death of a U.S. defense contractor, killed in a rocket attack on an Iraqi military base in Karbala.
The U.S. accused the Iraqi Shiite Kataib Hezbollah militia—trained and funded by Iran—of involvement, and the next day carried out airstrikes against the group.
In response, Kataib Hezbollah supporters and others attacked the U.S. Embassy in Baghdad, breaching the perimeter and vandalizing the premises. The U.S. said Soleimani was behind the attack, and used the assertion to justify his assassination.
Further afield, regional militias in Lebanon, Syria and Yemen may also take aim at U.S. and allied forces. The Lebanese militia Hezbollah, for example, could attack American or Israeli targets. In a speech on Sunday, Hezbollah leader Hassan Nasrallah said that U.S. soldiers "must pay the price" for Soleimani's death, though suggested civilians should not be targeted.
Any military retaliation will likely come via such militias, though still runs the risk of further American action against the Iranians. This weekend, Trump said the U.S. had drawn up a list of 52 targets to hit in the event of an Iranian response to Soleimani's death, including cultural sites.
Iran also has non-military options. This weekend, the regime announced it would no longer abide by any restrictions in the Joint Comprehensive Plan of Action—also known as the Iran nuclear deal. The deal was already floundering after Trump suspended American participation in May 2018, but now appears entirely dead.
The Obama-era agreement was designed to block Tehran from developing nuclear weapons in exchange for relief from crippling economic sanctions. The United Nations nuclear monitoring agency said Iran was complying with the deal before—and for a period even after—Trump withdrew.
Iran will also be leveraging its influence in Iraq to try to force U.S. troops out of the country—a long-term goal for Tehran which Soleimani had been working toward. On Sunday, the Iraqi parliament passed a non-binding resolution urging the government to request that all international troops leave Iraq.
Many Kurdish and Sunni members of parliament did not take part in the vote, and it is unlikely that the government will quickly accede to the resolution's demands. Nonetheless, the vote illustrates America's waning reputation in Iraq.
But the Trump administration has signalled it will accept any Iraqi demands to withdraw its forces. On Sunday, the president told reporters, "We've spent a lot of money in Iraq."
"We have a very extraordinarily expensive air base that's there. It cost billions of dollars to build," he added. "We're not leaving unless they pay us back for it."