Director of National Intelligence John Ratcliffe said Wednesday that Iran is behind a voter intimidation scheme designed to hurt President Donald Trump.
Government officials concluded that emails sent to Democratic voters in multiple states that said, "You will vote for Trump on Election Day or we will come after you" while purporting to come from the Proud Boys, a far-right group that supports Trump, were actually sent by Iran, according to a report from The Washington Post.
The messages appear to attempt to intimidate Democrats into voting for Trump, but Ratcliffe says that Iran intended to hurt Trump with the fake emails. He did not mentioning whether they were also designed to hurt Democratic presidential nominee Joe Biden.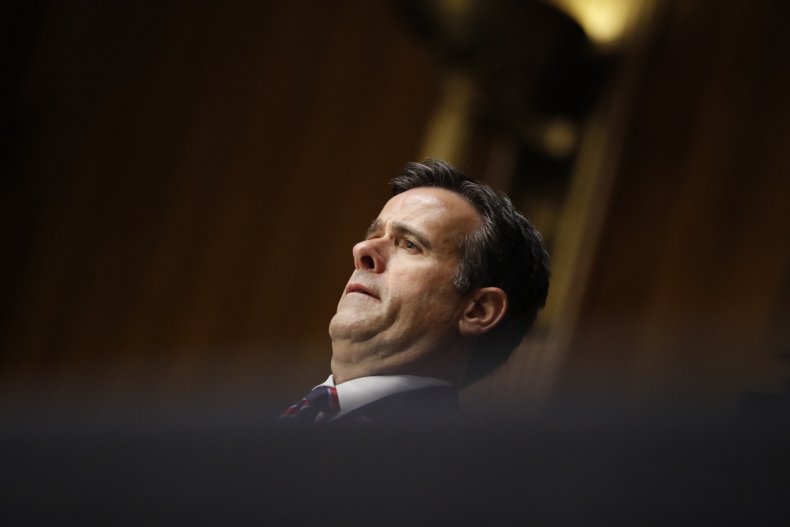 "We have already seen Iran sending spoofed emails designed to intimidate voters, incite social unrest, and damage President Trump," Ratcliffe said during an FBI press conference on Wednesday. "You may have seen some reporting on this in the last 24 hours or you may have even been one of the recipients of those emails."
Ratcliffe said that both Iran and Russia had "taken specific actions to influence public opinion relating to our elections." He said that voter registration information had been separately obtained by the two countries.
"This information can be used by foreign actors to attempt to communicate false information to registered voters that they hope will cause confusion, sow chaos and undermine your confidence in America democracy," Ratcliffe added.
The Florida Department of State said in a statement that the emails were being investigated but that there had been "no breach to Florida's Voter Registration database."
A cybersecurity firm discovered that a hacker was recently attempting to sell voter registration information for 186 million U.S. voters online, according to a Wednesday report from NBC.
However, it is unlikely that any hacking would be required to uncover such information, let alone a foreign intelligence operation, since voter registration information is publicly available by request in most of the country. Publicly available information typically includes political party affiliation.
The emails said to be from Iran were reportedly received by voters in states including Alaska, Florida and Pennsylvania. Although it is not clear why the specific voters were targeted, they were all registered as Democrats.
The emails, sent from the address "info@officialproudboys.com," reportedly contained demands that voters change their party registration to Republican and vote for Trump, along with a claim that the Proud Boys were "in possession of all your information." Recipients were urged to "take this seriously" and warned that "we will know who you voted for."
Members of the Proud Boys quickly denied that the emails had been sent by the group, calling it a "false flag operation." The group recently came to national attention when they were mentioned during the first debate between Trump and Biden on September 29.
After moderator Chris Wallace asked him to disavow white nationalism and militia groups, Trump refused to issue a blanket disavowal and instead asked for a specific group. Biden then mentioned the Proud Boys. The president did not condemn the group, but instead told them to "stand back and stand by."
Newsweek reached out to the Trump and Biden campaigns for comment.