Iran Attacks Israel, Golan Heights With 20 Rockets After Trump Withdraws From Nuclear Deal: Report
Israel on Thursday just after midnight local time reported that Iranian forces fired 20 rockets at its military bases in occupied Golan Heights.
The Iron Dome defense system intercepted some of the missiles and damage to Israeli military bases was "limited," an Israel Defense Forces (IDF) spokesperson told The Times of Israel. No Israeli casualties were reported.
Related: Trump's 'Madness Is a Danger to Our National Security,' Ex-CIA Director Says After Iran Nuclear Deal Withdrawal​
Israeli military officials are attributing the attack to members of the Iranian Revolutionary Guard Corps' Quds Forces.
"The IDF sees this Iranian attack on Israel with severity," a spokesperson for the military Lt. Col. Jonathan Conricus said. "This event is not over."
Israel's army countered the attack with artillery fire at a military base in the Quneitra border region with Syrian regime forces, according to the Syrian state media. There were reports that Israel's Air Force missiles targeted Iranian positions in Syria.
The crossfire comes a day after Israel opened bomb shelters in the northern Golan Heights based on the "identification of irregular activity" by Iranian forces in Syria—the same day that President Donald Trump announced he was withdrawing the U.S. from the Iran nuclear deal. Trump's decision means sanctions on Tehran would be imposed anew.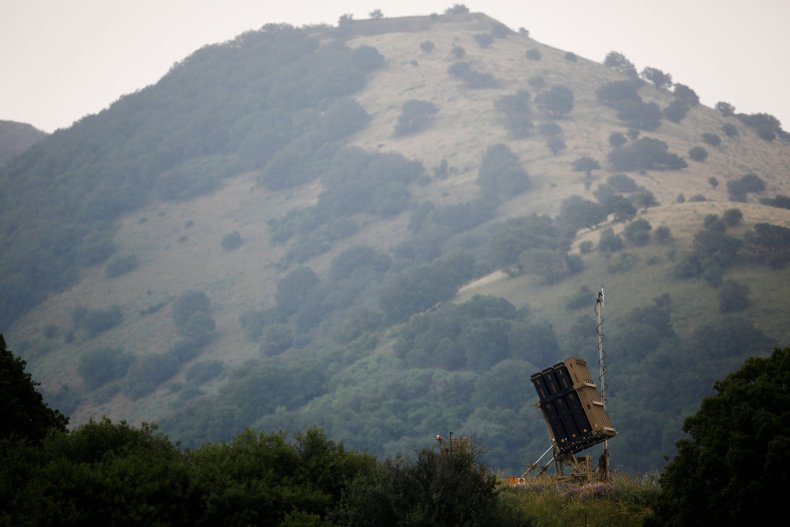 Sirens blasted in Golan Heights during the attack and the IDF told residents to stay in the bomb shelters. A video shared on social media appeared to show rockets making their way from Syria toward Israel.
Some analysts had anticipated an attack. In the past month, Tehran has threatened to retaliate on attacks from the Israeli air force; the most recent, on May 9, killed seven Iranians at the Syrian air force base T4, according to Haaretz. On Tuesday, a Syrian report claimed that Israel struck a military base south of Damascus that Iranian forces used.
The IDF said Tuesday that non-combat reserves were being called up, that troops were on high alert—and that "any aggression against Israel will be met with a severe response."