John Bolton Blasts Biden Reviving Iran Nuclear Deal As 'Dangerous Fantasy'
President Joe Biden is pursuing the restoration of a nuclear agreement with Iran due to a "near religious" fixation with the previous Democratic administration that struck the deal in 2015, former national security advisor John Bolton has said.
Bolton has described the deal, known as the Joint Comprehensive Plan of Action (JCPOA), as "flawed" in a view that chimes with the warning by National Council of Resistance of Iran (NCRI), which warned the Biden administration against restoring the Obama-era agreement abandoned by former President Donald Trump.
The view of Bolton, who served under Trump, follows the declared Iranian presidential election victory of Ebrahim Raisi last week in a ballot criticized internationally. Rights and opposition groups have condemned the human rights record of Raisi, the hard-line head of the country's judiciary.
Bolton told conservative news outlet Newsmax that there was "no evidence" that Iran had made any strategic decision to ease up on its nuclear program.
He said that returning to the JCPOA, in which Tehran placed limits on its uranium enrichment capabilities in exchange for easing sanctions, was "surrendering" to an idea about Iran's conduct that would put the U.S. and its allies "at risk" of this "very dangerous regime."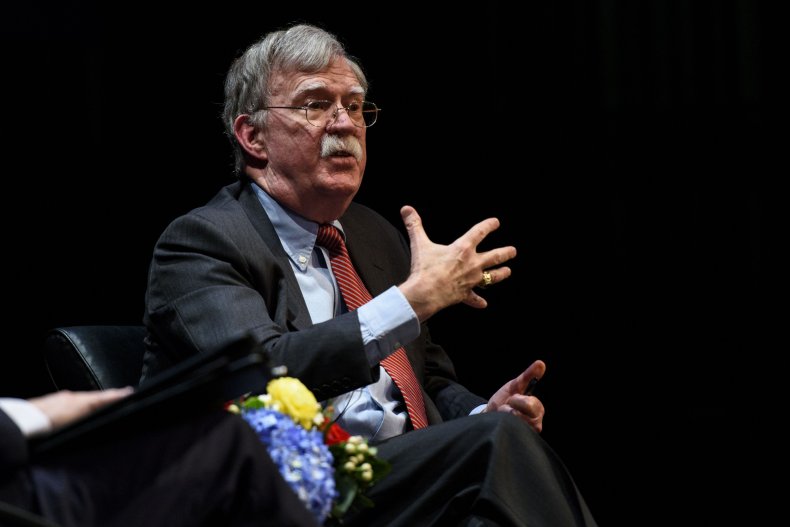 Bolton said that the reason for Biden's quest for a deal was driven by a "near religious fixation that they want to get back to what Obama did."
"The Obama team views the Iran nuclear deal as their second term equivalent to Obamacare in the first term," Bolton said.
Policy on Iran was one of the few points of agreement between Bolton and Trump, whom he criticized severely in his book The Room Where It Happened.
Bolton said the Biden administration's policy to the Islamic republic rests on the assumption that, "if they could just calm the Ayatollahs down and convince them that they don't need to worry about the United States and Israel—they can solve the nuclear program."
However, Bolton described the idea that after a deal, "sweetness and light will break out in the Middle East" as a "dangerous fantasy."
"They have no idea how flawed the deal is," Bolton added.
Raisi has been sanctioned by the U.S. for his role in the execution of thousands of prisoners in 1988 and is due to succeed incumbent Hassan Rouhani in August.
The Iranian government said on Tuesday that if no deal was reached by Rouhani's government "then the Raisi government will be in charge," Bloomberg reported.
But Ali Safavi, from the NCRI's foreign affairs committee, told Newsweek last week that the U.S. should not return to the JCPOA deal "which was flawed to begin with."
"Any new agreement with Iran is the end point not the starting point," he said.
Meanwhile on Sunday, Israeli Prime Minister Naftali Bennett warned the United States not to embrace Raisi over nuclear disarmament.
"A regime of brutal hangmen must never be allowed to have weapons of mass destruction," Bennett said.
Maryam Rajavi, the NCRI president-elect, said there had been "astronomical rigging" of the vote count in last week's election.
"There is no longer any justification for the international community to engage or appease a regime whose president is one of the worst criminals against humanity in modern history," Rajavi said in a statement to Newsweek.
In a statement to Newsweek, a U.S. State Department spokesperson said that Biden "has made very clear that the United States is firmly committed to ensuring Iran never acquires a nuclear weapon," adding that, "his administration believes that diplomacy, in coordination with our allies and regional partners, is the best path to achieve that goal."
The graphic below provided by Statista outlines the range of Iran's ballistic missiles.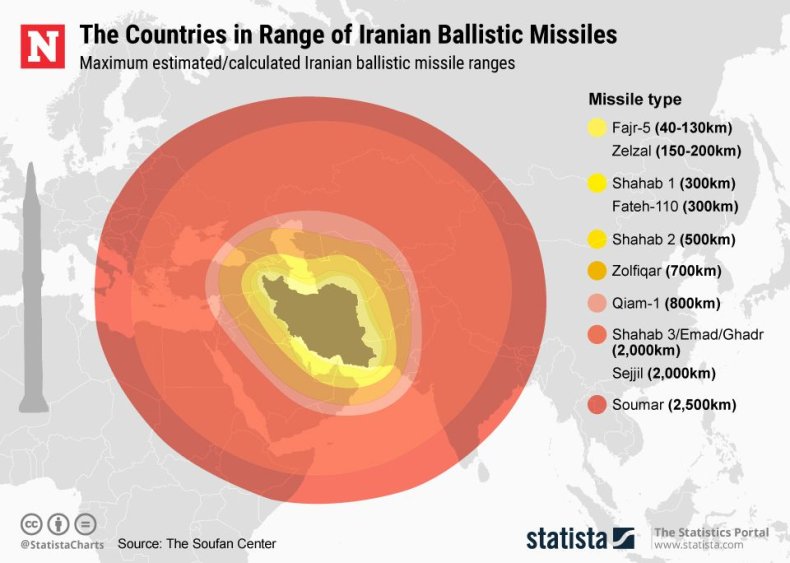 Update 06/23/21, 02:32 a.m. ET: This article has been updated to include a statement to Newsweek by the U.S. State Department.