Iran's Jewish and Christian Leaders Condemn Israeli, U.S. Meddling
Jewish and Christian leaders in Iran have expressed their condemnation of U.S. and Israeli efforts to interfere in their country.
Siamak Moreh Sedgh, a member of the Iranian parliament who represents Iran's small Jewish minority, criticized the policies of President Donald Trump and Israeli Prime Minister Benjamin Netanyahu toward his country on Wednesday.
"We must not allow enemies to use our minor ideological differences as a tool to create multivoices in the country and then to exploit this situation in their own favor," the Jewish MP said, Iran's MEHR News Agency reported.
Sedgh said that "unity and empathy" unite all of Iran's religious communities, claiming that all Iranians—regardless of their religion—are ready to defend the nation.
"In addition to the common country, language and culture, and common national interests, [we] also believe in the common principles of 'monotheism, prophecy and resurrection,'" he said.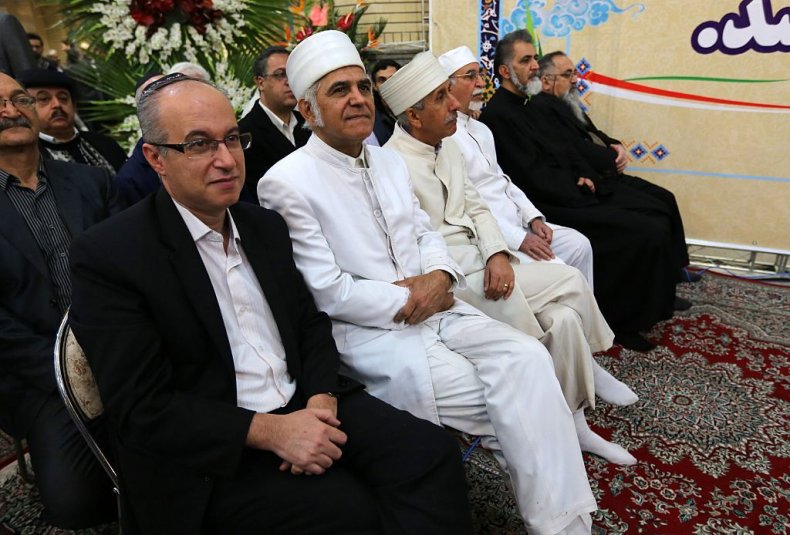 Expressing similar sentiments, Archbishop Sebouh Sarkissian of the Armenian Diocese of Tehran, who serves as the religious head of the country's largest Christian minority, criticized Trump's recent decision to reinstate sanctions against Iran.
"I believe U.S. sanctions will backfire," Sarkissian said, the Islamic Republic News Agency reported on Thursday. "I pray to the God Almighty to protect Iran from its enemies and bestow long life, health and honor upon the Supreme Leader of the Islamic Revolution," the archbishop added.
Although nearly 90 percent of the Iranian population practices Shia Islam—the official state religion—the country is also home to sizable communities of Christians, Jews, Sunni Muslims and Zoroastrians. These religious groups are also guaranteed representation in the country's parliament, with two seats reserved for Armenian Christians, one for Assyrian and Chaldean Christians, one for Jews and one for Zoroastrians.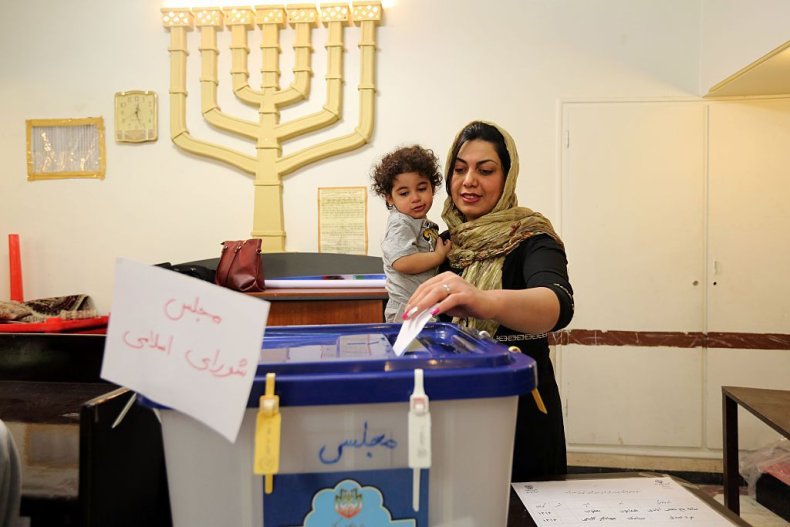 While many in Israel and the U.S. have called Iran anti-Semitic—Netanyahu has even compared the country's government to the Nazi regime—at least some members of the country's Jewish community, with a population of less than 30,000, disagree.
"No one forces the Jews to stay here," Sedgh told The Independentafter his election in 2016. "The Israelis offer money to Jewish people to emigrate to Israel, but we choose to stay. My view is that the actions of Netanyahu and his government, the way they behave toward the Palestinians, cause problems for Jews everywhere. I am not the only one holding these views. Am I not allowed to say it because I am a Jew?"
Although Sedgh admitted that minority religious groups do face challenges and inequality in the country, he said: "We are working on that."
While some minority religions are guaranteed representation in parliament, this does not translate to complete religious freedom in the country. According to Human Rights Watch, Muslim converts to Christianity and other minority religious groups are routinely persecuted in Iran. Particularly, the Baha'i, a religion that formed in Iran in 1863, face a great deal of oppression.
"The government denies freedom of religion to Baha'is and discriminates against them. At least 85 Baha'is were held in Iran's prisons as of October 2016," Human Rights Watch's 2017 report on Iran said.
"Security forces also continued to target Christian converts of Muslim heritage, as well as members of the 'house church' movement who gather to worship in private homes…. A number of Sunni figures in Kurdish areas were summoned and interrogated after they criticized the executions of at least 20 individuals on August 2," the report continued.