Iran Leader Says Nation 'Needs' Nuclear Power to Take On West in Energy, Not Bombs
Iranian Supreme Leader Ayatollah Ali Khamenei has argued in favor of his country continuing nuclear enrichment, but with the intention of competing with the West in energy, not the production of weapons of mass destruction.
"When oil finishes, it will become common to use nuclear energy that is cleaner & cheaper to produce," Khamenei's official Twitter account said. "Enrichment can't start at that time; we need to start today. The Arrogant West wants Iran to be dependent on them the day it needs nuclear energy. "
The international community imposed sanctions on Iran due to its nuclear program over a decade ago, but such restrictions were lifted by a 2015 agreement among Tehran and major world powers that saw Iranian officials agree to curb their program in exchange for relief. Under former President Donald Trump, the United States abandoned that deal in 2018 and imposed new restrictions that have yet to be lifted by his successor, President Joe Biden.
The Biden administration has said that Iran must first reintroduce the uranium enrichment caps that were suspended by the Islamic Republic in response to what it claimed was non-compliance by the other parties to the nuclear accord. The resulting impasse has hindered diplomatic attempts to address the dispute.
Since taking office in January, the Biden administration has shown some flexibility in dealing with Iran, which offers some contrast to the hardline "maximum pressure" stance maintained by Trump. But thus far it has refused to repeal the sanctions.
The State Department has expressed a willingness to meet with Iran. Spokesperson Ned Price said the U.S. was not "dogmatic" about the format of such talks, as long as allies such as nuclear-deal signatories France, Germany and the United Kingdom were involved.
"What we are dogmatic about is the fact that Iran can never be allowed to acquire a nuclear weapon," State Department spokesperson Ned Price told reporters on Monday.
But Khamenei, who has ruled against the possession of nuclear weapons on religious grounds, claimed there was an ulterior motive in the U.S. and others maintaining such stringent controls on Iran regarding sale of its oil.
"The West is taking barrels & barrels of oil now at a low price & yet still making more demands!" Khamenei's account said. "If they owned the oil & we wanted to buy from them, they would sell it to us in bottles at high prices! They want to do this with nuclear energy. No! Enrichment is one of our needs."
He emphasized this point and warned Tehran could not be stopped in this endeavor.
"Enrichment is one of Iran's needs. And that which the country needs today & in the future, we will obtain, with God's help," he added. "We definitely won't let anyone coerce or intimidate Iran in this regard. They want to force Iran to back down, but the Islamic Republic won't back down."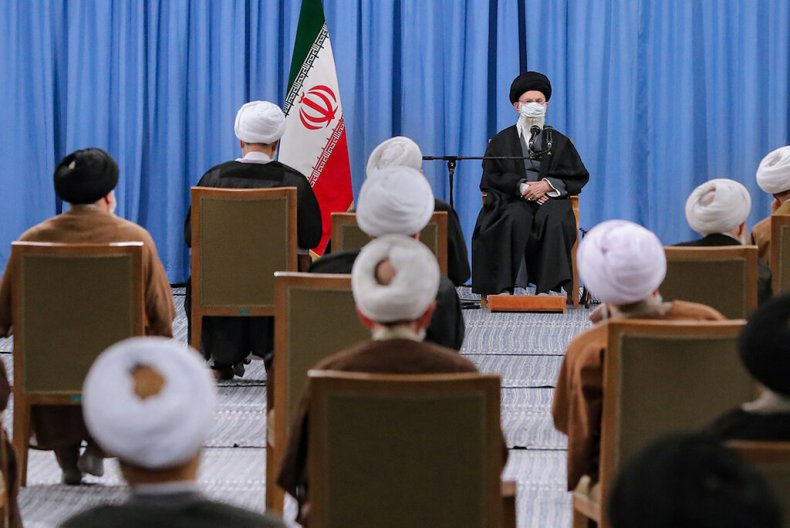 Iranian officials have maintained that all steps taken away from compliance with the nuclear deal, officially the Joint Comprehensive Plan of Action (JCPOA), were done so in accordance with the accompanying United Nations Security Council resolution 2231 and were entirely reversible in nature.
But it insists that the U.S. would need to demonstrate its renewed commitment to a deal it left behind.
"Before any negotiations, we must make sure that the United States is honest in the seriousness of returning to the agreements in accordance with the text of the U.N. Security Council," Iranian government spokesperson Ali Rabiei told a press conference on Tuesday. "The only criterion is the practical steps of the United States."
But he insisted that Iran is "committed to diplomacy as the only way out of the impasse created by the United States."
This line was echoed during Iranian President Hassan Rouhani's call Tuesday with his French counterpart Emmanuel Macron, whom he warned that Tehran would also not support any additional restrictions proposed by Washington, such as limiting ballistic missile capabilities or support for partnered militias across the Middle East.
"The JCPOA cannot be renegotiated in any way," Rouhani said, according to a readout, "and the only way to maintain and revive it is the lift of sanctions by the American side."
While JCPOA signatories China and Russia have largely backed Iran's position, European signatories have warmed toward the U.S. since Biden took office, while Iran's moves demonstrate their reduced adherence to the deal.
The latest measure from Tehran involved suspending the Additional Protocol of its deal with the International Atomic Energy Agency, a mechanism providing foreign inspectors with access to nuclear sites. The move was accompanied, however, by a "temporary bilateral technical understanding" that would continue to support Iran-IAEA interactions.
The European members of the IAEA's Board of Governors were expected to issue a censure of Iran's move, something Rouhani said "could lead to new challenges and complicate the current situation."
Other Iranian officials, such as Foreign Minister Mohammad Javad Zarif, Deputy Foreign Minister Abbas Araghchi and Atomic Energy Organization of Iran head Ali Akbar Salehi also spoke out against the anticipated criticism at the U.N. nuclear watchdog.
During a podcast interview with former Secretary of State Hillary Clinton, current Secretary of State Antony Blinken suggested there was still a tough road ahead to save the nuclear deal, and reiterated his position that other areas of contention with Iran be addressed eventually.
"We're a long way from getting back to where we were," he said. "We don't know what Iran will do or won't do. But I think that it offers at least the possibility of dealing with the nuclear problem and then hopefully dealing with some of the other problems."