A day after Azerbaijan's leader was seen caressing a lethal drone supplied by Israel, neighboring Iran's new top diplomat met with his Russian counterpart to discuss boosting bilateral ties and establishing a plan to settle growing tensions at the crossroads of Europe and Asia.
Upon his arrival in Moscow on Wednesday, Iranian Foreign Minister Amir-Abdollahian previewed his concerns toward suspected enemy activity in the Caucasus, telling reporters he expected Russia to share Iran's concerns regarding "any possible change of borders, the presence of terrorists and Zionist movements that run contrary to the peace, stability and security of the region."
Amir-Abdollahian then sat down with Russian Foreign Minister Sergey Lavrov to discuss a range of issues including the Caucasus region that lies between the two countries, along with the hot topics of Afghanistan, Syria, Yemen and the multilateral nuclear deal abandoned by the United States.
At a press briefing following their talks, Amir-Abdollahian emphasized that the countries would further bolster their growing relations in a variety of fields and on international issues as well. He also reiterated Tehran's concerns regarding geopolitical shifts and the presence of Israel and militant groups in the Caucasus.
Lavrov, for his part, said Russia was supportive of efforts to keep foreign forces out of the region through a pan-Caspian Sea treaty but did not mention Israel by name. He did, however, reveal a proposal to hold "3+3" discussions involving the post-Soviet Caucasus republics of Armenia, Azerbaijan and Georgia as well as "the three 'big' neighbors, namely, Russia, Iran and Turkey."
"Our Iranian friends are supportive of this initiative, as are Azerbaijan and Turkey," Lavrov said. "We are working on it with our Armenian colleagues. We hope that despite its current problems, Georgia will be able to realize its fundamental interest in creating such a mechanism for consultations and approving decisions for the accelerated development of this region, which had been held back for a long time by the ongoing conflicts."
Russian Foreign Ministry spokesperson Maria Zakharova reiterated Moscow's position during a press conference Thursday.
"We proceed from the prioritized nature of the task of ensuring geopolitical stability and security in the South Caucasus region," Zakharova said. "Our country is pursuing an appropriate comprehensive policy, including by maintaining a dialogue with all regional players."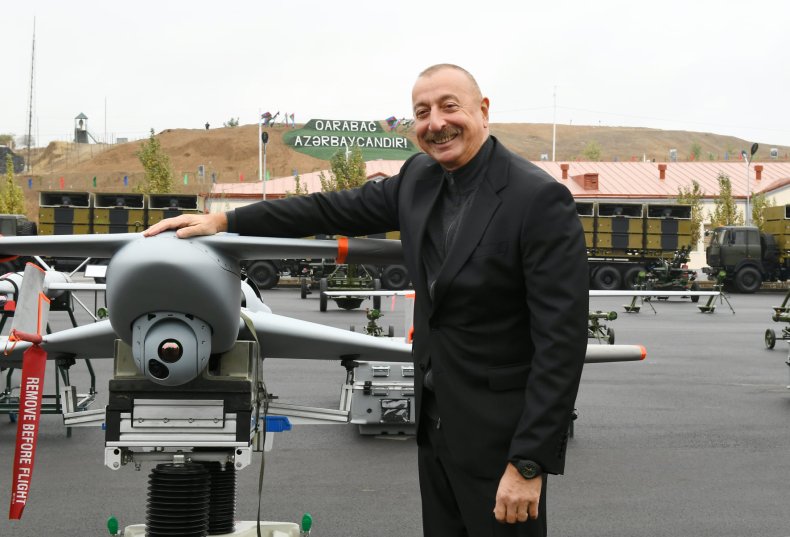 The Caucasus has long been a hotbed of overlapping and often opposing interests among local and neighboring powers.
Armenia is an ally of Russia and considers Azerbaijan and Turkey to be archfoes both due to past accusations of genocide in the final years of the Ottoman Empire, and due to a more recent dispute over the disputed Nagorno-Karabakh region, an internationally recognized Azerbaijani territory inhabited by ethnic Armenians since the end of a bloody war that broke out in the late 1980s. When conflict erupted again last year, Azerbaijani forces gained the upper hand early on, aided by the use of deadly Israeli and Turkish drones, but the bout was put a stop to after Russia agreed to deploy a peacekeeping force.
Azerbaijan, for its part, considers Turkey to be its closest partner, and has less predictable relations with Russia and Iran, where up to a quarter of the population is estimated to be part of the Azeri ethnic group. Iran put its military on high alert in response to spillover from last year's conflict across the border and again responded negatively last month to drills held by Azerbaijan, Pakistan and Turkey.
Last week, Iran staged its own series of large-scale drills that drew criticism from Azerbaijani President Ilham Aliyev, who called the training "a very surprising event."
"Every country can carry out any military drill on its own territory. It's their sovereign right," Aliyev told Turkey's official Anadolu Agency. "But why now, and why on our border?"
But Iranian Foreign Ministry spokesperson Saeed Khatibzadeh said it was his country that found Aliyev's behavior "very surprising" during a press briefing. He said the Iranian military exercises were "a matter of sovereignty and is done for the peace and stability of the whole region," during a press briefing last week.
And, while he said Tehran maintained good relations and communications with Baku, he warned the potential presence of archfoe Israel next door to Iran was a red line.
"Of course, it is clear that the Islamic Republic of Iran will not tolerate the presence of the Zionist regime near its borders, even if it is for show," Khatibzadeh said, "and in this regard, it will take any action that it deems necessary for its national security."
Azerbaijan and Turkey then held another joint military drill of their own to showcase their wartime readiness.
On Tuesday, Aliyev appeared to send a new message as state-run media captured the longtime leader smiling and petting what appeared to be an Israeli-made Harop loitering munition drone during an event in the city of Jabrayil, located just miles from the Iranian border. The weapon was the same model of unmanned aerial vehicle widely employed in the Nagorno-Karabakh conflict, during which Jabrayil was recaptured by Azerbaijan exactly one year earlier.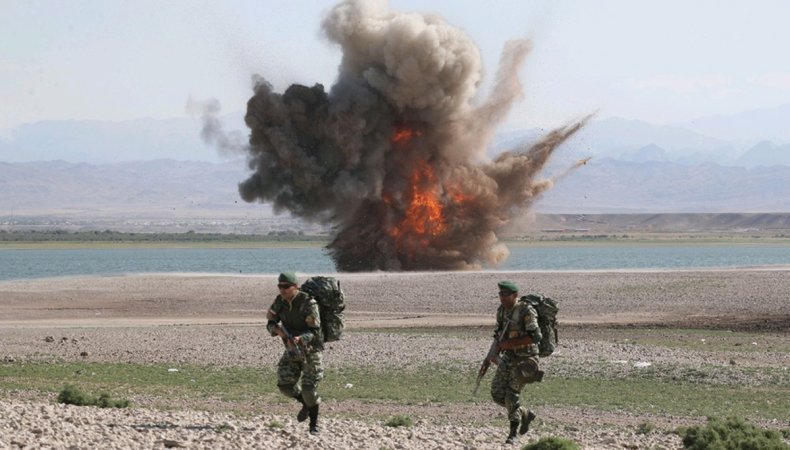 The tensions here run deeper than even the fraught politics of the Caucasus. Throughout last year's conflict, Turkey was accused by a number of countries including France, Iran and Russia of transferring insurgents from Syria to the Azerbaijani front against the self-proclaimed Artsakh Republic in Nagorno-Karabakh.
Turkey has supported a decade-long effort to oust Syrian President Bashar al-Assad, while Iran has backed the leader, both directly and through allied militias from across the Middle East. Turkey has repeatedly denied the claim but Iran has been especially wary of elements it was at war with in Syria operating anywhere near the territory of the Islamic Republic.
Russia, Iran and Turkey participate in trilateral talks regarding the conflict in Syria, where Moscow also backs Assad, but little progress has been achieved. Israel, too, regularly operates in Syria, where it targets Iran-backed militias in air raids.
On Tuesday, as the situation in the Caucasus continued to heat up, Israel Defense Forces Chief of Staff Aviv Kohavi issued a warning to the Islamic Republic that his forces would continue to lash out against Iran and its nuclear program, which Iranian officials have also maintained was explicitly for peaceful use.
"Operations to destroy Iranian capabilities will continue, in any arena and at any time," Kohavi said, "and the operational plans against Iran's nuclear program will continue to be developed and improved."
The following day, Iranian Revolutionary Guard deputy commander-in-chief General Ali Fadavi dismissed the Israeli claim as "nothing but nonsense" during an interview with Yemeni news outlet Al-Masira.
Speaking that same day at the sidelines of an event at the Talash Cultural Complex in Tehran, Fadavi downplayed the reports of tensions between Iran and its Caucasus neighbors. He did, however, comment on Aliyev's photo with the Israeli drone.
In a remark carried by the semi-official Iranian Students' News Agency, Fadavi said, "To take a photo with the product of another country is no honor."