Iran Sends Mixed Messages, Saying It Didn't Intend to 'Humiliate' U.S. But Warns Aggressors 'Will Be Destroyed in a Second'
Iran's President Hassan Rouhani said on Tuesday that his country did not intend to "humiliate" the U.S. by shooting down its drone, but also warned that any aggressors who enter his nation's territory "will be destroyed in a second."
"I do not want to say that we wanted to humiliate America, because we do not seek to humiliate anyone," Rouhani said during a meeting with officials at the country's Health Ministry, according to Iran's Islamic Republic News Agency (IRNA). He argued that the U.S. was surprised that Iranian-built weapons were able to take down a high-tech American drone.
"If we had shot down the UAV with the [Russian surface-to-air missile system] S-300, it would not have been an outstanding work, but we have done a great job through downing a high tech drone with our home made system," the Iranian president claimed.
But Rouhani also had a stern warning for the U.S. or any other foreign power encroaching on Iranian territory.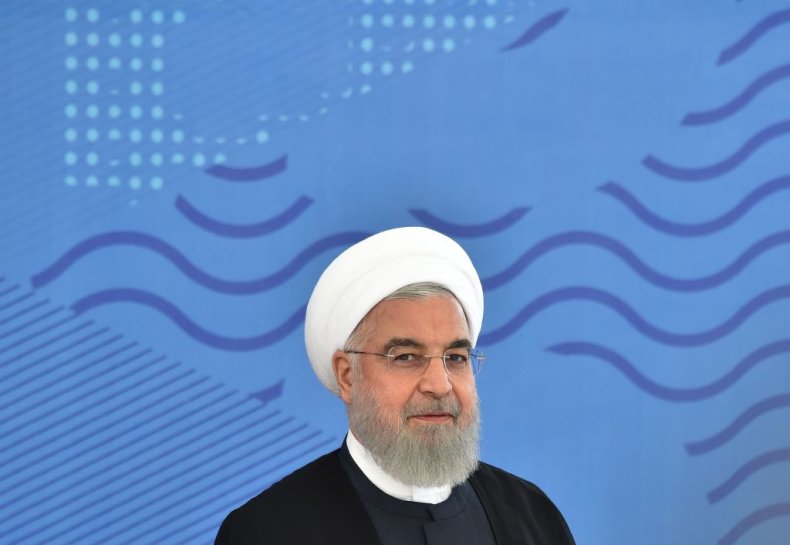 "When the aggressors enter into our space, they will be destroyed in a second, and this truly indicates our power," he said. Rouhani asserted that his nation's borders are a "red line," saying that the country had a duty to defend against any aircraft crossing into its airspace.
The Iranian president and President Donald Trump have traded a barrage of warnings and criticism this week. Rouhani suggested that the Trump administration was "suffering from a mental disability" and was acting in a way "no sane person" would after the White House added new sanctions targeting the Persian Gulf nation's leaders.
Trump responded on Tuesday, threatening Iran with "obliteration."
"Iran's very ignorant and insulting statement, put out today, only shows that they do not understand reality," the president wrote on Twitter. "Any attack by Iran on anything American will be met with great and overwhelming force. In some areas, overwhelming will mean obliteration," he added.
Tensions have escalated between Iran and the U.S. in recent weeks, with the Iranian military shooting down an unmanned American drone last week. Although Washington has insisted that the aircraft was flying over international waters in the Strait of Hormuz, Tehran has claimed it encroached on Iranian airspace and was warned before being shot down. Trump initially approved and was on the verge of carrying out a strike on Iran last Thursday evening, but called if off before it was set to be carried out. The president said this decision came after he was told that about 150 people would be killed.
Although Trump has said he is willing to talk to Iran with "no preconditions," Iranian leaders suggested this week that they are unwilling to dialogue with Washington. Iranian Foreign Ministry spokesman Abbas Mousavi said that the latest round of sanctions had marked "the permanent closure of the path of diplomacy." He added that "Trump's desperate administration is destroying the established international mechanisms for maintaining world peace and security."