Iran Minister Shares Photo of Exhausted Nurse to Celebrate Country's Medical Workers, but the Picture Is From Brazil
Iran's health minister praised the country's medical staff for their role in battling the coronavirus pandemic, but an evocative image he shared to underscore his point was actually from Brazil.
Saeed Namaki displayed the image of a nurse, her face covered in sores and bruises from wearing personal protective equipment all day, during a live press briefing on Instagram on Tuesday, apparently without realizing the woman was not an Iranian worker, France 24's The Observers reported.
Namaki suggested that Iranian medical professionals should be celebrated for working in difficult conditions without protesting, unlike workers in other nations who have raised concerns about their own personal safety.
"To get an idea of how much pressure our colleagues are under, just look at this photo," Namaki said. "It's the image of a colleague, one of my sisters, an image that was sent to me from one of our hospitals. She is a dear nurse who works in an ICU."
Get your unlimited Newsweek trial >
He continued, "This is what happened to her beloved face after hours of torture wearing a mask. In other countries, nurses and doctors facing equipment shortages have taken to the streets."
The picture was actually of Amanda Ramalho, a nurse working in Rio de Janeiro, who has been treating COVID-19 coronavirus patients, France 24 explained. Her photo was posted to the "Diaries From the Field" Instagram page, which features images of medical workers from all over the world.
Iran medical workers have been uploading their own photos on social media and other websites, so it is unclear why Namaki did not use one of those. Dozens of Iranian medical staff are believed to have died during the pandemic. The regime has said it will treat them as "martyrs" as they would slain soldiers.
Get your unlimited Newsweek trial >
Iran is one of the countries worst hit by the novel virus, and was an early epicenter of the outbreak until it took hold in Europe and the U.S. So far, the country has reported 79,494 cases of coronavirus and 4,958 deaths, which include senior regime officials.
The Iranian government has been accused of underplaying the rate of infections and the number of deaths in the country. Medical staff have even reported being warned not to reveal the true scale of the disaster to the media, according to Radio Free Europe/Radio Liberty.
Though Namaki praised the strong will of Iranian medical workers, the regime has also been accused of failing to provide such staff with adequate protective equipment, exacerbating the rate of infection and death among them.
In March, 11 doctors and nurses from around the country spoke with France 24 to warn that they were dangerously under equipped for the COVID-19 battle. One doctor at a hospital in Tehran said that officials only provide protective gear "when the TV cameras came."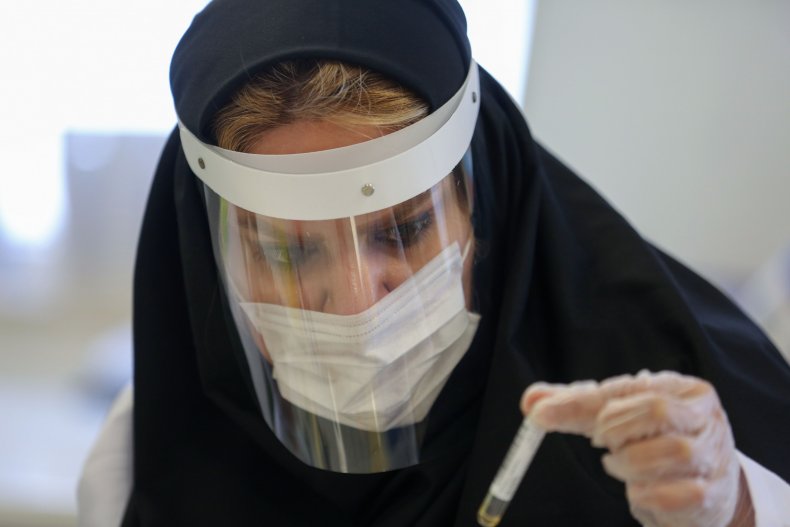 Iran Minister Shares Photo of Exhausted Nurse to Celebrate Country's Medical Workers, but the Picture Is From Brazil | World